Could Japan Shrug Off the Dollar's Dive?
The yen's surge hurts export-driven growth. But trade with China, slashed commodity costs, and resurgent consumer spending may ease Japan's pain
Ian Rowley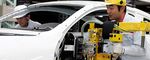 With the yen at a 12-year high against the dollar, and the U.S., a vital export market, in a subprime-fueled funk, Japan's economic growth is looking distinctly wobbly. But could the world's second-biggest economy be more resilient than many pundits and investors believe?