Could Japan Shrug Off the Dollar's Dive?
The yen's surge hurts export-driven growth. But trade with China, slashed commodity costs, and resurgent consumer spending may ease Japan's pain
Ian Rowley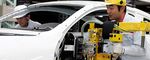 With the yen at a 12-year high against the dollar, and the U.S., a vital export market, in a subprime-fueled funk, Japan's economic growth is looking distinctly wobbly. But could the world's second-biggest economy be more resilient than many pundits and investors believe?
The question is not as far-fetched as it might seem, according to some analysts. For instance, Lehman Brothers' (LEH) equity strategists Ian Scott and Paul Danis cautiously draw some positives out of Japan's current challenges that could bode well for its equity markets. "In no sense can we describe the economic outlook [in Japan] as 'good' but, with expectations already low, and the speed with which sentiment regarding the U.S. economy has deteriorated in recent weeks, we think a better relative performance is justifiable," they wrote on Mar. 18 in a note to clients.
For sure, there are plenty of reasons to be gloomy about Japan's prospects and undoubtedly the rapidly rising yen is the major worry. Trading at 99 yen to the dollar, the Japanese currency has strengthened by over 20% against the greenback since June and is at its strongest since 1995. Before the Federal Reserve once again slashed interest rates on Mar. 18, the dollar briefly fell below 96 yen. Political squabbling in Tokyo has also led to paralysis at the Bank of Japan at a time of global financial instability (BusinessWeek, 3/18/08).
Exports Still Drive Japan's Growth
The strong yen is tough on Japan's automakers and other exporters that rely on U.S. for a large chunk of earnings. Nomura Securities projects that if the yen falls to 95 yen to the dollar, pretax profit will rise just 1.4% at Japan's 347 leading nonfinancial companies in the financial that begins next month. A Japanese government survey in January showed that 106 yen to the dollar was the average rate at which 356 exporters said they could run a profit. At Toyota (TM), which is on track to post record earnings, every one yen appreciation against the dollar shaves $350 million off its operating earnings. (For the current quarter, Toyota's projections assume an average yen-dollar rate of 105.)
Even more worrying is that Japan's economy, enjoying its longest run of unbroken growth since World War II, relies on exports for the lion's share of its growth. In the past two decades there have been just two years when the Japanese consumer has driven economic growth, notes Jesper Koll, president and chief executive officer of Tantallon Research Japan. "They were the peak years of the bubble economy. Since then we've had an export-driven economy plus public works," he says.
The stock market is certainly due for a bounce. This year the benchmark Nikkei 225 index has shed over 20%, compared with a 9.7% fall on the Dow Jones industrial average, despite Japan's conservative banks (BusinessWeek, 2/21/08) having largely avoided the kind of problems enveloping Wall Street.
Consumer Spending Is Finally on the Rise
Improving macroeconomic data could help. Lehman's Scott and Danis note that sentiment among small and midsize Japanese businesses has recovered after falling sharply in 2007, machinery orders increased 4% in January and bank lending, after sliding last year, is also rising.
Just as importantly, consumer spending is climbing. Despite weak sentiment (BusinessWeek, 3/7/08), consumer spending actually increased 3.6% in January—its fastest rate since May, 2004. While that pace will surely slow, Lehman projects gross domestic product growth of 1.6% this year. That's hardly stellar, but better than the 1% it projects for the U.S.
The notion that the strong yen is unremittingly bad for Japan Inc. also needs qualifying. Sure, a surging yen is very bad for big exporters, particularly given the rapidity of its appreciation against the dollar. And many export-driven companies are already are busy finding new ways to stem shrinking earnings. "We may have to think whether there are other things to do" besides cost-cutting, Toyota President Katsuaki Watanabe told reporters after a speech at the Japan National Press Club on Mar. 13.
China Replaces U.S. as Top Trade Partner
But the impact need not necessarily be as severe as in the past. One reason is that while the yen has strengthened markedly against the dwindling dollar and the British pound, against other currencies it is relatively stable. For instance, the yen-euro exchange rate is relatively unchanged from a year ago when one euro bought 156 yen. Today, the same euro would buy 155 yen. "I'm not too worried about the exchange rate in the sense that I think it was undervalued to begin with," says Richard Koo, chief economist at Nomura Research Institute in Tokyo. "The real problem for the economy is its dependence on exports."
Japanese companies, including exporters, are also far less exposed than they once were to the ups and downs of the U.S. economy. In 2007 for the first time Japan traded more with China than with the U.S. Meanwhile sales to other emerging markets such as Russia and Brazil are also helping diversify earnings (BusinessWeek, 1/18/08).
And many exporters, particularly automakers and suppliers, have invested heavily in overseas plants that reduce the impact of currency gyrations. By 2010, when Toyota opens its eighth North American factory, it will be capable of producing 2.2 million vehicles in the region. The last time the yen reached levels against the dollar seen this week, Toyota's total production outside of Japan had only just passed 1 million vehicles a year.
The strong yen also insulates Japanese importers against the rising cost of raw materials priced in dollars. Copper prices measured in yen in Japan have fallen 10% since last June. Aluminum prices, which have surged 15% in dollar terms, are down 9% when measured in yen. "An appreciation in the yen is not necessarily bad news for the Japanese economy and equity markets," Shinichi Ichikawa, chief strategist at Credit Suisse (CS) in Tokyo wrote on Mar. 5 in a research note to clients. "A strong yen acts to improve terms of trade, which helps Japanese companies and other economic entities control their costs." So is it time to buy Japanese stocks? Perhaps not exporters, but Ichikawa likes the look of retailers, food producers, and financial firms.
Before it's here, it's on the Bloomberg Terminal.
LEARN MORE