Delta-Northwest Deal Grounded
The pilots' unions of the two commercial airlines cannot agree on how to create a seniority list for a combined venture
Dean Foust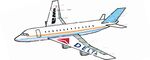 After years of speculation and rumor about airline mergers, it appeared that the long-awaited era of consolidation of the nation's commercial carriers was finally at hand: Delta Air Lines (DAL) was negotiating to merge with Northwest Airlines (NWA), a marriage that was certain to force other major carriers to find partners of their own.
But, as in the past, the prospect of megamergers in the airline industry turned out to be one more mirage—with the pilots of Delta and Northwest torpedoing the latest wave of deals. On Mar. 17 the head of Delta's pilots' union told members in a letter that he and his counterparts at Northwest had been unable to reach an agreement on how to create a seniority list for the combined airline. And with Delta and Northwest executives having effectively made that a precondition of the broader merger, the deal was dead—with only recriminations to follow.
"We approached the negotiating table not at an extreme, but in the middle; not adversarial, but cooperative. The other committee took a different approach," Lee Moak, the head of Delta's pilots, wrote to members, declining to publicly identify Northwest as the discussion partner.
Profitability Isn't Out of the Question
While Delta management wouldn't discuss the latest setback, it's clear they are proceeding on the assumption a deal won't happen. Less than 24 hours after Moak sent his missive to the other pilots, Delta management announced a sweeping restructuring plan designed to counter the recent spike in fuel prices (BusinessWeek.com, 3/12/08).
The surge above $110 per barrel this week is likely to cost the airline an extra $2 billion this year. In a presentation to Wall Street investors, Delta President Ed Bastian said the Atlanta carrier would cut 2,000 jobs and ground dozens of planes to keep the airline in the black. "It is not out of the question for Delta to be profitable this year," Bastian told investors. "We're moving quickly to take care of managing our business."
In addition to the job cuts, Bastian said the carrier plans to scale back the number of domestic flights by 10% this year, largely by reducing the number of direct flights between smaller cities that don't connect through one of its hubs. Also on Tuesday, United Airlines (UAUA) said it would cull 15 to 20 planes from its fleet this year as part of an effort to reduce unprofitable flights.
Pressure to Negotiate a Deal
At Delta, Bastian says the airline will shift some of its planes into the international arena (BusinessWeek.com, 5/7/07), by beefing up service to underserved markets in countries such as Africa, China, and India. "We're going places where others aren't," he said. "It's truly new white spots—markets where there is no U.S. competitor." As for the prospects of a merger, Bastian declined to comment, saying only, "We are proponents of consolidation, but it has to be the right deal."
Already, some Wall Street analysts are questioning whether Delta management was in fact committed to making the Northwest merger happen. To be sure, there was pressure on Delta Chief Executive Richard Anderson to negotiate a deal: Many of the hedge funds that bought Delta debt during the carrier's 2005 bankruptcy—and converted it into sizable equity stakes when the airline emerged from Chapter 11 the following year—were pushing management to pursue a merger.
And when Anderson asked the pilot unions from Delta and Northwest to find a way to combine the seniority lists for both carriers, it appeared to be a prudent move to avoid the pilot infighting that has poisoned the merger between the former US Airways Group (LCC) and America West.
But looking back, Anderson—who before joining Delta last year had served as CEO of Northwest—had to have known enough about each of the pilots' unions to think it unlikely they would find common ground. With hundreds of Delta pilots opting to retire before the bankruptcy, the remaining pilots were on average far younger than their peers at Northwest. That meant that in a merger, many Delta pilots would be bumped back to flying smaller planes—an action that would also have meant taking a pay cut.
Industry Consolidation Delayed
And when Northwest pilots refused to cede too much ground on the seniority issue, Delta pilots opted to walk. "Pilots are like a bunch of spoiled kids, and it would have required adult supervision to make the merger work," says Roger King, airline analyst for CreditSights, an institutional research firm in New York. "It's a testament to management's impotence that the deal wasn't done—or more probably, to management's real desire to not do the deal. I think they pursued the merger just to get the shareholders off their backs."
King belongs to the camp that believes airline mergers are overrated, with the integration issues—such as appeasing the pilots' unions—outweighing any benefits. And that's particularly the case, he says, with Delta and Northwest, where there's so little overlap in their route structures that the cost savings would be negligible. The management teams "were looking at years of execution risk, without any huge economic benefits," he says.
If Delta and Northwest opt not to force the pilots back to the table—and Bastian's presentation suggests Delta has already moved on—that eliminates the pressure on other carriers to respond. All of which suggests the prospect of airline mergers will be a topic of debate and speculation for years to come.
Before it's here, it's on the Bloomberg Terminal.
LEARN MORE