Bank of Japan: Who's at the Wheel?
As Japan lurches toward recession, the current Bank of Japan boss is out; his successor may be blocked by pols averse to Finance Ministry candidates
Kenji Hall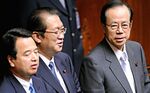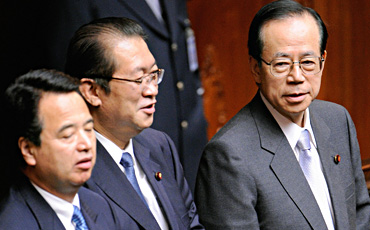 With stocks plunging across Asia, the yen soaring against the dollar, and investors worrying about the fire sale of crippled Bear Stearns (BSC), now is a good time for Japan's central bank to show that it can react quickly to crises, even when they're unfolding halfway around the world. After U.S. policymakers took extraordinary measures over the weekend to assuage jittery financial markets, the Bank of Japan flooded its own banking system with an extra $4.1 billion on Mar. 17 (BusinessWeek, 3/17/08).
The BOJ clearly wanted to send a message that it's prepared to ward off a credit crunch. But the man to offer such assurances, BOJ Governor Toshihiko Fukui, is a lame duck, with just one day left before his term ends Mar. 19. And the government and opposition party have yet to break a deadlock over who should replace him.
Japan's politicians should jump at the chance to pick a BOJ head with the intellectual heft and independence that befits the steward of the world's second-largest economy, analysts say. A strong pick also would also give investors one less reason to feel antsy about the market tumult.
New Choice Gets Thumbs-Down
But that logic hasn't swayed Japanese politicians. On Mar. 18 the government tapped Koji Tanami, the 68-year-old head of government lending agency Japan Bank for International Cooperation, to head the BOJ. He was a surprise choice after the opposition Democrats used their majority in Parliament's upper house to reject the LDP's first nominee last week. Tanami, a former top bureaucrat at the finance ministry, got the thumbs-down from the Democrats, who seem determined to end the ministry's traditional lock on top BOJ jobs.
Until the lawmakers can agree on a new boss, Masaaki Shirakawa, a 58-year-old Kyoto University professor and former BOJ official who has been approved as the bank's new deputy governor, is likely to assume the role of day-to-day caretaker.
The prospect of a leaderless BOJ hasn't sat well with investors. On Mar. 18, the Nikkei 225 Stock Average rose 1.5%, to 11,964.16, but only after three days of losses that had shaved more than 8% off the index and left it at its lowest level since Aug. 8, 2005. Some investors also worry that a U.S. slowdown and the yen's rise this week to a 12-year high against the U.S. dollar could hurt earnings of Toyota Motor (TM), Sony (SNE), Matsushita Electric Industrial (MC), and other Japanese exporters that do big business overseas.
BOJ's Hands Might Be Tied
Even if the politicians could agree, many economists reckon that with interest rates already so low in Japan the new BOJ chief's hands will be tied. The key short-term benchmark rate hovers at a mere 0.5%, and lowering the rate to 0.25% probably wouldn't make a big difference. Besides, such a rate cut would go against BOJ policy of "normalizing," or gradually raising, rates closer to where other wealthy nations have set theirs (BusinessWeek, 10/31/07).
Contrast that with the U.S. Federal Reserve's expected move on Mar. 18 to slash its target Fed funds rate (at which banks lend funds to other banks) by 1 percentage point, or possibly more, to 2%. As other major central banks do the heavy lifting to head off a market meltdown, the BOJ seems in danger of becoming a bystander. "The BOJ looks very passive," says Takashi Omori, chief economist for Japan at UBS (UBS).
The Mar. 17 stock sell-off in Tokyo came despite the Fed's unexpected decision hours before the start of the week's trading to lower the discount rate—the rate for direct loans to banks—and to extend loans to the largest dealers in Treasury securities. That slowed the yen's momentum but some think it's only a brief respite. "We expect to see the [yen] rise further in the near term on concerns over a deteriorating U.S. outlook and the possibility of a global credit crunch," Lehman Brothers (LEH) economist Hiroshi Shiraishi wrote on Mar. 14, before the Fed's move.
Lack of Policy Expertise?
The BOJ's personnel problems could easily have been avoided. The ruling Liberal Democrats had bet that the opposition would timidly back the BOJ's current deputy governor, Toshiro Muto, for fear of losing face. Instead it was LDP politicians who were embarrassed when Democrats in the upper house voted against Muto and one of his would-be deputies. The Democrats also dismissed the LDP's proposal of keeping Fukui on for another term.
One of opposition's gripes had to do with the practice of filling top BOJ posts with ex-senior Finance Ministry bureaucrats. The Democrats have a point. Former Finance Ministry bureaucrats don't have nearly the monetary policy expertise of, say, Fed Chairman Ben Bernanke, a former Princeton economics professor. Picking ministry bureaucrats also fuels doubts that the BOJ can exert its independence—granted only a decade ago—in the face of government pressure.
Economists have aired a different complaint: They think the BOJ has an unrealistically rosy economic view. It's one reason the BOJ is slow to shift policy. The bank's twice-a-year Outlook Report from last October, for instance, predicts a "moderate expansion" in Japan due to strong exports. So does the bank's most recent monthly report from March, which mentions possible slower growth. Some observers wonder if the Outlook Report in April will factor in the market panic. "Personally I think the BOJ tends to stick to their old stories until things have become too apparent," said UBS's Omori.
That's a problem, now that some are already using the "R" word to describe Japan's economy despite the scarcity of evidence so far. "We stand by our view that the economy is currently in recession," Goldman Sachs's (GS) Tetsufumi Yamakawa wrote on Mar. 14.
Before it's here, it's on the Bloomberg Terminal.
LEARN MORE