Fujifilm Focuses on Pharma
With film fading into the background, the company wants to apply its production expertise and nanotechnology techniques to drugmaking
Kenji Hall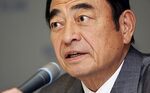 Shigetaka Komori isn't one for subtleties. When the president and chief executive of Fujifilm Holdings (FUJI) announced, in mid-February, that his company would pay nearly $1.5 billion for a majority stake in Japanese pharmaceutical maker Toyama Chemical, he quickly established that this was no mere trophy purchase. "We aim to become a comprehensive health-care company," he boasted to reporters in Tokyo.
What do drugs have in common with the $28 billion company's longtime business in photo film? More than you might think, according to Komori. Fujifilm wants to apply both its production expertise and nanotechnology techniques, originally developed for film production, to drugmaking. One example that predates the Toyama deal: an experimental cancer treatment that's made from microscopic particles like those in gelatin coatings on film and that's spread on skin like an ointment. Selling pharmaceuticals complements Fujifilm's existing businesses in gene analysis and imaging technology for ultrasound and X-ray machines, Komori told the Japanese financial daily Nikkei in early March.
And Toyama could be on the verge of delivering something big. Next year it expects to market a new flu treatment that's already being talked about as a possible alternative to Roche Holdings' Tamiflu. Such a blockbuster could make Toyama's top-selling drug, Pentcillin, a penicillin, seem puny and provide a major earnings boost. (Toyama has forecast operating profits of $61 million, compared with last year's $57 million loss, on a doubling of sales to $317 million.) It would also show that Komori has turned Fujifilm around after two years of painful restructuring.
Yet analysts remain skeptical. In the past month, Fujifilm's stock has fallen by 9.5%, slightly more than the Nikkei 225 Stock Average's 9% slide. "Some investors wonder whether Fujifilm paid too much for Toyama," said JPMorgan Chase (JPM) analyst Hisashi Moriyama. "The question is: Can Fujifilm recoup its investment over the longer term?"
The doubts haven't led Komori to trim his goals for the health-care business, though. Medical systems and life-science products now account for about $2.8 billion in revenues, a tenth of the company's total. In a decade, Komori wants them to triple to more than $9.5 billion, to as much as a quarter of the overall figure. The division could become a key growth engine, offsetting declines in traditional photo-film making, where sales have suffered from the double whammy of rising metal prices and a shift to digital photography. And though the company won't be immune to an economic slump, its medical business "should be relatively unaffected" because prices don't fluctuate much, Lehman Brothers' (LEH) analyst Keiji Takeda noted in a recent report.
Diversification Time
Growth will likely come through the kind of global acquisitions that Komori has made over the past three years. Analysts estimate Komori has spent upward of $3.8 billion to overhaul Fujifilm, and Komori himself has suggested he would spend as much as $1 billion more each year.
Since 2006, seven of the 10 deals have involved absorbing or tying up with companies in the medical field. Other areas where the company has heavily invested are high-tech films for flat-panel TVs, where it has roughly 80% market share globally, and office copiers and printers. In fact, film, once the company's mainline business, has gone from being 19% of overall sales in 2000 to just 3% now, and some think the company might get out of the film business altogether.
One downside to the diversification: Without film, Fujifilm doesn't have a big, reliable money-earner. Bringing Toyama in-house gives Fujifilm a toehold in the $650 billion global drug market. But it's unlikely to replace film. And not all of Toyama's seven experimental drugs for influenza, rheumatism, and Alzheimer's are likely to pass the safety testing stage. The risk, analysts say, is that Toyama, whose unpredictable earnings have dipped into negative territory twice in the past five years, could hurt more than help Fujifilm. So far, Mizuho Securities (MFG) hasn't changed its forecasts for Fujifilm's operating earnings this year, which could double to $2.18 billion, from $1.1 billion last year, on a 2.4% rise in sales, to $28.4 billion.
Stiff Competition
In the medical field, Fujifilm faces competition from other Japanese high-tech companies such as Olympus and Canon (CAJ). Olympus leads Fujifilm in endoscopes, remote controlled tubes with built-in cameras for examining the intestine, while Canon has teamed up with Tokyo Institute of Technology and Stanford University to beef up its presence in medical imaging. In printers, Fujifilm also needs to raise its margins, which should top 7% this year but can't compare to Canon's 18%, says JPMorgan's Moriyama.
Komori deserves much of the credit for the company's reinvention. Not long after he took charge in 2000, Fujifilm was in crisis. Digital photography was replacing film faster than executives had expected, and Komori had a tough decision. He realized he had to prioritize digital imaging and phase out film—but he also mapped out a two-year, top-to-bottom reorganization costing nearly $2 billion. In short order, Komori cut 5,000 jobs and streamlined the company's supply chain, shuttering unprofitable film factories and transferring camera production in Japan to China. In the most recent quarter, through December, Fujifilm's ratio of overhead costs to sales was at an all-time low.
To foster innovation, Komori had a new lab built in Kanagawa prefecture, west of Tokyo, for 1,000 researchers working on core technologies. And to drive home the point that the company's film-centric model was dead, Komori & Co. dropped the word "photo" from the masthead in late 2006.
Before it's here, it's on the Bloomberg Terminal.
LEARN MORE