The Secret Side of David Axelrod
The Obama campaign's chief strategist is a master of "Astroturfing" and has a second firm that shapes public opinion for corporations
Howard Wolinsky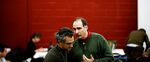 David Axelrod has long been known for his political magic. Through his AKP&D Message & Media consultancy, the campaign veteran has advised a succession of Democratic candidates since 1985, and he's now chief strategist for Senator Barack Obama's bid for President. But on the down low, Axelrod moonlights in the private sector.
From the same address in Chicago's River North neighborhood, Axelrod operates a second business, ASK Public Strategies, that discreetly plots strategy and advertising campaigns for corporate clients to tilt public opinion their way. He and his partners consider virtually everything about ASK to be top secret, from its client roster and revenue to even the number of its employees. But customers and public records confirm that it has quarterbacked campaigns for the Chicago Children's Museum, ComEd, Cablevision, and AT&T.
ASK's predilection for operating in the shadows shows up in its work. On behalf of ComEd and Comcast, the firm helped set up front organizations that were listed as sponsors of public-issue ads. Industry insiders call such practices "Astroturfing," a reference to manufacturing grassroots support. Alderman Brendan Reilly of the 42nd Ward, who has been battling the Children's Museum's relocation plans, describes ASK as "the gold standard in Astroturf organizing. This is an emerging industry, and ASK has made a name for itself in shaping public opinion and manufacturing public support."
Lowest of Low Profiles
Eric Sedler, 39, a former public relations director at AT&T and corporate-reputation specialist at PR giant Edelman, is the "S" in ASK and the company's managing partner. The "K" is John Kupper, 51, a former congressional press secretary and ad-industry consultant, while the "A," of course, is Axelrod, a onetime Chicago Tribune reporter who got his start in politics when he managed Illinois Democrat Paul Simon's first election to the U.S. Senate. Sedler says opponents mischaracterize what ASK does. "I reject the notion that a company can't advocate a public policy," he says. "These issues are complicated, and people have different points of view." Axelrod, 53, did not respond to phone messages and e-mails.
Though the consultancies share management—Kupper, like Axelrod, is also a partner at AKP&D—and loft space, the two firms come across as polar opposites. On its Web site, AKP&D lists dozens of candidates and referendums it has worked on. Sample ads are available for downloading. Employees are named. ASK's site is minimalist, revealing little more than that its three partners do all their work themselves. Sedler says, in fact, that in his six years at ASK, he had never done an interview with the media before. "We're not in a business that warrants a huge public profile," he explains.
Axelrod's political connections can cross over into his corporate business. Mayor Richard M. Daley, one of Axelrod's friends and earliest clients, is pushing construction of a new Children's Museum in Grant Park to replace a facility on Navy Pier that the museum says it has outgrown. So far, though, "open-space" foes such as Reilly have stymied the move. The museum retained ASK early in 2007. Sedler says Axelrod's ties with Daley had nothing to do with the contract.
ASK is counseling the museum, which reports annual revenue of more than $11 million, including government grants, on its message strategy. It is also writing ads, including a 60-second radio spot that stresses how the new quarters would blend into Grant Park and be more accessible. Sedler won't say how much ASK is receiving, joking that it's "about 30¢ per hour." Consultants at other PR firms say corporate clients pay monthly retainers of up to $25,000, though nonprofit groups usually pay less. In addition, firms typically get 15% of whatever clients spend on advertising.
ASK's relationship with ComEd goes back much further: The Chicago-based utility says ASK has been an adviser since at least 2002. ASK's workload picked up in 2005, as the Exelon subsidiary was nearing the end of a 10-year rate freeze and preparing to ask state regulators for higher electricity prices. Based on ASK's advice, ComEd formed Consumers Organized for Reliable Electricity (CORE) to win support.
One TV commercial, penned by ASK, warned of a ComEd bankruptcy and blackouts without a rate hike: "A few years ago, California politicians seized control of electric rates. They held rates down, but the true cost of energy kept rising. Soon the electric company went bust; the lights went out. Consumers had to pay for the mess. Now, some people in Illinois are playing the same game." CORE, which describes itself on its Web site as "a coalition of individuals, businesses and organizations," was identified as the ad's sponsor. After a complaint was filed with state regulators, ComEd acknowledged that it had bankrolled the entire $15 million effort.
The message seemed effective. Pollster Geoff Garin, president of Peter D. Hart Research Associates in Washington, which has worked with both of Axelrod's businesses, says his research showed that after the advertising campaign, ComEd customers were more supportive of a rate hike than customers served by other electric utilities elsewhere in Illinois.
Axelrod's public and private efforts bump into each other at ComEd, too. Illinois employees of the utility and its parent, Exelon, have contributed $181,711 to Obama's Presidential bid—more than workers at any other company in the state.
A Big Contract
Illinois does not require public-affairs firms to register as lobbyists unless they seek to influence officeholders directly. But New York does. In New York City, Cablevision, owner of Madison Square Garden, hired ASK to stop the New York Jets from building a stadium nearby in Manhattan. In its ads and materials, the opposition called itself the New York Association for Better Choices. Records show ASK was paid $1.2 million by Cablevision from 2004 to 2005. LegislativeGazette.com, an online weekly covering New York government, described ASK's payday as "the biggest lobbying contract of the year."
Among ASK's other clients: AT&T. The telecom company, formerly known as SBC Communications, had been a customer, Sedler confirms, when it requested ASK's help to defeat a broadband referendum in three Fox Valley suburbs in 2004. ASK received $22,500 for its voter-persuasion drive.
In politics, Axelrod's AKP&D is as partisan as they come. But ASK travels easily across the aisle. Gene Reineke, head of Hill & Knowlton's Chicago office and former chief of staff for Republican Governor Jim Edgar, says his PR firm shared ComEd as a client and now works with ASK on the Children's Museum. "Their firm is outstanding," he says. "I think it's one of the best in the field, to be honest."
Avis LaVelle, a former Daley press secretary who now runs Lavelle-Cousin Issues Management, also teamed with ASK on ComEd's CORE campaign. She says their consultancies are practicing a new kind of PR, bringing tools and know-how from the world of politics into the corporate and nonprofit realms. "A lot of what is done to shape public opinion in political life," LaVelle says, "can be applied to public affairs for corporations."
Business Exchange related topics:Public Relations2008 ElectionEconomy and the ElectionBrand Marketing
Before it's here, it's on the Bloomberg Terminal.
LEARN MORE