Are Handset Sales Set for a Fall?
Texas Instruments scales back its growth outlook, setting off a wave of speculation about an overall market slowdown
Jennifer L. Schenker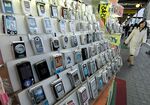 On Mar. 10, Texas Instruments (TXN), a leading supplier of semiconductors for cell phones, set off shock waves in the multibillion-dollar mobile industry by lowering its first-quarter growth estimates for sales of wireless chips. TI pinned the blame on weakening demand from a major customer for high-end chips used to power third-generation (3G) phones.