The Stockholm Solution
Lessons from Sweden's response to its 1991 crisis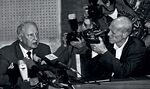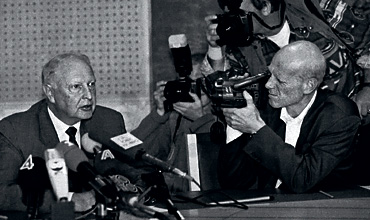 Credit crises the world over tend to follow a similar script: Easy access to money inflates a speculative bubble, the bubble bursts, prices crash, defaults soar, banks stop lending. In 1991, Sweden faced one of the worst such lockdowns the global economy has seen in the past 60 years.
At about the same time, Japan fell into its own financial crisis. But in sharp contrast to the Japanese, a rapid response by Swedish policymakers helped contain the damage and set the country up for more than a decade of strong growth. And while Sweden, with just 9 million residents, is dwarfed by the U.S., Washington might still learn from Stockholm's experience.
Following bank deregulation in 1985, Sweden's economy took flight in the late '80s. By 1990 real estate values and stock prices had more than doubled, business optimism appeared to know no bounds, and banks opened their coffers to just about all takers. Swedes thronged the new wine bars and restaurants popping up in Stockholm's streets and back alleys.
When the bust hit, it hit hard. Gross domestic product fell 6% between 1990 and 1993, prompting a tide of bankruptcies that threatened to swamp the financial system. The central bank governor, Bengt Dennis, was dubbed "Dennis the Menace" after he briefly jacked up interest rates on loans to banks to 500% in an effort to halt speculation against the currency in 1992. "Everything was so black you almost didn't dare open the paper," recalls Lars H. Thunell, at the time the deputy chief of Nordbanken, Sweden's No. 2 bank, and now CEO of the World Bank's International Finance Corp. in Washington.
The government's response: A $14billion restructuring fund and a takeover of Nordbanken, the hardest-hit player. The bank's bad loans were sold off at a steep discount to a new government-backed company called Securum, which was headed by Thunell. At one point the operation owned 2,000 buildings, controlled industrial companies such as chemical giant Nobel Industries, and employed 30,000 people. "The Swedes were smart, they moved quickly, and they knew how to organize the rescue," says John R. Macey, deputy dean of Yale Law School, who has written about the Swedish approach.
Critics sniped at the massive government intervention, but it bought time. And the quick action headed off fire-sale liquidations of the bad loans—and may have prevented a meltdown of the rest of the banking system. Once things calmed down, Securum and a sister company, Retriva, gradually sold off their holdings. Nordbanken was relisted on the stock market in 1995 and, after a series of mergers, is now part of Nordea, Scandinavia's largest bank. Though the bailout cost some 4% of GDP, most of that was later recouped via the asset sales.
The experience taught Swedish leaders a harsh lesson. Since the crisis, Stockholm has largely managed to keep spending in check, often running budget surpluses. And the central bank has been a hawk on inflation, even choosing to raise rates by a quarter-point on Feb. 20, despite the dangers of a U.S.-led economic slowdown. The payoff has been growth averaging 3.2% since 1994.
Looking back, Thunell says that in a crisis it's important to force executives to take action before things spiral out of control. "People never believe it is as bad as it really is," he says. And those who made the bad loans in the first place, Thunell says, are too emotionally attached to be involved in the workout. Finally, there are times when governments may need to ignore ideology and recognize there is no other option but to intervene in business.
Before it's here, it's on the Bloomberg Terminal.
LEARN MORE