Globalization Bites Boeing
The flap over the loss of a big contract to EADS ignores the planemaker's dependence on foreign suppliers
Keith Epstein and Judith Crown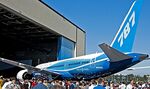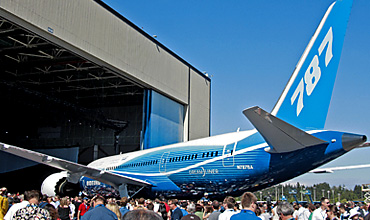 When is globalization a dirty word? When a consortium led by Northrop Grumman (NOC) and the European Aeronautic Defence & Space (EADS), the parent company of Airbus, bests hometown hero Boeing in the competition for a $35 billion U.S. Air Force contract for airborne refueling planes. Ever since the decision was announced on Feb. 29, Americans from Seattle to Capitol Hill have railed about lost jobs and the security risks in outsourcing production of military gear to foreign companies. Boeing filed a formal protest with the Government Accountability Office on Mar. 11—its first such filing in more than 30 years—citing "irregularities" in the bidding process.
Yet Boeing itself serves as a case study in how globalization can cut both ways. By its own admission, the $66 billion company could never stay competitive if it were not for the benefits of global alliances. Around 60% of the components of all Boeing commercial models are supplied by foreign contractors, and that rises to 70% on its new 787 Dreamliner. "It's a little hard [for critics] to complain about foreign content on the future tanker when Boeing's Dreamliner was designed for manufacture by a global supply chain," observes defense analyst Loren B. Thompson of Lexington Institute, a public policy think tank.
Boeing spokesman Daniel C. Beck counters that there's "no comparison between an aircraft developed solely for an international commercial market and a tanker aircraft developed solely as a military asset." The Northrop-EADS tanker will be assembled at a facility in Mobile, Ala., but 40% of its components will be sourced from overseas. The rival Boeing aircraft would depend on non-U.S. suppliers for 15% of its parts.
Executives at Boeing have been careful not to say that the Pentagon should have favored their "American" plane. Yet the company wasted no time in filing a formal complaint. The GAO must carry out an impartial review and make a recommendation within 65 to 100 days. U.S. politicians, on the other hand, have been open about their pro-American bias. Presidential candidates Barack Obama and Hillary Clinton have played up the tanker issue on the campaign trail to reach out to voters who are anxious about globalization. "It's an irresistible issue during an election year," says Richard L. Aboulafia, vice-president at aerospace consultant Teal Group.
The political rhetoric ignores the realities of the modern aerospace industry. Simply put, it's hard to make a plane these days without a global supply network. Companies must avail themselves of state-of-the-art technologies wherever they can find them. That's one reason Boeing tapped Japan's Toray Industries, an expert in sturdy but light carbon-fiber composites, to supply materials for the Dreamliner's fuselage. Also, the company needed so much space to build the new plane—3 million square feet—it found it more efficient to spread the work around the world. Parts are produced at the same time, rather than in sequence, saving time and money. Outsourcing work to other countries doesn't hurt either when planemakers are trying to clinch orders from foreign carriers.
But global supply networks can also become a liability. Deliveries of the Dreamliner are already about 10 months behind schedule and could be delayed further. The latest snafus involve assembly of the fuselage at a South Carolina plant run by an alliance of Italy's Alenia Aeronautica and Vought Aircraft Industries of Texas. "What was supposed to be their salvation now works against them," says Cowen & Co. senior analyst Cai von Rumohr. The number of Dreamliners he now expects to be ready in 2009? Fifty-five instead of the 109 promised by Boeing.
Before it's here, it's on the Bloomberg Terminal.
LEARN MORE