Do These Clothes Help You Work Out?
The performance-enhancing sports apparel market is sizzling, but its claims may be on steroids
By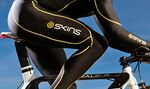 As the Summer Olympics approach, makers of snug-fitting sports apparel are turning up the marketing volume on new garments designed to improve muscle strength, aid circulation, and deliver other benefits. Some of the claims fall short of medical proof, but the movement is having one clear effect: putting pressure on Under Armour (UA), which pioneered the trend.
Adidas (ADDDY) and Wacoal, a Japanese supplier of women's underwear, are promoting garments with built-in bands to add muscular support. Speedo and TYR Sport have new swimsuits designed to help Olympians zip through the water. Nike (NKE) will soon show off a new line of body-hugging tights. And Australian upstart Skins will begin a U.S. marketing campaign claiming its clothes hasten muscle recovery after extreme exertion. "This is such a hot category," says Skins CEO Jaimie Fuller. "Everybody is leaping in."
For months, the new entrants have been chipping away at Under Armour's lead. It now has a 35% share of a U.S. sportswear niche worth $3 billion, according to researchers Sports One Source, down from 40% a few years ago. Although sales keep soaring, profit margins have slipped, and so has Under Armour's stock: It's around 33, down from 65 last September.
As newcomers battle Under Armour in a softening economy, they're pushing advances in technology but straining credulity with their performance claims. Many of these focus on so-called muscle compression. When you exercise, your muscles expand with blood and other fluids, says Dr. Wayne Sebastianelli, a director at Penn State's center for sports medicine. Tight-fitting fabric pressing against muscle helps the fluid drain and eases the entry of fresh blood. "Theoretically, that allows you to feel better and generate more power to improve your performance," says Sebastianelli. But "the conclusions are mostly anecdotal. Meanwhile people are spending millions of dollars on the stuff."
For years, doctors have prescribed compression socks for deep vein thrombosis, an ailment marked by pooling of blood in the veins. The supports, often worn on long plane trips, help push blood through the veins. Credit for bringing the idea to the mass market goes to Under Armour, which grew into a $606 million megabrand by marketing its gear as a hip answer to loose-fitting cotton T-shirts.
Skins, with an expected $35 million in sales this year, is a pipsqueak by comparison, so it must talk a good game. On its Web site, the Sydney company lists several studies discussing muscle recovery. In addition to compression, Skins' products are supposed to reduce the buildup of lactic acid and other toxins that induce fatigue. The clothes supposedly help the body flush the toxins from different muscle groups. "Maybe some of [the benefits] are mental," says Jeff Keil, a Skins devotee and triathlete who placed 11th among Americans in the 2007 Ironman. "But I do believe the clothes reduce fatigue."
Recent medical research, however, casts doubt on the role of lactic acid. One new study at Columbia University instead blames fatigue on the leaking of calcium in tired tissues, which stimulates an enzyme that eats away at muscles. Dr. Riva L. Rahl, director of the wellness program at the Cooper Clinic in Dallas, examined some of the studies cited in Skins' literature. It's possible fabrics play a role in muscle recovery, Rahl says, "but I didn't see well-thought-out studies" to prove it. Skins' U.S. chief Patricia Babka says the studies are scrutinized by a board of medical experts.
Other companies also trumpet their fabric innovations. Wacoal sells tights that mimic the Japanese art of taping athletes' limbs. With layers of fabric that wind like tape around tendons in the hips and knee, the tights are marketed to runners and skiers who need extra lower-body support. Wacoal has 15 patents to protect this technology.
Form-fitting suits for swimmers, meanwhile, seek to reduce drag in the water. TYR Sport, a division of Swimwear Anywhere, has a new outfit with smooth panels that cover hip, leg, and buttock muscles to curb the drag created during the frog kick of a swimmer's breaststroke. It also is supposed to limit muscle fatigue. Speedo's new LZR suit has similar drag-reduction qualities, heavily plugged by a number of its well-paid athletes. "I'm confident knowing that I'm wearing the fastest suit," says world record holder Michael Phelps on Speedo's Web site.
Speedo enlists experts in aerospace, engineering, and medicine to develop its swimwear, but not all exercise specialists are persuaded that the performance claims, well, hold water. "Phelps is a talented swimmer, but he is getting a lot of money for the endorsement," says Penn State's Sebastianelli. "That is testimony, not science."
Before it's here, it's on the Bloomberg Terminal.
LEARN MORE