Ambush in Beijing
Official sponsors or not, companies are rushing to tie their products to the Summer Olympics
By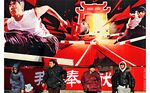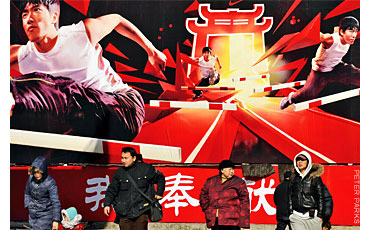 It seems like the marketing opportunity of the century: Thousands of athletes compete in the capital of a country whose 1.3 billion citizens are sports-mad, increasingly affluent, and eager to spend on new clothing, gadgets, and other consumer goods. That's why a dozen multinationals such as Coca-Cola (KO), Lenovo (LNVGY), McDonald's (MCD), and Samsung have laid out as much as $100 million each to be global sponsors of the Beijing Olympics this summer. An additional 11—including Volkswagen (VLKAY), Adidas (ADDDY), and Air China—have paid as much as $50 million each for the right to link ads within China to the Games. Dozens of other companies have less extensive tie-ups, ranging from the "official wine supplier" (Great Wall) to Guangzhou Liby Enterprise Group, which is an official provider of detergent for sheets, shorts, and other laundry. "This is going to be the biggest Olympics in our lifetime," says Tim Fenton, McDonald's Asia chief.
The problem for sponsors is that plenty of other companies think the Olympics are just as attractive—and are finding unofficial ways to link their brands to the Games. Nike (NKE) has endorsement deals with Athens gold medal hurdler Liu Xiang and other Chinese athletes. Sneaker-maker Li Ning (named after its founder, an Olympic gold medalist in gymnastics) runs TV spots featuring gymnasts and basketball players and is sponsoring the U.S. Olympic Ping-Pong team. PepsiCo (PEP) got 160 million online votes from mainlanders in a contest ranking mug shots sent in by fans; the winning entries will be printed on cans cheering on Team China. And Pepsi has replaced its traditional blue cans in the mainland with red ones "to show our respect to the year of China," says Harry Hui, Pepsi's marketing chief in China.
Such "ambush marketing" is paying off, as many consumers believe nonsponsors have an official link to the Games. While the Beijing organizers have gone after dozens of Chinese companies for illegally using the five-ring logo in ads, most ambush marketers simply deploy images of athletes. Nonetheless, thousands of Chinese polled by research firm Ipsos say they believe Pepsi, Nokia, and Li Ning are linked to the games, though they aren't. That's important because roughly three-quarters of Chinese consumers say they would give preference to products they associate with the Olympics, Beijing consultancy R3 reports.
Ambush tactics aren't unique to China. In Sydney, Australia's Qantas Airways got endorsements from Olympic athletes such as triple-gold-medal swimmer Ian Thorpe even though rival Ansett Airlines was the official carrier for the games. And although Adidas sponsored the 2002 and 2006 World Cup tournaments in soccer, the 2002 winner, Brazil, wore Nike.
"MIND SHARE"
But Beijing may leave fans especially confused because so many Chinese brands want to establish themselves with Olympic tie-ins, official or otherwise. "This is the first Olympics where so many strong domestic companies are competing for mind share," says Greg Paull, principal for China at R3. It doesn't help that the Beijing organizing committee offers five levels of sponsorship, and a total of 49 companies have signed up. Then there are other groups that in the public eye will appear linked to the Games. Li Ning, for instance, has a deal to provide clothing and shoes to the sportscasters of Chinese Central Television, which has exclusive rights to the Games in the mainland. Nike, meanwhile, will outfit many Chinese team members, but if they win, they'll have to do a quick costume change before getting their medals since Adidas has exclusive rights to clothe Chinese athletes on the podium.
Given the scramble for the Olympic limelight, official sponsors are fighting back. Coke launched its offensive on Dec. 31 with an outdoor concert in Beijing featuring a 50-foot-high Coke bottle covered with LED screens flashing Olympic images. And it's a sponsor of the torch relay, where it will hand out cold cans of soda to fans. "Ambush marketing is a concern to all of us," says Andrés Kiger, a marketing director for Coca-Cola China. "We have tried to establish, and have been successful at establishing, our credentials as an official sponsor." Lenovo, meanwhile, has booked CCTV1 just before the 7 p.m. evening news—the top ad slot in China—and is running an animated "countdown to the Olympics" every day. Says Alice Li, Lenovo's Olympics marketing chief: "We are very confident that consumers recognize Lenovo as an Olympic sponsor."
Join a debate about using the Olympics to make political statements.
Before it's here, it's on the Bloomberg Terminal.
LEARN MORE