Blogs Get Busy on Spitzer Saga
The blogosphere, featuring comments from Spitzer foes Ken Langone and Henry Blodget, had a field day with the New York governor's fall from grace
Eva Woo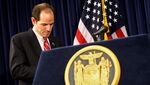 Wall Street had much to celebrate on Mar. 11. Sure, there was the 416-point leap in the Dow Jones industrial average. But right behind it was the day-after chatter on the blogosphere among financial traders and investors giddy about the fall of archnemisis Eliot Spitzer, the New York governor who is embroiled in a prostitution scandal.
Many traders, venture capitalists, and other financial types had been avowed Spitzer-haters because of the former state attorney general's constant reform efforts. So it figured that on Mar. 11 some were gleefully counting the minutes left before a Spitzer resignation. They tore apart his brief appearance before the cameras Monday: "It was a typical Spitzer performance, marked by finger-pointing and grabs for partisan political advantage," said Dealbreaker's John Carney, before he went on to cite the prostitutor's account on Spitzer as a "difficult" client from investigation files.
The Wall Street Folly blog called Spitzer's public appearance a "live by the sword, die by the sword" moment. "It's deliciously clear that he's guilty and that he's an incredible hypocrite going down in flames the way others he prosecuted, many completely unfairly, were taken down."
Former Targets Chime In
Some of Spitzer's targets weren't shy about speaking out. "He actually believes he's above the law. I have never had any doubt about his lack of character and integrity—and he's proven me correct," said Ken Langone on The New York Times' Dealbook blog. Langone was head of the compensation committee of the New York Stock Exchange when Spitzer went after former NYSE Chairman Richard Grasso's $190 million pay package.
On the other hand, Henry Blodget, who became a target of Spitzer when he was a Merrill Lynch (MER) analyst on Wall Street during the tech bubble, chose a more demure approach. Blodget, now better known for his Silicon Alley Insider blog, quietly posted excerpts of the Times report with no comment. That didn't stop readers from pointing out the connection, though. Said Steve H: "Henry, you have to admit that it was hard not to post this story with the slightest smirk on your face. Karma…"
Others gave tribute to Spitzer's corporate-crimefighter credentials. Andrew Leonard at Salon cheered Spitzer as the "unexpected underdog who comes out of nowhere and starts landing one uppercut after another into the chins of a murderer's row of 800-pound gorillas." But he cited him as "another lesson in why hero worship is always, invariably, a bad and stupid idea." Kevin Drum at the Washington Monthly, author of the Political Animal blog, was willing to shrug off the entire sorry episode. He wrote that prostitution "shouldn't be illegal in the first place." Citing the cases of senators David Vitter and Larry Craig, Drum said his "official position is: who cares."
Some went so far as to suggest that the fiasco could be a setup. Stormy at Angry Bear drew a connection between Spitzer's downfall as "Client 9" of the Emperor's Club prostitution ring and the governor's recent criticism of the role played by the U.S. Office of the Comptroller of the Currency during the "predatory consumer lending crisis."
Digging Deeper
Fred Wilson at A VC blog attempted to explore the psychological aspects of Spitzer's failure, examining how the self-destructive behavior happened to "a man with so much going for him" and with a "drive that is almost overwhelming."
Finally, it fell to Eric Fox, a high school classmate of Spitzer's at Horace Mann School in the Bronx, to dig through some old yearbooks in his basement to find a quote to sum things up. Writing on MarketPrognosticator, Fox points out that the last quote on Spitzer's 1977 class yearbook page was: "The worst thing about political jokes is that some of them get elected."
Before it's here, it's on the Bloomberg Terminal.
LEARN MORE