Japan's Miserable Consumers
Stymied by bungling leadership and sluggish wage growth, Japan's shoppers are gearing up for a downturn
Ian Rowley and Kenji Hall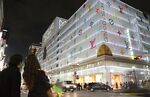 It sounds almost as absurd as navigating Tokyo's narrow streets in a Hummer: cramming an American-size refrigerator into a cramped Japanese kitchen. Yet in recent months, jumbo fridges have been among the fastest-selling appliances at Yodobashi Camera, a nationwide electronics and appliance chain. Sales are up 10% in the past three months from a year ago, outstripping even compact sizes, which have slumped. Overall, domestic retailers' big fridge sales are up, on average, more than 30% in the same period, according to marketing researcher GfK Japan. "Normally, during this time of the year, we see single-digit gains in sales," said Noriyuki Michizuka, who works in Yodobashi Camera's appliances division.
One reason for the sudden rush to get a bigger icebox is angst about the economy. As the Japanese brace for a looming economic slowdown, many want a big fridge so they can load up on cheaper frozen groceries before supermarkets and food companies, hit by rising commodity costs, jack up prices.
That's a reality check for consumers in a country that's lived through years of falling prices. The Agriculture Ministry, which has controlled wheat prices since the post-World War II U.S. occupation, says it will raise prices at which it sells imported wheat to mills by 30% next month. In December, Yamazaki Baking increased the price of white bread for the first time in 24 years. The company's Special Selection Super Mellow bread now sells for $1.85, up 12% from $1.65, and its Double Soft bread sells for $2.14, up 10% from $1.94. In Tokyo, ramen restaurants have taken to displaying signs apologizing to customers who rarely saw price hikes during the years of deflation. And since January, newspapers like the Asahi Shimbun have featured feedback from readers about how to cut back on electricity costs at home, such as doubling up on curtains, switching the fridge to low, and turning down the thermostat.
Consumer Confidence at Four-Year Low
Despite the gloomy sentiment, Japan looks to be in decent shape when compared with many industrialized countries. Economic growth hit a surprisingly high 3.7% annual rate in the last quarter. And the current expansion started in February, 2002, the longest in the postwar period. Unemployment stands at 3.8%, down from a peak of more than 5.4% in 2002, and Japanese blue chips such as Toyota (TM), Honda (HMC), Matsushita (MC), and Sony (SNE) all posted best-ever quarterly results in the three months to December (see BusinessWeek.com, 1/31/08, "How Sony Can Keep the Momentum" and 2/5/08, "Recession Worries Weigh on Toyota"). And Japan's banks have been relatively free of the subprime write-offs that have slammed their U.S. and European rivals. As of the end of December, combined subprime losses for all Japanese banks were $5.6 billion (BusinessWeek.com, 2/21/08)—a third of the $18 billion written off by Citigroup (C).
But don't talk to Mari Shibayama about the good times. The 43-year-old architect from Tachikawa, a Tokyo suburb, can't remember the last time she made a big purchase, and has taken to monitoring gas stations to find the lowest price. "I've been keeping down extra expenses," she says, even though she and her husband both work full time.
One big worry is that, during the lean years of the 1990s and early 2000s, they didn't have enough to pay into the state pension fund and so temporarily stopped sending money under a three-year deferment program. Now they're trying to catch up, but it's tough finding the $500 the government says they need to contribute every month.
Shibayama isn't alone. The government said its consumer confidence index fell in January for the fourth consecutive month and is now at its lowest level in four years. And pity the poor laborer. Last year was a record year for profits at listed companies in Japan, but average wages rose just 0.2%. "They said the economy is improving, but we couldn't feel it. I think people will hold their purse strings even more tightly," says Osamu Ozone, a 46-year-old advertising executive from Tokyo. Ozone says he's already looking for ways to cut back both privately and professionally. For instance, instead of taking clients to the upscale sushi bars where he often spent $180 per person, he now entertains at less posh restaurants that charge about half that amount.
Political Paralysis
For Japan Inc., there's more to fret about than just a drop-off in consumer confidence. With the yen surging and the subprime mortgage mess wreaking havoc on markets, it could get harder for Japan to sell its cars and electronics gadgets overseas. While the full impact of a U.S.-led global downturn has yet to undercut earnings of Japanese exporters, their share prices have been taking a battering. Since last August, Japan's Nikkei 225 benchmark index has fallen 19%, compared to a 9% slide in the Dow Jones industrial average.
It's not just stock investors who are feeling the pain. Many Japanese took advantage of the weakening yen against other major currencies to invest cash in overseas securities—the so-called "yen carry trade." The yen's about-face—from over 120 to the dollar to below 104—has cut deeply into the value of those assets, adding to anxiety.
Political ineptitude hasn't helped either. Prime Minister Yasuo Fukuda's administration has gone from policy bungling to paralysis. The government's push for tougher building standards last June hurt construction orders for months. On Feb. 29, it announced it had deferred a decision on whether foreign investors can take stakes higher than 20% in Japanese airports. And on Mar. 7, after delaying for weeks the appointment of a new Bank of Japan chief (BusinessWeek.com, 10/31/07), the government finally nominated BOJ Deputy Governor Toshiro Muto, though he faces an uphill battle for approval in Parliament. "It's a complete farce," says Jesper Koll, president of Tantallon Research Japan. "If all your elected leaders can do is postpone decisions, it's the worst thing in terms of the confidence. It's not surprising there's no feel-good factor."
The pressing concern is that the worst is yet to come. Investors complain that the current administration and many Japanese companies have abandoned the reforms of former Prime Minister Junichiro Koizumi, whose term ended in 2006. Just as upscale hotels still employ uniformed "elevator girls" to greet guests and push buttons, companies also seem stuck in a bygone era. Many now have anti-takeover "poison pill" measures or own shares in business partners to collaborate in warding off unwanted suitors. Others have simply managed to put off serious attempts at reform. Hitachi (HIT), for instance, has more than 900 consolidated subsidiaries and hasn't posted a return on equity higher than 3% in the last 15 years, while many other companies, such as frozen-food producer Katokichi, still own golf courses.
Election Hope…or Recession
What's more, the slowing reform seems to have the full backing of the establishment.
Last year, a court blocked a takeover bid by shareholder activist Steel Partners to acquire a Japanese sauce maker (BusinessWeek.com, 6/18/07). In January, Takao Kitabata, vice-minister at the Economy, Trade & Industry Ministry, unaware his remarks would be reported, told an audience that day traders and activist shareholders such as Steel Partners, which owns stakes in several Japanese companies, were "stupid, greedy, feckless, irresponsible, and threatening." He also suggested that companies should be able to choose their shareholders.
Could an end to the gloom be in sight? Many Japan watchers believe that with the right policies and a change in attitudes, the country could be ripe for a rebound. One hope is that an election this year will lead to a breakup of Japan's two largest political parties and the creation of new reformist and anti-reformist parties. Masaaki Kanno, chief economist at JPMorgan (JPM) in Tokyo, reckons that an election could happen as early as August. If reformers were to regain center stage, sentiment would almost certainly improve. "It's politics and hard to predict, but it would send a clear message to investors in the rest of the world," he says. Still, it's hard to know if Japan's electorate, no matter how depressed, will usher out the ruling Liberal Democrats, who have been in power almost continuously since the end of the World War II and currently have a large majority in Japan's Lower House.
Another possibility is a recession. While less palatable in the short term, some analysts believe a downturn brought about by the stronger yen and shrinking consumer confidence could spur the kind of reforms necessary to get Japan back on track. "Many people would take the view that Japan needs recession to really start restructuring again," says Garry Evans, a strategist at HSBC (HBC). He notes that after recession-inspired restructuring, Japan's stock market rebounded strongly in 1995, 1999, and 2005. That's likely to be cold comfort for Japan's worried masses.
Before it's here, it's on the Bloomberg Terminal.
LEARN MORE