How the iPhone Is Suiting Up for Work
To appeal to corporate clients, Apple is giving its handset a raft of features such as the ability to support Microsoft Outlook
By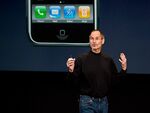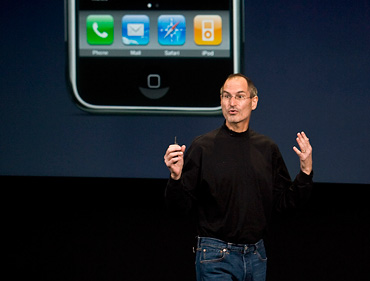 Even as the Apple iPhone has drawn praise for its design and music- and video-playing capabilities, the handset has also borne criticism for what it lacks.
Sure, the iPhone looks good and lets users elegantly go from listening to songs to making calls to watching video and surfing the Web. But from the time it was introduced more than a year ago, detractors immediately wondered: What's the iPhone's appeal for business users?
Apple (AAPL) Chief Executive Steve Jobs paid heed, and on Mar. 6 the company announced a raft of new features aimed at addressing the needs of would-be corporate clients. At last, the iPhone will support Microsoft's (MSFT) Exchange, the key corporate system that delivers mail, calendar, and contact data to PCs running Exchange as well as Research in Motion (RIMM) BlackBerrys, Palm (PALM) Treos, and Windows Mobile handhelds.
Pushing for Push E-mail
To do that, Apple has licensed ActiveSync Direct Push, a Microsoft technology for synchronizing e-mail, contacts, and calendars between the Exchange server and a wireless device, Apple Vice-President Phil Schiller told reporters at the company's headquarters in Cupertino, Calif. The company also unveiled details of its plans to entice outside software developers to create their own business tools, or applications, for the iPhone.
A wide range of potential corporate customers requested support for Exchange and its "push" e-mail capabilities that redirect messages to a person's wireless device, Schiller said. "There are a lot of things enterprise customers have told us that have held us back from being huge in the enterprise," Schiller said. "What do they want? Push e-mail [is a] huge request. They want great calendar integration. They want it pushed to them wherever they are."
Satisfying those users could give Apple a much-needed new source of revenue as growth in iPod sales slows and consumer spending tapers off. The company could use the iPhone to court corporate users hankering for a more fashionable alternative to existing-e-mail-compatible devices such as the BlackBerry and the Treo.
Will BlackBerry Fans Switch?
The new features will no doubt enhance the iPhone's allure for the corporate crowd, but there's no guarantee they'll win over die-hard BlackBerry fans. RIM has established itself as the supplier of choice in the corporate environment and has even started making inroads among consumers. "We remain bullish on RIM," Standard & Poor's analyst Todd Rosenbluth wrote in a research report. "As an industry leader, we believe it is entrenched with corporate customers, and we see its existing relationship with various telecom service providers around the globe as providing additional loyalty." Like BusinessWeek.com, S&P is owned by The McGraw-Hill Companies (MHP). Shares of Apple slipped about 1%, to $123.17, in mid-afternoon trading; RIM stock declined 3%, to $98.67.
What's more, the iPhone still won't work for many businesses. Exchange Direct Push mail works only for companies that support Exchange 2007 or Direct Push on Exchange 2003. And Microsoft has generally struggled to popularize ActiveSync, even on its own devices, making it harder to catch other players, notably Motorola's (MOT) Good Technology unit, already gaining traction as vendors of push server software.
Still, Motorola could develop a Good Mobile Messaging client for the iPhone. "Good has an excellent solution, and there's nothing stopping them from building it for the iPhone, and I would imagine there will be a similar arrangement between Apple and Motorola very soon," says Sara Radicati, head of Radicati Group, a messaging consultancy. "It's just a matter of time." Dan Rudolph, director of product marketing at Good Technology, isn't ruling out such a move. "We've been keeping our eyes on the iPhone for a while," he says. The division will examine the newly introduced sofware developer's kit "to see if it makes sense for us."
Apple is loading the iPhone with other features it hopes will bring business users on board. The company is adding support for Cisco Systems' (CSCO) virtual private networking technology, which is based on a standard called IPSec. Other new features include giving corporate IT personnel the ability to set security policies for the device and the ability to wipe all data remotely when an iPhone that may contain important company information turns up lost.
Heavyweight Corporate Clients
Apple also gave the first look at its road map for software development on the iPhone. Legendary Silicon Valley venture capital firm Kleiner Perkins Caufield & Byers announced a $100 million venture fund that will invest in companies developing applications for the iPhone. Gaming company Electronic Arts (ERTS) demonstrated a version of the forthcoming game "Spore" adapted for the iPhone. Apple, too, demonstrated its own internally created iPhone game, a space game called "Touch Fighter" that uses the combination of the iPhone's touch screen and motion-sensing accelerometer to control an imaginary spaceship.
But there were serious applications as well. Salesforce.com (CRM) demonstrated a customer relationship management application on the iPhone. TimeWarner (TWX) showed a version of its hugely popular AOL Instant Messenger, filling a huge gap on the iPhone, which to now lacked a native instant messaging client.
Will the efforts pay off? Already, Jobs is signing up some heavyweight corporate clients. Among them, Genentech (DNA), whose CEO, Arthur D. Levinson sits on Apple's board.
Before it's here, it's on the Bloomberg Terminal.
LEARN MORE