Carlos Ghosn's Russian Gambit
The Renault CEO is betting that a shabby Soviet-era factory can be the linchpin in a low-cost-car strategy
By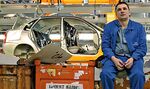 The AvtoVAZ car factory in the central Russian city of Togliatti seems frozen in time. In a decrepit, mile-long building, boxy Lada sedans are turned out by 40-year-old machinery installed when Italy helped the Soviets build a carbon copy of a Fiat plant. On an icy February morning, one assembly line has shut down and others are operating fitfully because a snowstorm has disrupted shipments of components. Dozens of partially built cars sit in a corner of the vast plant. "We'll finish them as soon as we get the parts," says supervisor Valery Shendyapin.
It seems far-fetched that someone like Carlos Ghosn would pin his hopes on such a place. But the Renault-Nissan CEO is doing just that. On Feb. 29, Renault agreed to pay $1 billion for a 25% stake in AvtoVAZ. The deal should help the Russian carmaker modernize, while opening markets for the no-frills Logan lineup Renault launched in 2004. The Logan, starting at $9,000, is the world's most successful cheap car. Although AvtoVAZ won't make Logans, it will use the model as the base of a car sold under its Lada brand. "It's a relationship whose time has definitely come," Ghosn said at a Moscow press conference.
If all goes as planned, the deal would cement Renault's position as the global leader in inexpensive autos—and bolster flagging operations elsewhere. While Renault sold nearly 368,000 Logans last year—up 48%—sales of its pricier cars slipped by 4.1% in Western Europe, its biggest market. AvtoVAZ's production capacity of more than 1 million vehicles a year could give Renault an edge over rivals such as Toyota (TM) and Volkswagen, both of which are planning their own low-cost offerings. High volumes are crucial in this game: Analysts estimate that profits on the Logan are no more than $400 per car. AvtoVAZ's network of dealerships across Russia's 11 time zones would help Renault in the race for the country's $53 billion auto market.
HIGH-QUALITY SWEATSHOP
AvtoVAZ has hit a rough patch. Imports have soared and automakers such as Ford and General Motors (GM) have set up plants in Russia, while AvtoVAZ's market share has fallen to just 25%, down from 50% five years ago, consultancy PricewaterhouseCoopers estimates. A new management team installed after the government took control of AvtoVAZ in 2005 is eager to stem the decline. A key reason the carmaker agreed to tie up with Renault is "the modern technology and know-how that the company will provide us," says Chairman Sergei Chemezov.
AvtoVAZ's crumbling facilities don't seem to faze Ghosn. In 1999, Renault bought 51% of Romanian automaker Dacia. It set up the first Logan assembly line in a factory near Pitesti, Romania, that was "barely functioning," recalls Gérard Detourbet, who oversees global sales and production of the Logan (it's now made in seven countries, including Brazil, India, and Iran). "At least at AvtoVAZ, all the departments are working," Detourbet says. At Pitesti, Renault cleared away outdated equipment, and most work is now done by hand. "The magic in the Logan business model is the low initial investment—no robots," says Christoph Stürmer, an analyst at researcher Global Insight in Frankfurt. "They've constructed a production system that will produce contemporary quality in a sweatshop environment."
Renault isn't AvtoVAZ's first suitor. In 1999, GM proposed using its Opel Astra as the platform for a new Lada sedan, but after several years of talks, the project fell through. Carl-Peter Forster, GM's European boss, says a key obstacle was the expense of transporting components to Togliatti, 600 miles southeast of Moscow. "In the end it cost less to produce in Poland" at an existing Opel plant, Forster says.
That's why Renault is keen to develop a supply base nearby. The quality of AvtoVAZ's existing suppliers is spotty, and their operations are far-flung. Bearings, for instance, are made nearly 1,000 miles to the north, in the city of Vologda—a vestige of Soviet planning that can wreak havoc on just-in-time production. "We believe we can attract global suppliers" to Togliatti, says Patrick Pelata, Renault's strategic planning chief. Within five years, he says, 95% of the parts for the Logan could be produced locally.
Renault has never tried a turnaround on this scale. Under previous management, AvtoVAZ was an emblem of post-Soviet capitalism run amok. As recently as the late 1990s, criminal gangs roamed the factory freely, grabbing cars off the assembly line and delivering them to shadowy trading groups sometimes linked to AvtoVAZ managers. And while there's plenty of cheap labor—salaries at AvtoVAZ average $200 a month—the company is woefully inefficient. It employs 104,000 people to build 750,000 cars a year, or one-tenth the output of Toyota's 260,000 workers. Even at the labor-intensive Romanian factory, Renault secured an up-front agreement from the government and unions to lay off nearly half the staff; last year, fewer than 14,000 employees turned out 230,400 cars.
But unlike in Romania, Renault has only a minority stake in AvtoVAZ and won't likely be able to push through mass layoffs, which could devastate the local economy. What's more, some AvtoVAZ managers say they want Renault to invest in other models that the company now makes, something that would yield no clear benefit to the French automaker. The Logan's cheap-labor business model also could disappoint AvtoVAZ workers who complain about low wages and grim working conditions. "Everyone thinks we'll be happier and the pay will be better," says Yakov Popovich, 30, taking a cigarette break with fellow workers in the welding shop. Fixing AvtoVAZ won't be easy. But this industrial relic may be an essential stop on the course Renault has charted for its growth.
Before it's here, it's on the Bloomberg Terminal.
LEARN MORE