A Cautionary Tale for Airline Mergers
As big carriers mull M&A deals, they might look at the troubled union of US Airways and America West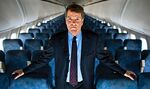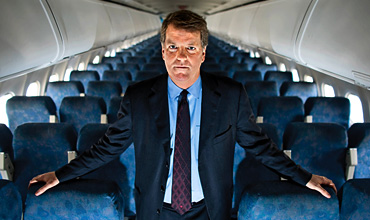 US Airways (LCC) Chief Executive Doug Parker hoped to show off the positive changes at his company when he hosted reporters at his Tempe (Ariz.) headquarters on Feb. 28. Instead he got some uninvited guests—200 picketing employees and a 30-foot-high inflatable rat chomping a cigar and clutching bags of money.
As the nation's major airlines contemplate a round of mergers, the industry's last big deal, the marriage of US Airways and America West, underscores the many problems they could soon face. A brash young manager when he landed the top job at America West in 2001, Parker pounded the table for airline consolidation, scooped up US Airways in 2005, and made a run at Delta Air Lines (DAL) a year later. Today, with his once-boyish face showing all of its 46 years, Parker is more circumspect. "We are a strong advocate of industry consolidation," he says. "I now feel I need to qualify it."
In Parker's view, uniting America West and US Airways was the right thing to do. Bankrupt twice, US Airways was facing liquidation, which could have eliminated 22,000 jobs and cut service to dozens of cities. The merger lowered expenses by over $250 million a year and created a company better able to weather $100-a-barrel oil. Last year, US Airways—the nation's fifth-largest carrier—earned $427 million on revenue of $11.7 billion.
But those profits mask a still-troubled company, one that continues to operate as two separate airlines. Company executives speak of an "east side," the former US Airways, and a "west." Even today, Parker has still not signed new contracts with his pilots, flight attendants, baggage handlers, or mechanics, which explains why labor is upset with the boss.
Employees operate under transitional agreements that specify, to the plane, which jets they can work on. If a former US Airways plane breaks down in Las Vegas, for example, the carrier can't switch the crew to a former America West jet, even if the aircraft are identical. "We're still not a joined airline internally," says Tania Bziukiewicz, a company pilot and union representative. "You see it in customer service."
ANGRY PILOTS
America West and US Airways trailed the pack in service rankings prior to the merger. Not much has changed since: Last year, US Airways garnered the most customer complaints among 20 large carriers, according to Transportation Dept. statistics. Parker blames glitches during the integration of the two carrier's reservation systems—another hurdle in airline mergers—and notes that it has bested rivals in on-time performance since last fall.
Parker says he's been stymied by intra-union bickering in negotiating labor agreements. The stickiest point, as it has been in the current merger talks between Delta and Northwest Airlines (NWA), is pilot seniority. Pilots work for years for the right to fly the biggest jets and earn the biggest salaries. Ranking them again after a merger is akin to consolidating the U.S. Army and Marine Corps, says Peter Janhunen, a spokesman for the Air Line Pilots Assn.: "You can have colonels reporting to lieutenants."
The lessons from the US Airways-America West merger haven't been lost on rivals. After watching those carriers' fruitless efforts at meshing their unions, executives at Delta and Northwest put their proposed deal to their own pilots first. Their reasoning: If the pilots can't reach a deal up front, there's no point in getting hitched. "Just putting two airlines together," concedes Parker, "doesn't automatically create value."
Before it's here, it's on the Bloomberg Terminal.
LEARN MORE