Why India Talked Up a U.S. Carrier Deal
The idea of taking over the U.S.S. Kitty Hawk may have been a bluff to get a better deal on Russia's Admiral Gorshkov. If so, it didn't fly
Nandini Lakshman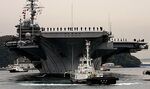 The controversy over India's purchase of a globally capable aircraft carrier is finally laid to rest. Last week, when U.S. Defense Secretary Robert Gates was in New Delhi, the defense community in India was abuzz with rumors that India would be purchasing the U.S.S. Kitty Hawk (BusinessWeek.com, 2/26/08), which is slated for decommissioning this year. The Bush Administration tried to shoot down the speculation, growing across the blogosphere in both India and the U.S., that the Americans were preparing to take the unprecedented move of sending an aircraft carrier to another country's navy. "The Navy has no plans of transferring the Kitty Hawk to India," said Lt. Col. Clay Doss, a U.S. Navy spokesperson in Washington. Still, Indian defense analysts insisted the two governments were indeed considering a deal.
It's now becoming clear, however, that the Indians were fanning the Kitty Hawk rumors in order to get what they really wanted—a better deal on an aircraft carrier they've been trying to buy from Russia. On Feb. 27, India's Defense Secretary V.K. Singh put to rest the speculation about the Kitty Hawk by announcing that New Delhi had renegotiated a deal with Moscow to buy a Russian aircraft carrier, the Admiral Gorshkov.
India had originally decided to buy the Gorshkov in 2004 in a $1.5 billion deal—along with fighter planes and helicopters—and paid over $500 million in advance with a delivery date of 2008. However it's now 2008 and India still doesn't have its carrier. That's because the Russians say they need to further modernize the ship before they can deliver it to the Indians. To pay for the additional work on the Gorshkov, Moscow wants an additional $1.2 billion from India. Many defense analysts now believe the Indians used the Kitty Hawk as a ploy to push the Russians into committing to the delivery, albeit overdue, of their carrier.
Russians Peeved?
But that plan may have backfired. Since early last month the Russians have been sending out feelers to India about scrapping the deal entirely and keeping the Gorshkov in Russian hands. Since the Indians knew they weren't going to get the Kitty Hawk, they weren't about to let the Gorshkov deal collapse. So on Feb. 19 Defense Secretary Singh traveled to Russia to hammer out an agreement. Under the revised agreement, Moscow has agreed to deliver the refurbished Admiral Gorshkov by 2012, and India has agreed to cough up the additional $1.2 billion.
At a time when Indian defense spending is surging, the Russians might also be peeved at losing their prominent position as the country's No. 1 supplier of military equipment. Indian defense analysts and foreign buyers expect India to spend $100 billion on defense equipment and technology over the next 5 to 10 years. In the fiscal year ending Mar. 31, 2008, India's defense spending will total $10 billion. On Feb 29 Indian Finance Minister Palaniappan Chidambaram proposed a 10% hike in the defense budget for the new fiscal year and promised "more funds if required."
Industry analysts see India's decision to pay up as a way of placating the Russians, who are already feeling nervous about India's increasingly friendly ties with the U.S. For nearly four decades India's military relied on Russia as its premier supplier. In February, 2007, India announced plans to buy 40 Su-30MK two-seater fighters for $1.2 billion. Russia's MIG Corp. is also in the running to sell fighter planes to India. Now U.S. and European companies, with their cutting-edge technology, are in the fray as well. Lockheed Martin (LMT), Boeing (BA), and Sweden's Saab, for instance, are some of the bidders for a $10 billion deal for 126 fighter aircrafts. Vying for artillery contracts are Britain's BAE Systems and Israel's Soltam.
India Did Not Use Leverage
India needs an aircraft carrier soon. The Indian navy will probably decommission the 50-year-old carrier INS Viraat in 2010, while the first indigenous aircraft carrier, being built at the Cochin Shipyard in southern India, won't be ready for another five years. "Russia knows this and wants to pressure India into the purchases," says Dipankar Banerjee, director of the Institute of Peace & Conflict Studies in New Delhi.
Not everyone is happy about the deal. Defense analysts in New Delhi say India did not use its considerable leverage with the Russians, and simply succumbed to the new demands on the Gorshkov deal. Retired Admiral Arun Prakash is scathing. He was head of the Indian Navy in 2004 when the original deal was "laboriously and painstakingly negotiated for 11 months, and the contract sealed and signed."
He is disappointed by Russia "reneging on the deal" and says Russia "gifted" the Gorshkov to India in exchange for a $1.5 billion contract to buy planes and helicopters and "revive their terminally ill shipbuilding and aircraft manufacturing industries." He says the carrier Cochin Shipyard is building will be a good alternative for the Gorshkov. "What better bargaining chip do you need?" he asks.
Perhaps. But many are skeptical about India's capability as a defense equipment manufacturer. India's state run Hindustan Aeronautics has been working on a light-combat fighter for years—it's now 10 years behind schedule. "India's indigenous development is more in keeping with the Nehruvian philosophy of modernity, but combat equipment is made by countries with the highest level of military expertise," says Marook Raza, a New Delhi defense analyst.
With Keith Epstein in Washington and Jason Bush in Moscow
Before it's here, it's on the Bloomberg Terminal.
LEARN MORE