Green Gets Real at Geneva Auto Show
Environmentally friendly cars are no longer just a PR ploy for automakers. But there's still a lot of mileage left in gas-powered vehicles
Jack Ewing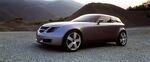 A curtain of artificially generated rain was falling gently inside a large tent overlooking Geneva's waterfront. A digital screen flashed slogans such as "Release the power of nature." Two young women stepped on a platform and coquettishly pulled away a silky cloth to reveal Saab's 9-X Bio Hybrid. The low-slung concept car, which burns ethanol and has solar panels on the roof, "will be seen as signaling the resurgence of Saab," Bob Lutz, vice-president of global development for parent company General Motors (GM), told the audience.
Cue the folk singer, an earnest-looking young man who strolled on stage strumming a guitar. "Seems like just yesterday, you stole my breath away," he crooned.
End of Gasoline Age in Sight
It seems a long time ago that auto execs used to boast that they had gasoline in their veins. In 2008, carmakers talk about "biopower" more than horsepower, and green is easily the automakers' favorite color at the International Auto Salon in Geneva, which officially opened Mar. 4. Displays feature green lighting, green flooring, and sometimes actual plant life, such as the vines spilling from the ceiling of the Peugeot (PEUP.PA) stand.
The Saab presentation at a lakeside Geneva hotel on the evening of Mar. 3 was just one example of how, with oil prices at record highs and regulators demanding reductions in carbon dioxide emissions, the auto industry is at pains to show it's serious about finding alternatives to petroleum.
Certainly there's a heavy dose of PR in the green claims of carmakers. But there also seems to be a consensus that the end of the gasoline age is within view, and that the auto industry needs to respond more quickly. "We're just at the beginning of this changeover," GM Chief Executive Officer Rick Wagoner told reporters. "I think it's going to be big and it could happen faster than we think." Wagoner even raised the possibility that U.S. consumers will be willing to pay premium prices for feature-packed small cars, as Europeans already do.
Which Alternative Fuel Will Prevail?
Toyota Motor (TM) has already shown that green can boost sales. Its hybrid Prius sedan has sold 1.3 million units since its introduction in 1997. And in Europe, hybrid versions of the Lexus offer a way for Toyota to differentiate its high-end brand in a region dominated by Mercedes, BMW (BMWG.DE), and Audi (VOWG.DE). Lexus has more than doubled European sales, to 54,000 units, in the two years since the company decided to focus on hybrids in order to counter the competitors' superior diesel lineup. "Hybrid has been our breakthrough," says Karl Schlicht, Toyota's vice-president for Lexus in Europe.
There is still no industry consensus, though, on what kind of technology will replace gasoline. GM's Lutz is an advocate of ethanol. "No other technology will reduce CO2 and dependence on imported fuel as much as [ethanol]," he said.
Other automakers are jumping on the hybrid bandwagon. German automaker Daimler (DAI) displayed a prototype Mercedes SUV it calls BlueTEC Hybrid, and also boasted that it has made a technological breakthrough in adapting lithium-ion batteries—commonly used in mobile phones—for automobile use. The technology will appear in the S400 hybrid planned for launch in the coming year, Mercedes said.
Hydrogen hasn't been forgotten either. Daimler CEO Dieter Zetsche says he has already test-driven prototype Mercedes cars powered by fuel cells. "They are ready for the market," he told reporters. The problem is that Mercedes needs to mass-produce the cars for them to be affordable, yet there is unlikely to be a large market until drivers have a place they can tank up with hydrogen. "The one element still missing, which we can't solve on our own, is the availability of infrastructure," Zetsche said. He estimated it will take until the middle of the next decade to create a market.
Getting the Most from Gasoline
While exotic technologies get most of the press, the best way to save fuel and reduce emissions in the short term is to make conventional cars lighter and more efficient. BMW unveiled a hybrid version of its X6 SUV, and said it will launch its first hybrid models in 2009. But BMW Chief Financial Officer Michael Ganal maintains that, while it makes sense to develop hybrid technology, diesels are still the cleanest and most fuel-efficient form of power today.
A diesel BMW Mini, he says, produces no more CO2 than a Toyota hybrid Prius and costs $5,000 less. And even the most efficient cars still don't use anywhere near the full energy potential of petroleum-based fuels, meaning there is still lots of room for energy improvements. "Petroleum will continue to be the most important form of mobile energy for decades," Ganal says. "Hybrid isn't yet better than diesel. Maybe it will be in combination with a diesel motor, but we're talking about decades, not years."
Even Toyota, which plans to be offering 18 hybrid models by the end of 2009, is doing research into other alternatives. "To what extent petroleum will still be available must be considered," Toyota President Katsuaki Watanabe said at a press conference. "There is no single technology on which we can place all our bets."
Before it's here, it's on the Bloomberg Terminal.
LEARN MORE