What Russia's Election Means for Business
It remains to be seen if Medvedev, Putin's handpicked successor, will implement real policy changes. Most investors are rooting for stability
Jason Bush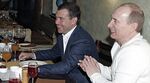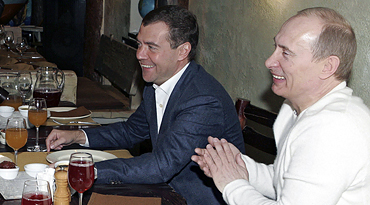 There was never much intrigue about the result of Russia's Mar. 2 presidential election. As widely predicted, Dmitry Medvedev, the man handpicked by outgoing President Vladimir Putin to become his successor, won by a landslide. Some 70.2% of Russian voters cast their ballots for the Kremlin's man, well ahead of the nearest contender, veteran Communist leader Gennady Zyuganov, who drew 18% of the vote.
As usual with Russian elections these days, the way the campaign was conducted has been criticized by international monitors. Observers from the Council of Europe noted widespread media bias and a lack of genuine competition, but also stated that Medvedev had "a solid mandate." There's certainly little doubt most Russians welcome the political continuity that Medvedev represents.
Business and investors, too, will be relieved that Russia's political transition has occurred in a stable manner, with every sign that present economic policies will be continued. Last year, Russia's economy grew by 8%, one of the best results on record, which explains why business will be satisfied if there are no abrupt political changes. "Investors view this as a very favorable outcome," says Chris Weafer, chief strategist at Russian investment bank Uralsib (USBN.RTS). "It combines the stability associated with Putin with the more liberal agenda that comes with Medvedev."
Staying the Course
Of course, it's still far from clear what exactly a Medvedev presidency will mean in practice. Medvedev has mainly been stressing his support for the continuation of Putin's policies—in effect the only strong message he has elaborated in the course of his campaign. (He even made the same points long before he was officially tapped to succeed Putin, such as in a September, 2007, interview with BusinessWeek. (BusinessWeek.com, 12/11/07)
Medvedev repeated that theme on news of his victory, describing his program as "a continuation of that course which has been carried out, and will be carried out, by President Putin." That's a reference to Putin's new political role—as Medvedev's prime minister.
Yet while continuity and stability certainly appear to be the order of the day, Medvedev's election nevertheless raises intriguing questions about Russia's future direction. The first big question is just how the Putin-Medvedev team will work. Russia is accustomed to having a single strong leader. In Russian history, dual centers of power have never lasted long, and typically ended in disaster.
Keeping His Options Open
Given Putin's popularity, and the central role he has long played in Russia's political system, it's inevitable he will have far more power and influence than any previous Russian premier. Indeed, many expect the two-term president to play a pivotal political role for many years to come. Although Putin was barred by the constitution from standing for three terms in succession, there's nothing to stop him from running again for president in 2012, in which case Medvedev could prove to be little more than a temporary stop-gap. As with so many of his decisions in the past, Putin is no doubt keeping his options open.
It's also not clear just how far Medvedev will be willing to step out from the shadow of his mentor to forge an independent political line. Related to that is the equally pressing question of whether Medvedev's tenure in the Kremlin will lead to any significant changes in policy.
Medvedev has long been regarded as representing a more liberal trend. A former law professor, and at 42, significantly younger than most senior officials, he has already hinted at a new approach to economic policy. At a speech to business leaders in Krasnodar in February, he argued that independent directors should replace state officials on the boards of major Russian companies.
That would reverse a recent trend for the state to increase its intervention in strategic sectors of the economy—with many of Putin's associates assuming top positions in major companies.
Tackling Pension Reform?
Medvedev also has hinted at breathing new life into key reforms that were attempted, but never fully implemented, under Putin. In remarkably frank comments to business leaders in February, he described Russia as a land of "legal nihilism," a reference to widespread corruption and the illegal methods often used to settle business disputes. Medvedev also pledged to make the judiciary independent from the executive and legislative branches, in effect acknowledging one of the biggest criticisms directed against Russia's current system of government.
Almost as crucial is pension reform, another neglected area Medvedev has promised to revisit. Since 2004, Russians have been able to pay part of their taxes into privately-managed pension funds, but in practice the idea has been so poorly promoted that few have bothered. As a result, Russia's stock market lacks long-term sources of capital and is highly volatile, while the state faces an ever-growing pension burden that represents a fiscal time bomb.
In foreign affairs, meanwhile, Medvedev has indicated a more conciliatory tone, pledging to cooperate with Western partners. That contrasts with the last few years of Putin's presidency, which have been dominated by disputes with the West, touching on everything from energy security to Kosovo policy to the deployment of the U.S. anti-missile defense system in Eastern Europe.
Changes in Style or Substance?
The new tone is certainly welcome to Western investors. "The change in style is itself quite important," says Roland Nash, research head at Moscow investment bank Renaissance Capital. "A large part of the reason why Russia is viewed as a difficult place to invest is the abrasive nature of policy coming out under Putin."
Only time will tell whether Medvedev's presidency will bring about real policy changes. Putin, too, has often struck a liberal tone, though his record has been decidedly more mixed. Although Putin introduced several key reforms during the early years of his presidency—including a market-friendly land code and simplified taxes—there has been far less progress in recent years, which have been more notable for increasing centralization of power and the expansion of state corporations. Corruption remains rampant, blossoming in tandem with Russia's economic growth.
Now may be an opportune time for a fresh bout of economic or political liberalization. In the years leading up to Russia's crucial 2008 election, Putin and his team were clearly extremely nervous about handling the transition of power, and prioritized political stability above all else. Once that tricky hurdle has been crossed, Russia's leadership will have more political leeway, providing greater opportunities for risky or difficult reforms. If he rises to the challenge, Medvedev's presidency could turn out to be a lot more eventful than his unsurprising election.
Before it's here, it's on the Bloomberg Terminal.
LEARN MORE