Circuit City: Due for a Change?
CEO Philip Schoonover has been at the helm during quarter after quarter of dismal performance, and his turnaround plans never gathered strength
Pallavi Gogoi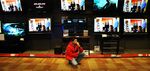 There is no question that Philip Schoonover's job, as CEO of electronics store chain Circuit City (CC), is in jeopardy. On Feb. 29, Wattles Capital Management, which recently bought 6.5% of the company's stock, proposed replacing Circuit City's entire 12-member board of directors with at least five of its own nominees. "Phil's actions in the past year show that he doesn't understand retail; he's completely mismanaged the company, and it's time for him to go," says Mark Wattles, principal of the investment firm, in an interview with BusinessWeek.com.