Is Hillary Clinton Good for Business?
Trailing Obama, Clinton is pumping up the populist rhetoric in Ohio and Texas. But as her record and contributions show, she's no enemy of Corporate America
Moira Herbst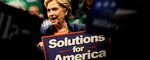 In the final Democratic debate of the primaries on Feb. 26, Senator Hillary Clinton (D-N.Y.) trumpeted the populist theme of her campaign: "The wealthy and the well-connected have had a President," she said. "It's time we had a President for the middle class and working people."