The New Putin Generation
Russia's youth see their Presidentand his handpicked successor, Medvedevas the key to their prosperity
Jason Bush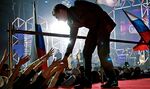 On the eve of Russia's Mar. 2 presidential election, there's no shortage of youthful enthusiasm at St. Petersburg State University's law school. And for good reason: Just inside the building, portraits of distinguished alumni remind students they are part of a privileged group. President Vladimir V. Putin's picture hangs prominently above all others—including Lenin. A portrait of Putin's handpicked successor, Deputy Prime Minister Dmitry A. Medvedev, is nearby. "I will definitely vote," says 20-year-old student Anastasia Miryotina. "The bulk of the population will support Dmitry Anatolyevich, and I think that's correct."
Don't look for cynical, disaffected youth in the hometown of Putin and Medvedev, despite the authoritarianism of the regime. Young voters here are coming of age in an era of growing prosperity and stability under the outgoing President—a sharp contrast to Boris Yeltsin's chaotic experiment with democracy and economic reform in the 1990s. Nationwide, young Russians say they'll support Medvedev and his expected Prime Minister: Putin. Surveys predict two-thirds of the electorate will show up for the poll, and more than 70% of voters will support Medvedev.
"VOTING FOR STABILITY"
With Russia awash in oil wealth, it's no wonder students support Putin's choice. These youths see Putin and Medvedev as the guarantors of their bright economic prospects. "I'm voting for stability," says Alexander Siderov, 18, a student at St. Petersburg who aims to become a programmer. Since Putin took over in 2000, the economy has grown an average of 7% annually. Luxury goods fill stores, new cars pack the streets, and foreign money is pouring in. Multinationals such as Ford Motor (F), Mars, and Citibank (C) have invested millions, together creating tens of thousands of jobs. Even Royal Dutch Shell (RDS), which was pressured to cede control of its big Sakhalin II gas venture to the state, is looking to plow billions more into Siberian fields.
All this is welcome news for the younger generation. "I am looking forward to working in Russia, not abroad," says Elena Lipchenko, 21, a student at the St. Petersburg State University Graduate School of Management, where the likes of Coca-Cola (KO), Gillette, and Procter & Gamble (pg) recruit. Employers recognize a new attitude among Russian youth: Unlike their parents, most students feel that their own efforts, not state paternalism, will help them get ahead. "Our country gives us a lot of opportunities," says Lipchenko.
Sure, not all Russian youth have such high hopes. In contrast to booming cities, small towns face far tougher economic and social conditions. Still, the young are Russia's most optimistic demographic group, which explains their overwhelming support for the status quo. Russia's Institute of Sociology reports that 64% of those 17 to 26-years old say they "like life" in Russia, up from 46% a decade ago. Only 45% of Russians 40 and over agree.
Nonetheless, there are worrisome signs in the pro-Kremlin youth movement. In some groups, support for Putin has become cultlike. "What we need is a strong hand, a leader who can clip people 'round the ear and make them work," says Anastasia Kirichenko, 22, a student who heads the St. Petersburg branch of Nashi ("Our Own"). The group has a distinctly nationalist and anti-American tone and reminds many Russians of the Soviet-era Young Communists. While Nashi's membership includes just a fraction of Russian youth, Putin's critics say conservative attitudes among the younger generation underscore just how well they have been brainwashed. The main instrument, they say: the Kremlin's control of TV. Some 80% of Russians get their political information from just two programs on state TV, according to Moscow pollsters Levada Center.
It's true that Medvedev has enjoyed blanket, upbeat coverage.
Every night, news bulletins show the quiet, 42-year-old former law professor looking presidential as he visits hospitals, schools, factories, and farms. Cities across Russia are plastered with giant billboards featuring Putin and Medvedev and the slogan, "Together we will win!" The only candidates running against Medvedev are Communist Party boss Gennady Zyuganov, nationalist Vladimir Zhirinovsky, and an obscure politician named Andrei Bogdanov. Mikhail Kasyanov, a reform-minded former Prime Minister, was barred from the race after officials said his supporters had forged signatures on his petition to get on the ballot. Garry Kasparov, the chess champion turned opposition leader, dropped out, claiming that authorities prevented him from holding meetings with backers.
Many students recognize that the election is skewed. Some 51% of 18-to-24-year-olds told Levada Center that the election would be "just an imitation of competition." But few seem to care. "Yes, people say the authorities are harsh, that there is censorship, but I don't feel it. As an obedient citizen I'm absolutely satisfied with my life and my country," Sergei Karasev, 21, shouts above screeching guitars at St. Petersburg's Roks Club, one of hundreds of night spots that have mushroomed in the city.
Many young people believe Russia is merely experiencing growing pains in its transition to democracy. And the vast majority are certain their prospects are brighter than they would have been in Soviet times. "We have positive changes," says St. Petersburg student Yulia Dudchenko, 21. "Who said [democracy] would be easy? We've only lived with a democratic regime for 15 years."
Before it's here, it's on the Bloomberg Terminal.
LEARN MORE