A New Kind of First Responder
Munich Re and rival Swiss Re are designing policies that insure against Third World disasters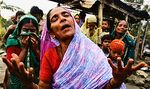 Natural disasters are on the rise. In 2007 there were 950 around the globe, according to insurer Munich Re, up 12% over 2006. Munich attributes much of the jump to climate change, so even more could be in the offing. In developed countries, insurance helps many recover, but in poorer nations that kind of backstop has been largely unaffordable. Instead, each catastrophe prompts a fresh round of fund-raising, and recovery efforts bog down as donations trickle in.
Now a new approach is emerging that could provide for a rapid infusion of cash when disaster strikes. Munich Re and its rival, Swiss Re, (RUKN) are designing ways to insure developing regions against disasters such as earthquakes, drought, flooding, or severe storms. With these new tools, charities and even governments arrange for policies that will pay out promptly. "Insurance makes sense because precautions are a cheaper, better alternative than scrambling for help after the fact," says Maria Blair, associate vice-president of the New York-based Rockefeller Foundation, which is exploring supporting this type of coverage for parts of sub-Saharan Africa and selected cities in Asia as part of its $70 million climate change initiative. In January the Bill & Melinda Gates Foundation awarded $34 million to the U.N.'s International Labour Organization, in part for such pilot insurance products.
Approaches to providing coverage vary. Swiss Re is arranging for charitable groups to serve as sponsors of insurance by selling "catastrophe bonds," a popular investment product in wealthy nations that allows for hedging against acts of God. Under this system, hedge funds and money managers will pony up if catastrophe strikes.
A RISK WALL STREET LIKES
Here's how it works: An aid organization may choose to place a relatively small amount of its funds, say $2 million, in a special-purpose vehicle (SPV) that is dedicated to insuring against a particular catastrophe—an earthquake of a certain severity in El Salvador, for example. The SPV then sells bonds to Wall Street investors, and the proceeds are placed in trust to be paid out in the event that such an earthquake happens within a set time period. If it doesn't, the investors get their money back. The $2 million, analogous to a premium payment, is used to pay interest on the bonds. In the current market, the bonds can bring in as much as $100 million in principal—essentially the size of the insurance policy. Money managers, eager to diversify, "like taking this risk because it's completely noncorrelated to the credit markets," says Al Selius, a managing director for insurance-linked trading at Swiss Re in New York.
In January, Swiss Re launched a product called GlobeCat, which Selius says is being pitched to major U.S. foundations, though no deals have been finalized. A South American country has also expressed interest. For now, Selius says, Swiss Re's aim with GlobeCat is not profit but market growth in developing countries.
Rather than tapping the bond market, Munich Re plays its traditional role of reinsurer. Last year it teamed up with the World Bank to launch the Caribbean Catastrophe Risk Insurance Facility, which lets Caribbean nations buy insurance against hurricanes and earthquakes. Both Swiss Re and Munich Re have joined forces with the U.N. to sell other governments, including the Philippines, on these types of policies.
"There are clear benefits to setting up these schemes pre-disaster," says Andrei Iatsenia, a senior adviser at the U.N.'s International Strategy for Disaster Reduction. "We're trying to alert public policymakers that it's much faster to get insurance payouts than to knock on doors for emergency donors."
Before it's here, it's on the Bloomberg Terminal.
LEARN MORE