Art Museum as Research Lab
A new exhibition at New York's Museum of Modern Art presents fresh talent in data visualization and other design disciplines that could have far-reaching business applications
Reena Jana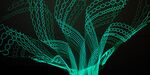 If you were at the World Economic Forum's annual meeting in Davos last month, you may have attended a popular panel featuring design curator Paola Antonelli of New York's Museum of Modern Art. Antonelli cast designers in a context relevant to any business seeking to "innovate," or create new products or services that add value to a company's bottom line. She described designers—industrial designers, Web designers, and architects, among others—as people who translate cutting-edge technologies and scientific research into useful (and profitable) objects and devices. Not to mention the graphic and interactive designers who transform complex data into visually striking images that are more easily digestible than mere columns of numbers and statistics.
A new exhibition at MoMA organized by Antonelli, which opened to the public on Feb. 24 and is on view through May 12, illustrates her point—in a spectacular and often provocative way.
The show, "Design and the Elastic Mind," features 200 projects by a host of international designers and firms, and gives a nod to "hot" technologies and new economic opportunities and consumer products. Innovative processes represented in the exhibition including nanotechnology, design for new markets in developing nations, and "three-dimensional printing" of physical objects directly from computer files.
Seeing Data through an Artist's Eye
The exhibition opens with a room full of visually stunning displays that are as compelling as the contemporary paintings or sculptures that viewers might expect to see in a MoMA gallery. The show begins with "Lightweeds," a striking example of data visualization by young Dutch designer Simon Heijdens. The work features light projections of silhouettes of giant weeds with realistic stalks, stems, leaves, and buds.
The plant images are produced by a software program developed by Heijdens, and the computer it runs on is hooked up to a live weather sensor outside the museum. The plants' size, shape, and movement reflect real-life conditions outdoors—meaning they would shrivel if there were a drought or flourish in a healthy mix of rain and sun. The piece is a wonderfully poetic example of how design can turn raw data (in this case, the weather) into a display that communicates information in a compelling and engaging manner. Businesses would be wise to pay attention to hip designers such as Heijdens, who also could have ideas for intriguing retail displays or arresting ways to communicate other data such as stock market fluctuations.
Many of the standout projects in "Design and the Elastic Mind" are to be found far in the back of MoMa's sixth-floor galleries in a section devoted to data visualization. "I Want You to Want Me," by Jonathan Harris and Sep Kamvar, is displayed on a large, touch-sensitive screen hung on the wall like a painting rather than screened on a conventional, table-top monitor. The interactive project, commissioned by MoMA, culls information from the public personal profiles of men and women seeking romance and posted on various Web sites such as Craigslist.org. Excerpts from their profiles are represented by animations of balloons, which float to the top of the screen and beyond. Visitors touch the balloons, as they would touch the icons on an iPhone screen, and texts appear. Part sociological experiment, part experimental interface, it's a simple yet original way of gathering information and allowing people to browse through it. The piece is enaging and promotes social interaction as passersby watch other visitors interact with the large screen.
Greatest Hits and Radical Departures
The rest of the show balances surprises with more well-known design projects. Stunners include the large-scale photographs of nanotechnology projects from Philips Research Laboratories (PHG), as striking as any abstract canvas from MoMA's permanent collection.
Tiny pieces of metal that curl up when not attached securely to a piece of silicon look like an ocean wave in the fog. A symmetrical, doughnut-shaped polymer component makes for a minimalist, grey photograph. These images, usually not presented in art museums, offer the general public a rare look at new developments in advanced materials in an aesthetically pleasing way. Perhaps companies could learn to represent scientific research in a similarly dramatic fashion to drum up interest from funders, shareholders, and customers.
Another pleasant surprise in the show is a project called BEE'S by a young Portugese designer, Susana Soares. This prototype for a diagnostic tool for doctors looks like a glass sculpture. The handmade device can detect disease by exploiting the sophisticated odor perception of bees—that's right, the insects. How does it work? Patients blow into one end of a tube that's encased in what looks like a clear bubble. The bees respond by flying into another chamber within the glass object when they sense certain smells in the human's breath, which can convey when a woman is ovulating, for instance, meaning that the device could be used to monitor fertility cycles. While not expected to be brought to market any time soon, it nonetheless serves as a fascinating example of how designers can, as Antonelli says, make accessible and visible scientific and other research.
More ubiquitous design projects are also on view. Antonelli has gathered a "greatest hits" lineup of projects that threatens to induce yawns in some design aficionados. The compact, low-cost XO computer from the nonprofit One Laptop Per Child project, designed for children in developing nations, has been in other museum shows, such as the recent "Design for the Other 90%" at New York's Cooper-Hewitt Museum.
Required Viewing for Development Execs
And the Mercedes-Benz Bionic Car concept, a "biomimicry" project (BusinessWeek.com, 2/11/08) in which auto designers modeled a lightweight, aerodynamic vehicle on a living organism, the boxfish, has been widely covered in the press. A series of three-dimensional objects created via rapid prototyping, or physical "printing" from computer files, have made the rounds of international design events such as the Milan Furniture Fair in the past few years. These projects are made by the usual suspects, such as Sweden's Front Design, as well as Janne Kyattnen, founder of the Dutch firm Freedom of Creation.
But seeing these well-known designs together, along with the broad swath of adventurous and perhaps lesser-known works from both corporate-affiliated and independent designers, offers a rare opportunity for the layperson—or product development executive or trend-watcher—to experience an elegant survey of contemporary design from many disciplines. For companies seeking new design talent, fresh technologies, or inspiring ideas, this show is a must.
Click here to see the slide show.