Oil Prices: It's Not About the Oil
Crude oil prices are again breaking records, but not because of real issues with supply and demand
Moira Herbst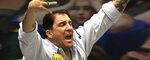 Oil prices have resumed their wild ways. On Feb. 20 crude oil settled at $100.74—the highest ever settlement price—the second consecutive session with a settlement above $100. The spike was produced by a laundry list of news, from cold weather to a refinery explosion in Texas to the (falsely) rumored murder of a Nigerian militant leader. But when government inventories on Feb. 21 showed the nation's crude oil supplies rose more than expected last week, West Texas crude shed $2.51, to close at $98.23.
What's driving oil prices? Economics 101 says price is determined by the balance of supply and demand. But when it comes to the oil market, fears and expectations have been trumping economic rules and carrying the day. "These movements have nothing to do with supply or demand, or with oil for that matter," says Fadel Gheit, senior analyst with Oppenheimer (OPY) in New York. "There is more exaggeration than ever before in this market."
Hair-Trigger Trading
The exaggeration comes, in part, from a marked increase in speculators entering the oil market in recent years (BusinessWeek.com, 1/16/07). From commodity hedge funds to institutional investors seeing potential profits amid the volatility, the oil market has become ultrasensitive and can easily jolt in either direction. In essence, oil's headline-topping surges and retreats over the past year are not the result of market fundamentals but of oil traders' minute-by-minute reflexes. Each piece of news lets traders anticipate threats to future supply and demand, bidding up or down the price as they take long or short positions.
Worries about the U.S. economy caused prices to sag for much of January, even after crossing the $100-per-barrel threshold on the first trading day of the year. Betting the economy would continue to keep prices down, hedge funds were shorting oil. But since Feb. 6, investors changed their strategy and covered their short positions, causing prices to jump more than $11 per barrel. "Two weeks ago we were focused on the economy falling apart and demand destruction," says Phil Flynn, analyst and vice-president of the brokerage firm Alaron Trading in Chicago. "Then someone flipped the switch and started worrying about adequate supply."
The tide turned dramatically. Over the past several weeks, a number of forces propped up prices. With the stock market in retreat, more investors are turning to commodities, helping to lift the price of oil, corn, and cocoa, for example. That's why oil prices can rise despite reports by the International Energy Agency and the U.S. Energy Dept. that demand growth is slowing. And the Fed is expected to cut interest rates at its Mar. 18 meeting, helping to quell traders' fears about an imminent recession.
But "petropolitical" threats that may or may not be grounded in reality have also boosted the price of oil. When on Feb. 10, President Hugo Chávez of Venezuela threatened to cut oil exports to the U.S. (BusinessWeek.com, 2/11/08), it was widely understood to be an empty threat. But that didn't stop oil prices from rising for three days straight in reaction. On Feb. 19 rumors that Nigerian militant leader Henry Okah was killed, potentially spurring retaliation by his rebel group, were enough to push oil prices up. Although the rumor turned out to be false, traders' reactions helped oil close at an all-time high that day.
Must Prices Fall?
Why do empty threats and false rumors have the power to shift a commodity's price so quickly—and so dramatically? "Traders have to assess risk," Flynn says. "The markets have to play out the emotional reaction to the news. Chávez's words may be just that, but there is the slight chance the guy is crazy enough to carry them out."
Where prices head from here is the subject of much debate. Gheit estimates that $40 of the current price is based on speculation and not market fundamentals. Even if there is that much air in the price, some analysts don't see oil heading down anytime soon. "We won't see oil prices head down unless there's a major increase in supply, a sudden religious conversion to conservationism, or a recession," says Peter Beutel, president of the energy risk management firm Cameron Hanover in New Canaan, Conn.
But others say a deflation in oil is inevitable. "In technical terms, oil is too high," says Flynn. "It's hard to see how $100 oil can last in an economic slowdown. At some stage the bears come out of hibernation."
Join a debate about the Strategic Petroleum Reserve.