Wrangling Over 'Reasonable' Fees
It's a no-holds-barred battle between health insurers and hospitals, with customers caught in the middle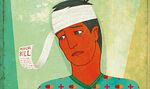 A new and fearsome player has joined the long-simmering battle between insurers and health-care providers over how much should be paid for medical procedures. New York Attorney General Andrew Cuomo announced on Feb. 13 that a six-month investigation by his office found the nation's biggest health insurers have systematically defrauded consumers in the state by setting their reimbursement rates for out-of-network care artificially low. He has issued subpoenas to 16 insurers and intends to sue industry giant UnitedHealth Group (UNH).
But while Cuomo's probe centers on Ingenix (UNH), a unit of UnitedHealth that is the nation's largest provider of health-care billing information, experts say reimbursement problems plague the entire industry. "We have price anarchy in health care," says Alan Sager, professor of health policy at Boston University's School of Public Health. "Cuomo flipped over one log in the forest."
Some of the fiercest clashes over pricing have involved smaller insurers marketing directly to individuals rather than to big employers—firms such as Medical Savings Insurance, a privately held Indianapolis outfit with just $44.5 million in premiums last year. Like many other smaller players, Medical Savings eschews the New York market, where insurers are banned from rejecting applicants for health reasons.
But Medical Savings has had several flare-ups in the 33 states in which it is licensed to sell policies. When Nancy Smythe, a 62-year-old artist and teacher in Stuart, Fla., was treated for uterine cancer in 2003, she incurred a hospital bill for $25,492. After paying her $2,500 deductible, she figured Medical Savings would cover the rest. But the insurer determined that the "reasonable and customary" charge was just $4,873 and cut a check in that amount. The hospital rejected the partial payment and sued Smythe to collect the entire unpaid debt. "I felt caught between two warring bodies," Smythe says. Medical Savings settled up with the hospital after Smythe filed suit in Florida state court for breach of contract.
ON THE CONSUMER'S SIDE
Likewise, Sheri Blackwell of Campobello, S.C., endured a five-day hospital stay for pneumonia in 2005, racking up a charge of $24,666. The hospital refused Medical Savings' payment of $16,472. Now, Blackwell is making monthly payments on the debt while her lawsuit against Medical Savings for breach of contract is pending in U.S. District Court in Spartanburg, S.C.
Medical Savings Chairman J. Patrick Rooney, a prominent Republican businessman who pioneered the use of health savings accounts that were later embraced by the Bush Administration, contends that his company is on the side of consumers in fighting excessive hospital charges. He says he isn't aware of the details in consumers' lawsuits against Medical Savings, but blames hospitals for "deliberately rigging" prices for medical procedures far beyond their actual costs. Rooney says insurers' traditional practice of comparing area hospitals' rates to determine what's reasonable is wrong because "they all have consultants showing them how to raise prices."
Medical Savings says it cuts through the bloat by basing its reimbursements on what Medicare pays providers, plus 25%, and says it is introducing a new policy this month that will reimburse at Medicare plus 30%. "The reason for this is to be on the generous side," Rooney says. In 2006, the American Hospital Assn. recommended that low-income uninsured patients be billed at Medicare plus 25%. But hospitals routinely charge health plans three to four times their costs to offset low government payments and charity care.
Insurer advocates argue that their methods succeed in the most important way: by keeping costs down. Karen Ignagni, president and chief executive of America's Health Insurance Plans, an industry trade group, said in a statement that in 2006 "health insurance premiums grew at the lowest rate in a decade due to health plans' cost-containment and quality-improvement strategies." UnitedHealth, for its part, says it's cooperating with the attorney general's inquiry, and says the Ingenix database offers providers, insurers, and consumers consistent and transparent information on health-care costs.
SHEDDING LIGHT
Absent more guidance from regulators, the courts have been left to decide Medical Savings' disputes in piecemeal fashion—and lately they've been finding in favor of hospitals. A federal jury in Fort Myers, Fla., awarded Lee Memorial Health System nearly $260,000 last year from Medical Savings for 19 patients' unpaid bills. An Arizona appellate court, meanwhile, ruled in August that Banner Health, a large hospital system in the Phoenix area, didn't have to accept partial payments from Medical Savings to satisfy a bill, and that the sharp discounts it had negotiated with other insurance plans didn't make its full rates unreasonable.
Whatever the outcome, Cuomo's probe should add more clarity to this famously vexing issue. "This problem is difficult to address because it concerns behaviors that are hidden, complicated, and recurring," says Boston University's Sager. Adds Tim Ryles, former Georgia insurance commissioner and an insurance regulatory consultant in Atlanta: "This is long overdue."
Before it's here, it's on the Bloomberg Terminal.
LEARN MORE