R.I.P., HD DVD
Blu-ray has won the high-def war. But with challenges from low-end DVD players, digital distribution, and more, a new battlefield is forming
By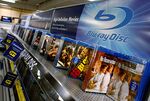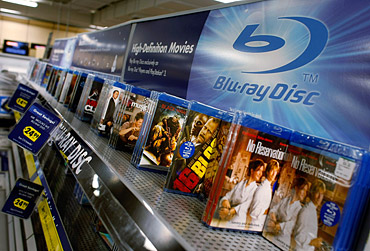 Congratulations, Sony (SNE), Pioneer Electronics, and other Blu-ray backers. You won't have HD DVD to kick around anymore.
After more than six years of bitter infighting in the consumer electronics business, Toshiba on Feb. 19 officially ended its bid to establish its technology for high-definition DVDs as an industry standard—effectively crowning Blu-ray heir to the $24 billion-a-year market for DVD sales.
Middle-Ground Battlefield
But while Toshiba lies vanquished, the Blu-ray camp now faces a slew of technical, business, and marketing challenges in driving consumer adoption of their victorious standard. To an extent, those issues have been just as much to blame as the format war for slowing the adoption of the high-definition successor to the standard DVD format. "Now that the format war is over, it's just dawning on everybody that our work is just beginning," says Andy Parsons, chairman of the Blu-ray Disc Association, and a senior vice-president at Pioneer.
Blu-ray disc was first shown off at a 2002 trade show in Japan, but seismic shifts in the market have since undermined its compelling proposition. Blu-ray aims to deliver a theater-like experience of crystal-clear video and surround-sound audio on a home TV. The discs hold the massive amounts of uncompressed content needed to display video in the full HD resolution, known as 1080 progressive, or 1080p, now offered on high-end LCD and plasma TV sets.
But six years after Blu-ray's unveiling, consumers are being wooed by ascendant technologies such as $79 DVD players that "upconvert" low-resolution video recordings for giant-screen sets, as well as video downloads from the Internet that may one day obviate the need for physical discs and players. "Blu-ray now becomes the high-definition packaged media of choice, but it now finds itself squeezed between [cheap] upconverting DVD players on the low end, and digital distribution in the future," says Ross Rubin, director of industry analysis for researcher NPD Group. Even the middle ground is becoming a battlefield. Apple (AAPL), TiVo (TIVO), Sling Media, VUDU, and cable and satellite TV providers are all rolling out equipment that lets couch potatoes download high-definition movies directly to their set-top boxes. The video is not as high-quality as a Blu-ray recording, but it may be good enough to put a crimp in the format's growth.
Potential Customer Confusion
Blu-ray itself could quickly find itself in jeopardy if any of these new competitors find a toehold among consumers. Just about every major outlet for packaged DVDs in the U.S., including Wal-Mart (WMT), Best Buy (BBY), and Netflix (NFLX) stopped carrying HD DVDs because of poor sales. If Blu-ray's promised reinvigoration of the video sales market fails, retailers may begin dropping DVD sales altogether.
Parsons summed up the unique challenge the format now faces: Manufacturers of Blu-ray players who found themselves united against the Toshiba-backed HD DVD format must now develop strategies to beat each other. But at the same time, they need to maintain a unified voice to promote the benefits of high-definition discs to a relatively apathetic consumer audience, including many homes that only recently upgraded from VHS tapes and VCRs. "We all are eager to beat each other into the market and to have differentiated products," Parsons says.
In the short term, that could create confusion for consumers as each Blu-ray equipment maker touts features that purportedly trump the competition.
Window Period
Yet the outlook isn't all bad. After hanging back while Blu-ray and HD DVD fought it out, major retailers are likely to go all out to promote a single format for players and discs, while manufacturers are likely to step up promotions bundling their HDTVs and Blu-ray players. Those moves likely will improve sales volume and margins for both TVs and players, helping drive prices lower, which in turn would lead more consumers to take the HD plunge.
Moreover, consumers can now be assured all the movies they want to watch will eventually turn up on Blu-ray. Not long after Toshiba's announcement, longtime HD DVD backer Universal Studios announced its change of heart. "The path for widespread adoption of the next-generation platform has finally become clear," Craig Kornblau, President, Universal Studios Home Entertainment and Universal Pictures Digital Platforms, said in a statement. "While Universal values the close partnership we have shared with Toshiba, it is time to turn our focus to releasing new and catalog titles on Blu-ray." Other holdouts Paramount Pictures and Dreamworks Animation (DWA) will likely move to Blu-ray as early as this spring.
There also will be a lag before Blu-ray equipment makers start seeing competition from third-tier Asian manufacturers, which often drive prices so low that it's hard to turn a profit, notes Richard Glikes, executive director of Home Theater Specialists of America, a national association of entertainment technology retailers. Those companies often add confusion to the market because it's not initially clear to consumers that they skimp on features to keep their prices lower, he says.
Advantage, Sony
Then again, even early adopters who have paid top dollar for Blu-ray gear aren't completely satisfied with their purchases. Some of the 1 million or so who've bought standalone Blu-ray players are dismayed the boxes cannot be upgraded to add picture-in-picture capabilities or an Ethernet connection for online interactivity. And many recent movies released in Blu-ray format won't play in some machines unless the player's software is upgraded.
By contrast, from the very start, the soon-to-be defunct HD DVD specification required every player to include all the same features that Blu-ray is only now beginning to add. "It will be another 12 to 18 months before the Blu-ray format reaches the maturity and value of that offered by HD DVD," says principal analyst Steve Wilson at ABI Research. "Consumers are the losers in the short term."
For now, the early winner is the company that may have had the most on the line: Sony. The vast majority of the 6 million Blu-ray players in the hands of consumers around the world are embedded in Sony's PlayStation 3 game console. With a built-in hard drive and Internet connection, it is relatively simple to upgrade those players. But for Pioneer, Sharp (SHCAY), Panasonic (MC), and other Blu-ray backers tasked with promoting standalone players, the hard part begins now.
Before it's here, it's on the Bloomberg Terminal.
LEARN MORE