Brazil's Iron Giant Reaches for the Top
Vale has a shot at becoming the world's No. 1 mining company, if it can outfox rivalsincluding China
Joshua Schneyer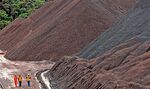 Steelmakers might not see Vale (RIO) as a natural ally. The Rio de Janeiro company is, after all, the world's leading supplier of iron ore, and on Feb. 18 and 19 it forced steel producers in Japan, Korea, and Germany to eat a 65% price hike. Worse, the increase comes as Vale is considering a bid for Switzerland's Xstrata, the world's No. 6 mining company. Such a combination would give the Brazilians even greater pricing power vis-à-vis steelmakers.
But Roger Agnelli, Vale's chief executive, would say his merger plans are in the best interests of players across the industry, providing a counterweight to China's growing clout in global markets for iron ore and steel. Western industrialists should "wake up" to China's strength, Agnelli said at the American Chamber of Commerce in Rio in October.
The way he sees it, everyone in the consolidating mining industry is either predator or prey. The 48-year-old Agnelli expects Vale, formerly Companhia Vale do Rio Doce, to be one of the winners and aims to make it the world's top mining company. He's now within striking range. Since Agnelli took over in 2001, Vale has bought more than a dozen mining and metals companies in Brazil and abroad, and now spans six continents. Under Agnelli, shareholders have seen Amazonian returns of 64% a year.
Key to Agnelli's ambitions is owning Xstrata. The Swiss company is a major player in copper, nickel, and coal, with operations in 18 countries, including Brazil and the U.S. Vale won't discuss the bid publicly, but industry sources say the company is close to lining up some $50 billion in loans to help cover the cash portion of its offer, which could total more than $90 billion.
TUG-OF-WAR
The Chinese, though, appear to have other plans. China has already shown it will write big checks to gain control of resources. On Feb. 1, state-run Aluminum Corp. of China (ACH) (Chalco) teamed up with Pittsburgh-based Alcoa (AA) to buy 9% of London-based Rio Tinto (RTP), the world's No. 3 mining company, for $14 billion. Rio Tinto, meanwhile, is the target of a $147 billion hostile takeover bid from Australia's BHP Billiton (BHP). Though Chalco hasn't disclosed its motives for the purchase, China would be a clear loser if BHP succeeds (the combined company would have far greater pricing power), so many expect the Chinese to use their new inside position to try to scuttle that deal. Some analysts speculate China may go after a chunk of Xstrata to keep it out of Vale's hands, for similar reasons.
Of course, both partners in this strange tango need each other. Since 2002, Vale has quintupled its ore shipments to China, to 100 million metric tons in 2007. This year, Chinese steelmakers will likely consume almost half the world's iron-ore output, including 40% of Vale's exports. After Japanese and Korean producers agreed to the price hike—the sixth straight year of increases from Vale—the Chinese will likely have to follow suit.
The heart of Vale's mining operations is a vast complex in the central Amazon known as Carajás. The company has three mines in the area, where workers sometimes catch glimpses of big jungle cats and the eerie groan of howler monkeys is seldom far off. Day and night, a fleet of more than 100 trucks as big as houses climb in and out of pits carved 1,500 feet deep into the rain forest. They move a million tons of rusty earth every day, unloading huge chunks into "jaw-crushers," which process the rock into iron ore.
Vale believes its biggest customer—China, more than 13,000 miles away—is too distant. Rising freight costs for the 45-day journey around Africa's southern tip are becoming a bigger disadvantage for the Brazilians than for rivals in Australia. So Agnelli is seeking to sell more ore to the U.S., just a one-week sail, or Europe, two weeks away. "China is our main market, but it's not our natural market," says Tito Martins, a top deputy to Agnelli.
Better yet, Vale wants big clients to set up shop in Brazil. Some heavyweights have already signed on to do so. Luxembourg-based ArcelorMittal (MT), Germany's ThyssenKrupp, and Korea's Dongkuk are all planning steelworks in Brazil and expect to buy Vale's ore. Even Shanghai-based Baosteel can't resist the pull of Brazil's plentiful resources. The company, China's biggest steelmaker, is building a $5 billion plant in the southeastern Brazilian city of Vitória. All told, Brazil expects to nearly double its 34 million-ton steel output by 2013.
Despite Vale's growing global profile, some Brazilians worry that its international push will weaken the management of its domestic operations. "Vale should tend its own backyard, which is Brazil," says Novarck de Oliveira, a Vale union leader. Vale's Martins counters that the best way to ensure the company's future—and its leading role in Brazil—is to keep growing any way it can. To prosper, says Martins, "we need old resources, new resources, acquisitions, and organic growth."
Before it's here, it's on the Bloomberg Terminal.
LEARN MORE