Behind the Mess at UBS
How the Swiss bank's scramble to replicate outsize returns of risky funds put it in peril
Stanley Reed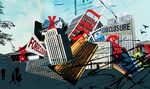 Swiss banking giant UBS (UBS) is the most mauled European financial player in the global credit crisis. The bank took $18.4 billion in write-offs last year from subprime mortgage securities gone bad—and it still has at least an $80 billion exposure to risky securities on its books. Last December, UBS had to line up a $12 billion capital injection from the Government of Singapore Investment Corp. and an unidentified Middle Eastern investor. And future writedowns at UBS are probable. "We don't have confidence the worst is over," says Huw van Steenis, a London-based analyst with Morgan Stanley.
It's all a surprising twist for a once-conservative lender and dominant force in private banking that has some $2 trillion in assets under management. Now the unfolding drama, which has already cost Chief Executive Peter A. Wuffli his job, clouds the bank's future. The U.S. Securities & Exchange Commission has launched a probe into whether UBS properly valued its subprime securities, a bank spokesman confirmed.
UBS's problems first surfaced last May with the closing of an in-house hedge fund unit called Dillon Read Capital Management, based in New York. UBS and other global banks were then in hot pursuit of trading profits from exotic mortgage-backed securities. Yet the story of how the Dillon Read fund emerged as a powerful internal fiefdom and created many of the trading strategies that would eventually land UBS in a deeper jam hasn't been fully told, interviews with former bank executives suggest.
Three years ago, Wuffli grew concerned about hedge funds poaching bond traders left and right from banks. So he created a high-powered internal asset-management unit that would employ UBS's star traders. The Dillon Read unit (named after the American investment bank purchased by UBS in 1997) was the pet project of John P. Costas, the New York-based deputy CEO and investment banking chief for all of UBS. Back then, Costas was a star and potential heir to Wuffli.
The allure of big pay packages helped Costas attract in-house talent. The hedge fund's employees were to keep about 20% of whatever profits they made. Costas and his team raised $1.2 billion from outside investors in a different investment vehicle called Dillon Read Financial Products Fund. (That fund delivered returns of 16.5% to investors before it was shut down last April.)
However, nearly all of Dillon Read's overall $80 billion trading portfolio came from UBS's own capital, a crucial funding advantage over other hedge funds. The group traded in about 15 types of securities, including mortgage-backed investments.
Current and former senior UBS managers say that Swiss native Wuffli, a former McKinsey & Co. consultant who disliked confrontation, didn't manage the hedge fund closely enough. Costas and his bond guru, a former Salomon Brothers trader named Michael Hutchins, created resentment when they raided other UBS units. "A [tough] American CEO would have put a bullet in those guys' heads rather than let them set up a hedge fund," says one former UBS executive.
At first, the Dillon Read unit delivered impressive numbers. It brought in $1.2 billion in revenues in 2006, returning $700 million to the bank, says one UBS source familiar with the results. Then in April, 2007, Dillon Read executives discovered losses in a $4.5 billion portfolio of subprime securities. When he learned of the losses, Wuffli quickly shut down Dillon Read. UBS also fired about half of its 230 employees. Costas was retained as an adviser for the rest of the year, though he has since left the bank. UBS puts the total trading losses at Dillon Read for all of 2007 at $348 million.
So how did UBS amass the rest of its $18.4 billion in write-offs last year? It turns out that other trading desks at UBS were also aggressively trading in subprime and dicey securities. On top of that, the traders managing these portfolios were generally less experienced, thanks to the Costas talent raids for Dillon Read. They also "did the same trades," confirms a UBS spokesman. Yet on a far bigger scale. Between the end of 2004 and the first quarter of 2007, UBS's balance sheet ballooned by 41%, to $2.2 trillion—about 2.5 times the size of Merrill Lynch (MER) or Goldman Sachs (GS), according to Morgan Stanley.
True, part of that balance sheet expansion consisted of less risky loans to hedge funds and home mortgage lending. Still, UBS continued to hold large positions in mortgage-backed securities until well after the market collapsed in mid-2007. Traders loaded up on AAA-rated mortgage-backed debt, which the bank considered to have little risk. Thanks to UBS's financial clout, the trading desk financed these positions at rates below the benchmark London interbank offered rate. "If we can borrow at Libor minus 10 [basis points] and make Libor plus 40, and they are risk-free, we should own them all," one former bank executive joked.
UBS CEO Marcel Rohner, who replaced Wuffli in July, blasted his colleagues' performance on Feb. 14 when he announced the bank's $4.3 billion loss for 2007. The root causes of the debacle, he said, were "a me-too strategy in fixed income predicated on closing gaps with our competitors" as well as the provision of cheap money. Former UBS officials also fault the Dillon Read resource drain and trading strategies.
There is more pain ahead. Citigroup forecasts a fresh $18 billion in write-offs in 2008. UBS's woes could also hurt its core private banking business. New money coming into the UBS private banking network slowed to just $1.5 billion in December, vs. a combined $27.5 billion for the two previous months. UBS says this fall-off may have been due to volatile markets overall.
UBS's image problems could scare some clients off. Says Paul Strebel, chair of the Board of Directors Program at IMD, the Lausanne-based business school: "To be a great wealth manager, you need to err on the side of prudence and forgo the big returns that come from speculating on bubbles."
Before it's here, it's on the Bloomberg Terminal.
LEARN MORE