Wal-Mart: Fashioning a New Growth Track
Sales at the big-box retailer outpace the industry, but Wal-Mart is struggling to stave off a decline in growth. Can high-margin apparel sales do the trick?
Pallavi Gogoi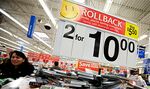 On Feb. 19, the world's largest retailer, Wal-Mart Stores (WMT), reported sales of $374.5 billion—more than a third of a trillion dollars—for its fiscal year ending Jan. 31, 2008. It's a stunning number. But a closer look at Wal-Mart's prospects shows the larger question for the discount giant is whether it can avoid having store-sales growth turn negative in the coming year, for the first time ever.