Can We Talk?
Stumped on strategy? Staff beyond your control? A coach can help you become a better manager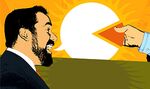 Perhaps you want to open an office in Asia, but you've never been east of the Rockies. Or your recalcitrant financial officer keeps doing what he wants, no matter what you say. But you're the boss. You're supposed to have the answers. So where do you turn when you don't?
You hire a coach. You'll have no trouble finding one. At least 30,000 coaches are working worldwide, according to a February, 2007, study by PricewaterhouseCoopers.
Finding a good one, however, is a whole other story. The industry is completely unregulated: Anyone can claim to be a coach. Coaching sessions can be individual or with a group, too, so you want to be sure to choose what's best for your goals.
If you're ready to delve deep and confront your inner entrepreneur, one-on-one coaching might help. Pamela McLean, CEO of the Hudson Institute of Santa Barbara, Calif., a training program for business leaders and coaches, says the approach is particularly useful for owners whose businesses are well-established and ready to grow. Those entrepreneurs often sense something is blocking their progress, and when they recognize that circumstances won't improve on their own, they're ready. "You need both an identifiable challenge and a willingness to change," says McLean.
There is guidance available to help you find a reputable coach. The International Coach Federation certifies people at three levels—associate, professional, and master—depending on how many hours of training and coaching they've completed. Several national organizations run training programs. Consult local coaching associations, too, and ask colleagues for recommendations. Look for a coach specializing in business and entrepreneurs, not a general life coach. And don't limit yourself geographically: According to the PwC study, 56% of coaches work mainly by phone.
Once you have names, ask each coach for a 10-minute trial session to get a feel for her style (about two-thirds of coaches are women). Ask if the coach has an ethics statement and a policy for disclosing conflicts of interest—she should. Fees run $200 to $500 an hour, or $1,200 to $5,000 a month for multiple sessions.
With peer coaching, guidance comes from other business owners who meet in a group led by a facilitator. Each member briefly discusses a troublesome issue, and the group delves into one or two cases. You'll get from-the-trenches advice, and peer pressure as a motivator. "It may be intimidating to tell your coach you didn't do the work," says Gregg Lichtenstein, president of Collaborative Strategies, a coaching company in Margate, N.J. "But it is even more so if you have 12 people in the room expecting you to act."
Everyone signs a confidentiality agreement, but you must be willing to share information about your business—and your shortcomings. You must also sort through a blizzard of potentially conflicting suggestions, though many groups offer follow-up sessions with the facilitator. Groups usually meet monthly, with fees running $500 to $1,200 a session.
Sometimes you have a single hot-button question and just want to brainstorm with an expert. In speed coaching, you'll get to talk with a bunch of them. Sessions are often free, or are offered as part of a conference. Experts and entrepreneurs meet in a big room, with clients spending 5 to 30 minutes with each pro. "If a coach is listening well, even in 10 minutes she can ask some questions that turn someone's world upside down," says Chris Wahl, executive director of the Georgetown University Leadership Coaching Certificate Program.
To help you choose the best option, BusinessWeek SmallBiz tagged along with three entrepreneurs as they attended sessions of each. Click on the following stories to see what happened: One on One Coaching, Peer Coaching , and Speed Coaching.
Back to BWSmallBiz February/March 2008 Table of Contents
Before it's here, it's on the Bloomberg Terminal.
LEARN MORE