Budweiser, Miller…and Tsingtao?
As part of its global expansion plan, China's leading beermaker aims to break out of the niche market in the U.S.
By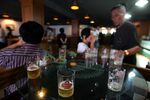 Crown Imports, the largest beer importer in the U.S., sells more Tsingtao beer every year during Chinese New Year than any other period. This year, it's been pulling out all the stops. Chicago-based Crown (a subsidiary of Constellation Brands (STZ)) has persuaded Costco Wholesale (COST) to carry China's most famous beer in several stores in Northern California and the Pacific Northwest on a trial basis during celebrations of the Year of the Rat, which started on Feb. 7. If Tsingtao sells well, Costco may consider stocking the Chinese import beer year-round. Crown Imports has also signed up celebrity chef Martin Yan to kick off a marketing blitz in a bid to expand Tsingtao outside Chinatown and into downtown U.S.A.