Budweiser, Miller…and Tsingtao?
As part of its global expansion plan, China's leading beermaker aims to break out of the niche market in the U.S.
By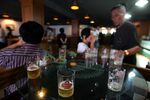 Crown Imports, the largest beer importer in the U.S., sells more Tsingtao beer every year during Chinese New Year than any other period. This year, it's been pulling out all the stops. Chicago-based Crown (a subsidiary of Constellation Brands (STZ)) has persuaded Costco Wholesale (COST) to carry China's most famous beer in several stores in Northern California and the Pacific Northwest on a trial basis during celebrations of the Year of the Rat, which started on Feb. 7. If Tsingtao sells well, Costco may consider stocking the Chinese import beer year-round. Crown Imports has also signed up celebrity chef Martin Yan to kick off a marketing blitz in a bid to expand Tsingtao outside Chinatown and into downtown U.S.A.
Tsingtao is China's oldest and most famous beer, with a 13% market share at home. Based in the northeastern city of Qingdao (the company uses an older system of romanizing the name for its brand; hence the different spelling), the brewery entered the U.S. market in 1972, shortly after Nixon's visit to Beijing started thawing Cold War relations between the two countries. It set up a beachhead in Chinese restaurants where it already had high brand recognition. The White House has served Tsingtao at every Chinese state leader's visit since Deng Xiaoping's in 1979.
However, after 35 years in America, Tsingtao has managed to capture only 0.04% of the U.S. market and is available primarily in Chinese restaurants and grocery stores. Tsingtao ranks No. 39 among imported beers in the U.S. "The U.S. market is a saturated market. It's not like China. Competition is fiercer," says Wang Zhiguo, general manager of Tsingtao.
Breakout Strategy
Like many other Chinese companies, Tsingtao has aspirations of becoming a global giant in its industry. Even though Tsingtao ranks among the top 10 breweries in the world in terms of sales volume, Tsingtao management realizes the company can't credibly be a global corporation unless it succeeds in the U.S. However, like many other Chinese companies that have tried their luck in America, Tsingtao has found itself relegated to a niche market in the U.S.
Sun Baohong, a Carnegie Mellon University marketing professor who has done case studies on Tsingtao's global strategy, says the problem with Chinese companies is that they have gotten very good at manufacturing products for export at low cost. But Chinese companies have been content to let multinational corporations, such as Nike (NKE) or Motorola (MOT) or Dell (DELL), slap on their brands and market the goods. Now that Chinese companies are starting to expand overseas, with their government's encouragement, they are finding their lack of brand-building experience is a huge liability. "Tsingtao is an exporter. It's not a brand-builder," she says. "If you don't give a brand, U.S. consumers give you a brand called 'Made in China,' and the majority of 'Made in China' products are low quality."
Two years ago, Tsingtao and Crown, its sole distributor in the U.S., took a hard look at its U.S. strategy and decided to retool it around a "moving out of Chinatown to downtown" campaign. "We're in all the Chinese restaurants. If a Chinese restaurant has a liquor license, we're in 99% of that," says James Ryan, executive vice-president at Crown Imports. "But the challenge is how do you get [consumers] to pick that brand up in the off-premise?" In 2006, Tsingtao introduced a second, lighter-tasting beer, Tsingtao Pure Draft, to target the 21-to-34-year-old beer-drinking demographic, particularly female customers.
With the number of Chinese restaurants in the U.S. declining, Crown and Tsingtao face a greater need to find new markets.
So they have been moving into Vietnamese, Korean, Thai, and other Asian restaurants that cater to high-end, affluent customers. Crown is also talking to liquor stores and supermarket chains, such as Safeway (SWY), Kroger (KR), and Costco, about stocking Tsingtao beer in cities with large Chinese populations. And Crown has signed up the host of the Yan Can Cook cooking show, Martin Yan, to peddle Tsingtao beer. Over this Chinese New Year, Tsingtao is offering coupon booklets with recipes from Yan and a chance to enter a sweepstakes for a trip to China. The winner of the sweepstakes will get a 10-day, all-expenses-paid trip for two, including a day with Yan at his Culinary Arts Center in the southern Chinese city of Shenzhen.
Advantage Anheuser-Busch
However, Crown cannot use the biggest marketing opportunity this year—the Beijing Olympic Games—to promote Tsingtao in the U.S. There are three official beer sponsors for the Beijing Olympics: Tsingtao, Anheuser-Busch (BUD), and Yanjing Brewery. Under their agreement with the International Olympic Committee, only the American brewery is allowed to use the Olympics for marketing purposes in the U.S. "We're very good friends, but you're never willing to share a girlfriend with me no matter how good we are," says Ma Ning, director of Tsingtao's North American operations. "The sponsorship of the Olympic Games to A-B is kind of a girlfriend."
Even though Anheuser-Busch has a 27% stake in Tsingtao, it has not given the Chinese brewery much help in breaking into the U.S. market. Anheuser-Busch also owns 100% of Harbin Brewery. Since January, 2007, Anheuser-Busch has allowed Harbin to sell its imported beer in the U.S. through the distribution channels of America's largest brewery. Harbin beer first made its mark in Chinese supermarkets in the U.S., although it has started to expand to some Korean supermarkets.
Many Chinese companies lack the senior executives who speak the local language and understand overseas markets, but they are learning very quickly. In August, 2006, Tsingtao signed an agreement to distribute its beer in Mexico through Grupo Modelo, the country's largest brewer and producer of Corona. But in Mexico, Tsingtao is skipping over the overseas Chinese community and targeting the mainstream beer market first. "It's very important to establish a higher brand image; that's the first beginning. That's why in Mexico, we start our market and sales from downtown," says Tsingtao's Ma.
See the BusinessWeek.com slide show for a look at Asia's best-selling beers.
Before it's here, it's on the Bloomberg Terminal.
LEARN MORE