Herman Miller's Creative Network
CEO Brian Walker talks about tapping the furniture company's creative network for insights and breakthrough ideas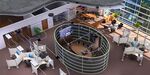 Herman Miller CEO Brian Walker talks with Corporate Design Foundation Chairman Peter Lawrence about tapping the creative network for insights and breakthrough ideas.
Herman Miller has a long tradition of working with design consultants like Charles Eames, Isamu Noguchi, and George Nelson. Why an external creative network rather than an in-house design staff?
The driver for us is our commitment to new ideas and solutions. This external network ensures that we are always taking a fresh look at problems faced by our customers without subjecting it to our own filters. If you have only an internal design staff, even an enormously talented one, you are inherently limited by their existing world view and experiences. Our ability to tap into a broader outside network lets us revisit and reinvent our own filters on a regular basis and get a fresh perspective on existing or emerging problems. This approach has its challenges, but it often leads to the best ideas and breakthroughs. Our creative network is at the core of Herman Miller's DNA.
Herman Miller has continued to partner with some of today's great designers.
Yes. A huge contributor for decades was Bill Stumpf, who received the Smithsonian Cooper Hewitt National Design Award for Product Design in 2006, just prior to his passing away. People like Ayse Birsel, Eric Chan, Yves Behar, Studio 7.5 Berlin and others have continued to extend our design tradition.
Is there a secret to working well with outside designers?
The central thing that we've learned is a willingness to follow and give ourselves over to these designers—not lose ourselves, but be open to following them to places that we may question in the beginning. We give our creative network an outline of a perceived problem and let them share their insights as to whether we're on the right path and then enable them to bring their own gifts to the search for a solution. We follow them in their journey without judging too quickly. One of the hardest things to do is not to judge too quickly, based on the first physical appearance of something. Instead, we try to understand the essence of what they're describing in physical form, written form or sketches.
The genius of Herman Miller's R&D folks is in knowing how to put the right constraints in place so that we end up not only with a great statement of design, a great innovation, but something that solves real problems for customers and has commercial value. It's easy in some ways to come up with great designs that don't have commercial value, but to have great design that solves real problems and creates commercial value, that's where the genius comes in. That's where our R&D people make their real contribution; it's their ability to know how to put the right constraints in place to push the creative network to a different place.
Herman Miller is known for pioneering work in consumer research, including "global scenario planning." What is it?
Every few years, we do global-scale scenario planning, where we look out a number of years and create multiple visions of how we think the world may change. We ask ourselves, if the world did evolve along one of those paths, how would that affect the way people work, live, and feel? These scenarios give us vectors on which to explore new potential problems and new solutions. Solving problems is where our design work begins. We rarely start off saying, 'We just want a chair in this price point.' More often, we say, 'Here's a problem area that we see for folks. How do we solve it?' Around here we often quote George Nelson, our lead designer in the '40s and '50s, who used to say, 'Design is a response to social change.'
Cite an example of a workplace problem you are trying to address.
Right now we see a growing need for temporal places that aren't as permanent as an office nor just a meeting space, but something in between. A question we ask ourselves is what kind of seating is best suited for such a temporal place? If you begin by trying to solve the problem, you get a different outcome than saying, 'We need to go do a chair that's $200.'
Herman Miller's product offerings go beyond office furniture, don't they?
Herman Miller has had several periods of revival or renewal where we have changed our focus. We don't define ourselves as an office furniture company or even a furniture company. Our boundary is around people and human performance. It's around habitat and wherever we can affect the performance of human beings in their habitats. Problem-solving design is at the core of what Herman Miller is, and that can be applied to a broader field and evolve over time. Clearly some habitats have not been primary to us in the recent past, but are logical and natural steps. We have historical grounding in the home, so we can play off of that. Educational institutions have a lot of connectivity and, in many ways, have needs that are similar to the office and the home. And we've had interest in the healing area for many years. Those became the jumping-off point for us.
We also have a group called the Herman Miller Creative Office working on things that you can't define by environment or habitat type. They're clearly not furniture either. The most recent example is Convia, a modular, programmable sub-building infrastructure system for electrical and data that makes buildings more adaptable and changeable by the user. We believe it has profound implications for the design and management of buildings, across multiple categories of use.
How has Herman Miller managed to stay at the forefront of introducing new materials, from Eames' molded plywood to the fabric on the Aeron chair?
Trying to solve problems in a new way often leads us to new materials. One advantage we have as a company is that we're not very vertically integrated from a manufacturing standpoint. If we were, it would be difficult to convince ourselves to change material types. We see ourselves more as an integrator than a manufacturer. We're able to do material explorations somewhat freely and give designers a fairly free hand to bring us new ideas.
You have a strong financial background. How did you learn about design?
It's almost impossible to be here for 18 years and not learn something about design. I don't consider myself knowledgeable about how to design, but I have become a student of design. I have had the benefit of great teachers at Herman Miller, both in our creative network and in our own management team and Board of Directors. I have the good fortune of working with Gary Miller and Don Goeman who have been involved in the design and innovation processes at Herman Miller for 25 to 30 years. Spending time with those folks and being willing to listen to them and have them say, 'Let me tell you why we're approaching it this way' has been a great benefit. More recently I've gotten to spend more time with our creative network.
When I was transitioning from Chief Operating Officer to CEO, I used to sit in on every design review launch team meeting. I spent a lot of time listening to the details of what was going on, not as the boss critiquing their work, but as an observer trying to understand where it was going. Even today, when one of our designers is in town, Don Goeman checks to see if I have an hour or two to meet. It's not about spending time to approve anything; sometimes it's to take me through the latest model and hear what they're thinking.
You recently went to China to explore marketing opportunities and took a team of designers with you. That's rather unusual.
We spent almost three weeks in China doing research into what our entry strategy should be. Our group included Don Goeman and three members of our creative network—Eric Chan of Ecco Design in New York, Bill Stumpf of Stumpf/Weber, and Burkhard Schmitz from Studio 7.5 in Berlin. About a third of our trip was cultural immersion, visiting museums, the homes of local people, touring emerging and old cities.
Can you share any takeaways from that trip?
We learned that the Herman Miller brand does mean something in China and that a growing appreciation and respect for good design exists there. It also became clear that we were going to have to create some design very specific to that marketplace and we would have to hire local people, both on the design and management side to really understand the Chinese culture and be sensitive to it.
Herman Miller still abides by the environmental values of your founder D.J. DePree. What formed his beliefs?
To paraphrase DePree: 'Ultimately businesses will be judged by their contribution to humanity and we have a duty to be good stewards of the environment.' D.J. had a deep sense that we don't really own these resources in the long run, we simply are borrowing them, and we need to pass them on to future generations in good order. That's the underpinning of Herman Miller's environmental values. Aside from the moral obligation, there's an economic return, if we're good at it. We have 10 target goals set for 2010 that we call "The Power of Ten." They are part of our ultimate "2020 Vision" of leaving no operational footprint on the environment by the year 2020. A second commitment is that 50% of our sales must come from products that meet the Design for the Environment protocol (DFE) established with the help of Bill McDonough, Michael Braungart and their Cradle-to-Cradle principles. Our Mirra chair was the first non-textile product to meet DFE in our industry. Now we require all of our new products to go through DFE analysis before they're launched.
For decades, Herman Miller has shaped the office workplace. How do you see it evolving, and is the open plan office still relevant?
Open plan offices are not going to go away, but I think we are going to see much more of a mixed landscape that will vary not only by company, but by areas within a company and who those users are. One size won't fit all. That's why among our newer products you can see My Studio Environment, focused on people who need to do individual work and need an element of controllable privacy, and Vivo, a frame-and-tile office system. By the way, it is important that these two products can work together harmoniously. At the same time, neither invalidates what we did with Resolve, which is a more extreme move toward collaboration. All of these systems fit within the portfolio of who we are and you'll continue to see more products that fit in those kind of more temporal areas that are neither private offices, open plan nor conference rooms. The one overall trend that we're starting to see is a less mechanistic feel to the way offices are put together. They'll become more organic. They'll have more of a residential quality in some ways.
Where does the home office fit into your scheme? Didn't the company enter this segment a decade ago?
When we relaunched our residential business in '94, we were probably ahead of the curve. Part of the reason was the technology infrastructure wasn't there. You had a clunky dial-up connection that made it slow to upload and download files. Today, people can't tell if you're at home or in the office. We will see more of a blurring. I also think there will be as much of a need to ask how you are going to deal with the mobility between all of those locations. Our drive is not just to ask how we solve issues of the home and home office, which we do have an interest in, but how we can address issues that people are going to deal with between the home, the office, and that other place.
Is Herman Miller involved in office equipment technology?
That will be an area of growing connectivity going forward. Certainly as we look at our own research, we're seeing many more opportunities emerging with the advent of new technologies. We're actively developing our own internal capabilities and we're looking externally for both design talent and collaborative resources for new technology.
Herman Miller's commitment to design quality extends to print communications as well. For decades your annual report, designed inhouse by Steve Frykholm, has been an award-winner. How is your report evolving?
We want to make sure that any vision, any product that we produce is relevant to the audience and the times. Annual reports produced before the Web were targeted to investors and analysts who probably don't find printed annuals as relevant today because they can get a lot of that data online. But we believe our customers and employees still read our annual report, so last year we did a summary annual with my letter directed more to customers, employees and other constituents. We would like to do more of an employee annual report talking about things at a level that we probably can't to external audiences, but do so in as creative a way as we have for outside groups. We continue to think there is an audience for printed annual reports, but we have to reorganize the content and reinvent it for the segments we are trying to reach.
What about your SEE magazine, which seems to concentrate less on promoting Herman Miller products than on positioning the company as a thought leader?
You hit the nail on the head with the term "thought leader." We think that is rightly Herman Miller's position because our products and services spring from our focus on problem solving and research. Our SEE magazine is a way to connect with customers, influencers and business leaders by sharing some of the knowledge that we have acquired. SEE, which features articles by our design network, also is meant to convey the energy and focus we put into research. It shows that when you come to Herman Miller as a customer, beyond what you get from the product, you get an experience that will enable you to improve your business.
A few years back when your business was in a downturn, Herman Miller made a bold decision to emphasize research and design. What does this say about the company's evolution?
I give Mike Volkema, now our chairman but who was CEO at the time, a lot of the credit. We had the choice to say, 'We are going to be an office furniture company and jettison everything else,' or to say 'Let's begin to paint a bigger picture for our future.' We chose the latter and elevated research and development funding over other areas of our business. It was a gutsy call. What's phenomenal about this choice is that the path of Herman Miller has always been about evolving to a new place-from what D.J. DePree, our founder, saw in the 1930s, moving from period furniture to a design-driven company, to an office furniture leader in the 1960s, to today saying we can have a broader impact on human habitat. Ultimately, our greatest asset is our ability to create. You can call it innovation, but we call it problem-solving design.
Walker is speaking at the @issue conference April 29, 2008 in New York, information at www.cdf.org.
Before it's here, it's on the Bloomberg Terminal.
LEARN MORE