Rough Road for Hybrids in China
Toyota and Honda are selling eco-friendly cars in mainland China and GM is close behind. But high prices and murky policy have crimped sales
by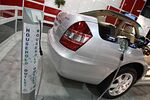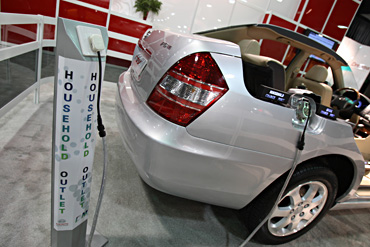 China, so notorious for its toxic air that athletes competing in this summer's Olympics are desperate to spend as little time in Beijing as possible (BusinessWeek.com, 2/12/08), should be a promising market for eco-friendly hybrids. Auto sales grew 22%, to 8.8 million last year, and will probably top 10 million in 2008. Meanwhile, oil imports have soared and air pollution increasingly clogs the skies of China's cities. But high sticker prices for hybrids and unclear policies from Beijing have deterred many buyers, and companies that have tried to sell green cars so far have met with disappointing results.
Still, companies are hardly giving up. The latest is General Motors (GM). On Jan. 22, the American giant known for its gas-guzzling heavy metal announced it will produce a hybrid later this year in China. GM will launch the Buick LaCrosse Eco-Hybrid, an upper- to mid-end sedan with a 2.4-liter engine. (The exact date and price have not been announced.) Toyota Motor (TM) started selling its Prius in China in 2005 and now assembles the world's most popular hybrid in the northeastern city of Changchun. Honda Motor (HMC) started importing its Civic hybrid from Japan last year.
GM isn't a global leader in hybrids, and while Toyota's Prius gets more than 50 miles per gallon, the LaCrosse will get only 34 mpg. That's just a five-mile-per-gallon improvement over the nonhybrid model. GM nonetheless contends the launch of its first China hybrid shows that it is being a good corporate citizen. The company, which commands 9.5% of the Chinese auto market, has "a responsibility to contribute to sustainable development of our society by promoting long-term energy security," said Kevin Wale, president and managing director of the GM China Group in an e-mail answer to BusinessWeek.
Domestic Attempts
Locals are dipping into the market. Shenzhen-based BYD Auto plans to start selling this summer a plug-in hybrid (BusinessWeek.com, 1/10/08). Last October, Zhejiang-based Geely announced that it will develop five hybrid car models over the coming five years.
Chery, China's most successful domestic brand, took its first step (BusinessWeek.com, 1/4/08) last November when it produced 10 1.3-liter compact hybrid sedans to serve as taxis in its hometown of Wuhu, in the central province of Anhui. Chery is producing 50 more for use during the Beijing Olympics this August and plans a nationwide launch by yearend. "This is aimed at grabbing opportunity in China," says Jin Yibo, a deputy general manager at Chery. "We can achieve energy conservation and environmental protection goals through hybrid cars."
The local player with the most advanced hybrid strategy is proceeding cautiously. Chongqing-based Changan Automobile Group, which to date has focused mainly on producing buses and commercial vehicles, last December started producing China's first mass-produced hybrid, the Joice HEV, a 1.5-liter four-door hatchback. While Changan has signed a strategic cooperation agreement with Shanghai Jiao Tong University to develop auto technology, so far it is not devoting a lot of resources to its hybrid strategy. Changan had revenue of $8.1 billion in 2007 but over the next four years plans to invest just $40 million in hybrid research and development.
High Tariffs on Parts
One likely reason: China's consumers have not yet shown much interest in hybrids. Because of high tariffs on imported parts, the Prius in China costs some $15,000 more than the Japanese and U.S. versions. And even with a 9% hike in gasoline pump prices on the mainland last November, China's consumers still pay 18% less for gas than consumers in the U.S.
So for now, hybrid sales remain lackluster. In the more than two years since it launched the Prius in China, Toyota has managed to sell only 2,500 cars. The company had set a sales target of 3,000 for 2007 alone but fell far short. "It's very difficult because of the high price and the import duty," said Toyota Executive Vice-President Takeshi Uchiyamada during the Tokyo Auto Show late last fall. According to Uchiyamada, China's government needs to grant preferential policies to the industry. "There is a big potential in China," he said. "Chinese people will have a strong interest in hybrid vehicles, and not too far into the future."
Before it's here, it's on the Bloomberg Terminal.
LEARN MORE