Next Stop for Big Oil: Cambodia?
As Chevron and partner Mitsui Oil explore offshore, skeptics worry that Cambodia will fall prey to the "oil curse"
Susan Postlewaite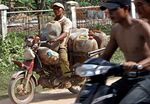 In the world of $90-a-barrel oil, oil companies have plenty of incentive to search in unusual places for the fossil fuel. One of the newest energy frontiers is in the clear blue waters off the coast of Cambodia. Here, where fishing sampans sail among scattered, picturesque islands in the Gulf of Thailand, U.S. oil giant Chevron (CVX) has drilled 15 exploratory wells 150 kilometers offshore from the tourist town of Sihanoukville. If all goes according to plan, Chevron will begin extracting oil and gas from these wells by 2011.
Onshore, many Cambodians are watching—some hopefully, others nervously—about what oil might mean for one of the world's poorest nations. Prime Minister Hun Sen has recently called discussion about the oil finds "premature" and "speculative," and will say little about the prospects, which Chevron initially estimated at 400 million barrels. That's not much compared to neighboring Indonesia, with 4.3 billion barrels in reserve, or Malaysia, with 3 billion. But for a poor country like Cambodia, which has precious few energy resources, it's a big deal. Quietly, the premier has been lining up undisclosed partners for a small domestic oil refinery while the Cambodia National Petroleum Authority has begun talking about setting up a national oil company.
How important is oil for Cambodia? The International Monetary Fund produced a "moderate economic scenario" last year that showed revenues to the government from oil could be $174 million when Chevron's production starts in 2011, peaking at $1.7 billion annually after 10 years. For a country with a total national budget of just $1.2 billion, such a windfall could bring such benefits as raises for public teachers now paid $80 a month, rebuilding the education and health systems destroyed during the Khmer Rouge era, or bringing electricity and clean water to the bypassed rural areas that make up almost all of the country. "There are a lot of uncertainties about the amount of oil available," says IMF Resident Director John Nelmes, who explains the $1.7 billion estimate is a conservative one based on total reserves of 500 million barrels.
Overlapping Claims With Thailand
Of course, the size of the estimated oil reserves hardly ranks Cambodia with the big leagues. But the current picture in Cambodia could change. In addition to Chevron's Block A, five other blocks licensed for exploration are so far unexplored. And in an overlapping claims area with Thailand there are huge unexplored oil fields that cover an area as much as all six existing blocks combined. Cambodia and Thailand signed a memorandum of understanding in 2001 to resolve the overlapping claims, but no progress has been made since then and diplomatic ties worsened after Cambodians burned down the Thai Embassy in Phnom Penh in 2003. Cambodia's Deputy Prime Minister Sok An says negotiations are expected to resume soon and he's willing to split the claims "on a 50-50 basis."
The question is, how should an undeveloped country like Cambodia proceed in tapping those resources? The possibility that Hun Sen's government might set up a state-owned oil company and a state-owned refinery horrifies some foreign advisors who worry that Cambodia could fall victim to what economists call the oil curse. That's the phenomenon of corruption in developing countries with state-owned companies that control abundant oil reserves. It's too easy for corrupt government officials to skim profits from state-controlled oil companies, says Warwick Browne, a former extractive industries project manager for Oxfam America in Cambodia.
Having a Phnom Penh-controlled oil and gas company would be "a very bad move," says Browne, adding that such state-owned entities "are black holes for corruption." He says a small national oil refinery would probably not be profitable and the government would have to subsidize sales to the population while forgoing the opportunity to earn needed foreign exchange by exporting to neighboring countries.
Other Obstacles
Government officials won't discuss these questions publicly. Chevron, after three years of exploration at a cost of more than $120 million, says in a public statement that the undersea reservoir has a complex design and contains "small dispersed fields, rather than one core field." Translation: It will take more technical expertise and cost more to extract. With partner Mitsui Oil Exploration (Moeco), Chevron is considering a third round of exploratory drilling in 2008 and 2009.
Another complication: a recent dispute between the joint venture and the government over the way Chevron would eventually be taxed on royalties. The two sides are expected to compromise eventually but won't discuss the matter. Even so, production will probably begin by 2011 under terms of Chevron's and Moeco's license with the government. (Chevron officials in Bangkok declined to comment.)
The licensing of the other blocks taking place is raising eyebrows. Browne says the information about the contracts is kept secret in the hands of Deputy Prime Minister Sok An, who signs the concessions, and Te Duong Tara, head of the Cambodia National Petroleum Authority. (Both declined BusinessWeek requests for interviews.) Quietly, the CNPA over the past year has handed out licenses for the five other blocks to three Chinese companies and two international partner groups.
Beefed-Up Security
One block went to a consortium including Singapore Petroleum, Malaysia's Resourceful Petroleum, and Thailand's PTTEP International. Another went to a consortium led by Indonesian company Medco Energi Internasional Tbk with partners Kuwait Energy and Sweden's Lundin Petroleum. The others went to Chinese companies, including Chinese National Offshore Oil (CNOOC) and China Petrotech Holdings.
Meanwhile offshore, the Cambodian Navy recently ordered patrols to ensure security in the Gulf surrounding the oil fields, an area where Cambodia and Thailand have had a border dispute.
Now all eyes are on Chevron. A petroleum consultant who asked to remain anonymous says the other companies are waiting to see; their contracts allow for six years of exploration before production is required. "They're gambling. Very often they sit back and wait and see if there are any hits. The strategy is to wait, watch, and then decide whether to drop out or resell their license," the consultant says.
Calls for Anti-Corruption Laws
The government is growing impatient with all the pessimists. Hun Sen, in a rare and testy public mention of oil, assured 600 people at a Nov. 7 investment conference in Phnom Penh that the country knows how to avoid the oil curse. "Cambodia is on the right path," the Prime Minister said. "I am hopeful Cambodia will be able to benefit from the sector in the near future."
Opposition party leader Sam Rainsy in December urged lawmakers to adopt an anti-corruption law before the oil begins flowing to prevent government "looting of the nation's oil wealth."
Andrew Symon, petroleum researcher with Menas Asia, a research company from Britain, says he's optimistic about the potential: "It's an exciting area and very contentious politically. If there were to be gas this would be very significant for Cambodia," But, he wryly notes, "There's no shortage of voices wanting this to be a curse. It almost makes it seem it should be left in the ground."
Whether Cambodia, with no oil expertise, will be able to, as U.S. Ambassador Joe Mussomeli put it last February, use its oil resources for "tossing off the shackles of the Pol Pot regime" remains to be seen. According to Mussomeli, oil has been a "horrific curse" in many nations, "rendering the population destitute while a small, corrupt elite siphons off revenue that should go to improving the welfare of all the people." He has called for Cambodia to sign onto a "transparent policy framework" that ensures no one misuses the revenues.
For more, see BusinessWeek's slide show.
Before it's here, it's on the Bloomberg Terminal.
LEARN MORE