What's Eating Apple?
The tech bellwether may be in for a rough ride as disposable spending dips
By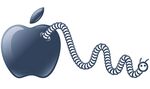 It was Jan. 23, and Apple (AAPL) shareholders were dismayed by the company's forecast for the current quarter. Apple's stock was having its biggest-ever one-day decline in dollar terms and Chief Executive Steve Jobs felt a need to make some reassuring noises. "Hang in there," Jobs wrote in an e-mail to employees. "Our stock is being buffeted around by factors a lot larger than ourselves."
Annihilated is more like it. For the better part of last year, a bet on Apple's stock performance seemed like a can't-miss proposition. Propelled by seemingly unquenchable demand for iPods, iPhones, and Macs, Apple stock surged to a record closing price of 199.83 on Dec. 28, after starting the year at 83.80. Analysts nudged price targets ever skyward. In October, Piper Jaffray analyst Gene Munster predicted Apple's stock price could reach 250 in 2008. Instead, Apple's stock has hit an air pocket. Its share price is off an alarming 34% on the year as of Feb. 13, to 129.40, a far worse performance than the Nasdaq index and technology stocks generally.
Part of the slide can be attributed to disenchantment among industry analysts and pundits with products unveiled at the annual Macworld Conference & Expo in January. Apple's stock started to tumble just days after Jobs announced the ultra-slim MacBook Air laptop, movie rentals through iTunes, and software upgrades. Weaker consumer spending in the U.S. is also obviously a big negative. Some investors have dumped shares, figuring Apple will end up bearing a bigger brunt of a weaker economy than other tech bellwethers.
On Jan. 22, Apple issued a softer sales outlook than analysts had forecast for the first quarter of 2008. "The first place [consumers] cut back is on entertainment purchases, and the second is on home improvements," says Margaret H. Georgiadis, chief marketing officer at Discover Financial Services. She says iPods and iPhones fit the first category and computers the second. A study released Feb. 8 by Royal Bank of Canada (RY) showed U.S. consumer confidence at its lowest level in the six years since the bank's yardstick was created.
Jobs seems to recognize all this, and there are signs he's tapping on the brakes. Apple is asking manufacturers to build fewer iPods and iPhones, says FBR Capital Markets (FBCM) senior research analyst Craig Berger. He has examined Apple's orders for chips and other components from companies such as Broadcom (BRCM) and Marvell (MRVL), and Berger figures Apple has cut its orders 10% more than it typically does in the seasonally slow January-to-March quarter.
NO IMMUNITY
Apple's earnings rely more on consumer spending than most other major U.S. tech companies. Digital devices such as the iPod and iPhone accounted for 44% of Apple's sales in the most recent quarter. The Mac accounted for 37% of the total. "Apple sells premium products, and every data point we get on the economy is a negative one, and there's no sign that anything is improving," says Charles Wolf, an analyst at Needham in New York. "None of Apple's products are immune to that."
Some analysts had hoped Apple would reverse its fortunes by releasing a new version of the iPhone. But that optimism was dashed at least for the near term when on Feb. 5, Apple doubled the memory capacity of its existing model. For some, the move was a suggestion Apple won't soon unveil a second-generation iPhone. An Apple spokesman says the company does not comment on unannounced products.
There's no denying that Apple's long-term growth prospects look robust. The fabled design innovator continues to make solid gains in the market for computers, where Apple still has a lot more room to grow: Its share of the North American market stood at 6.2% at the end of last year, according to IDC. Analysts on average see Apple's stock price heading back to 193. Jobs, in his e-mail to staff, insisted that "investors who stay with us will be rewarded as the market's confidence is restored over time."
Before it's here, it's on the Bloomberg Terminal.
LEARN MORE