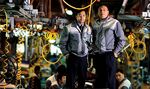 Ravi Kant was shocked. As head of commercial vehicles at India's Tata Motors (TTM), Kant had traveled to the Korean port city of Gunsan to examine the failing Daewoo conglomerate's truck division, which was being auctioned. When Kant asked a midlevel Daewoo manager which bidder he preferred, the Korean replied that a European suitor would best secure his company's future. "I realized we had to change our entire strategy," Kant recalls, "and tell the Koreans what Tata was about."
Kant quickly put together a massive public-relations effort: Tata executives were enrolled in Korean language classes, company brochures were translated into Korean, and Tata began making presentations to employees, the local auto association chief, the mayor of Gunsan, officials in Seoul, even Korea's Prime Minister. If Tata were chosen, Kant's team explained, it would preserve jobs, build Daewoo into a major exporter, and blend the outfit seamlessly with the parent company. "Tata had done its homework in everything needed to do business here," says Chae Kwang Ok, chief executive of Tata Daewoo. The Indians won the auction, paying $102 million.
Americans often associate takeovers with layoffs and factory closings. Tata, India's premier industrial group, with an expected $50 billion in sales this year, has a different way to merge—more strategic partner than vulture capitalist. It has applied this approach to $18 billion in overseas deals since 2000, when it acquired Tetley Tea for $400 million. After buying British and Italian engineering and design houses, tony American hotels, Asian and European steelmakers, and software companies around the globe, Tata now has 333,000 employees worldwide, 26% of them outside India. In the latest move, Tata Chemicals on Jan. 31 bought Wyoming's General Chemical Industrial Products, a leading producer of soda ash. And Tata is the front-runner in the bidding to buy Ford Motor's (F) Jaguar-Rover (F) operations for an estimated $1 billion.
In all its deals, Tata has been careful to signal its respect for workers. While it chooses its targets carefully and doesn't do a lot of bottom-fishing, Tata is nonetheless unusual in that it hasn't laid off any workers or shuttered any facilities following its overseas acquisitions (though it has had layoffs at home in the past decade). "Tata buys companies overseas not to reduce costs but to improve [its own] capabilities," says Arun Maira, Boston Consulting Group's chairman in India. And Tata's Indian background has given it plenty of experience in managing a diverse workforce. Its employees in India come from various castes, religions, and ethnic origins and speak any of dozens of languages or dialects.
With its overseas acquisitions, Tata typically leaves executives in place. Instead of dispatching legions of Indians to the new company, Tata sets up a joint management board, which decides on issues ranging from growth targets to the development of new talent. Working groups find common goals, and managers of the acquired company are asked to help smooth out any cultural differences. This approach takes time, says Philippe Varin, chief executive of Corus, which Tata Steel bought for $12 billion last year. But it allows Tata to stay focused on bigger strategic issues "without sweating the small stuff," Varin says.
At Daewoo, Tata knew not to act like an occupation force. The company formed a joint board of directors, and Daewoo CEO Chae was given the freedom to keep running the business his way. Kant wanted two Tata executives to act as advisers. Chae welcomed them but insisted on incorporating them into his management team, with one caveat for the Indians: They had to shave their mustaches, as Koreans preferred a "clean" look.
The Indians helped devise a strategy to expand Daewoo's product line and boost exports. "It's turned out to be a win-win situation," says Choi Jai Choon, a union leader there. While the company had been largely focused on its domestic market, the new Tata Daewoo accounts for two-thirds of Korea's heavy truck exports, up from 20% three years ago. Sales are expected to hit $670 million for the year ending in March—more than double their level before the takeover. That success, says Kim Ki Chan, an auto industry specialist at the Catholic University of Korea, can be attributed to Tata's capital injection of $176 million, as well as its hands-off approach to the company. "It would have been difficult to find a better suitor than Tata," says Kim.
Tata's unique shareholder structure makes it easier for the group to tread lightly. Since its founding in 1868, Tata has been controlled by charitable trusts. Today, they own 66% of parent Tata Sons' shares and aren't as focused on short-term gains as most investors. The trusts, says R.K. Krishna Kumar, a director with Tata Sons, have long insulated employees "from the greed that is sweeping the corporate world." As the company gets more deeply enmeshed in the global economy, that gentility will be put to the test. Says Harvard Business School professor Tarun Khanna: "There's a different kind of rough-and-tumble to competitive pressures outside of India."
Before it's here, it's on the Bloomberg Terminal.
LEARN MORE