Survival of the Biggest
With the dollar down and oil up, U.S. airlines are talking merger. But will consolidation be enough to fend off powerful European carriers?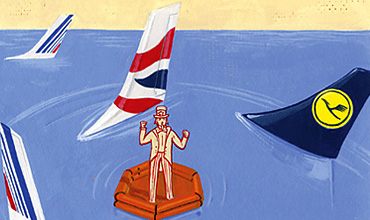 The long-anticipated consolidation of the U.S. airline industry appears to be finally on the horizon. Barring the unexpected, Delta Air Lines (DAL)and Northwest Airlines (NWA) will soon announce they are joining forces to create the nation's largest carrier. When that happens, it's likely United Airlines (UAUA) and Continental Airlines (CAL) will strike their own deal, and it raises the odds that American Airlines (AMR) will follow suit—perhaps linking with a smaller player like Alaska Airlines (ALK) or Frontier Airlines (FRNT), industry sources say.
The immediate pressure driving these pacts is high oil prices. Even with all the wrenching cost-cutting that Delta, Northwest, United, and others endured in bankruptcy, most U.S. carriers are back in the red. But the mergers are also being driven by a competitive threat that could be as onerous as $90-per-barrel oil: the imminent assault by European airlines on the lucrative transatlantic routes that have been the U.S. carriers' few big profit centers. And the European carriers don't plan to stop there. Spurred by the weak dollar, European carriers are publicly agitating to expand a new bilateral aviation treaty to gain the right to acquire or buy controlling stakes in the enfeebled U.S. airlines. The European carriers "are going to trash the profitability of the international routes, which are the only thing the major [U.S.] carriers make money on," says former Continental CEO Gordon Bethune. "They've got to come together and combine their own international networks or get chewed up by the Europeans." (Executives at Delta, United, and Northwest all declined to comment on the state of merger talks or the long-term competitive implications of any deals. Continental did not respond.)
GLOBAL MEGACARRIERS
The initial steps toward this future of global megacarriers may already be taking place. In December, Germany's biggest airline, Lufthansa (DLKAY), bought a 19% stake in JetBlue Airways (JBLU). The move ensures Lufthansa access to the crowded New York market via JetBlue's slots at John F. Kennedy International Airport and gives it an effective right of first refusal on any offer for JetBlue. Virgin Atlantic Airways, after years of legal wrangling, won approval to launch Virgin America. The U.S. affiliate, in which Virgin owns a minority stake, flies coast-to-coast routes. And many of the European carriers are devoting more of their fleets to transatlantic routes at a time when cash-strapped U.S. rivals lack the resources to respond. In January, British Airways (BAIRY) announced plans to launch OpenSkies, a new brand that will focus on routes across the Atlantic. "U.S. carriers are not in a position to create new entities like British Airways. They're simply struggling to stay alive," notes Peter Morris, chief economist for Ascend, a London consultancy.
The European carriers could also invest in some of the prospective U.S. mergers. According to industry sources, Delta and Northwest may bring aboard Air France-KLM as a minority investor. Reason? With more than $6 billion in cash, the Paris-based carrier may be their best source for some of the roughly $3 billion the carriers would need to cover the costs of integrating their route structures. "I think a Delta-Northwest merger would be the first step toward a global airline controlled by Air France," says Stuart Klaskin, a Miami-based strategic aviation consultant. "Everyone in this round of U.S. consolidation will have some financing from foreign carriers, and that will be an intermediate step toward consolidation."
Industry executives believe that Lufthansa—its JetBlue stake notwithstanding—would be a likely ally for United and Continental, and British Airways could attempt to partner with either American or a regional carrier.
That the European airlines would be the aggressors is a turnabout, given that the U.S. players have historically been stronger. But the rise of low-cost carriers has spurred debilitating fare wars that have left big carriers bleeding billions over the past decade. By contrast, the major European airlines have been largely protected by rules limiting the ability of upstarts to gain access to gates as easily as they can in the U.S.
The latest moves have been triggered by the Open Skies Treaty signed last year by the U.S. and European Union. In the near term, the treaty gives both U.S. and European carriers greater freedom as of Mar. 31 to fly more transatlantic routes, as British Airways plans to do with its new OpenSkies subsidiary. The name was chosen because it "signals our determination to lobby for further liberalization in this market," British Airways Chief Executive Willie Walsh told reporters in January.
While the aviation pact raises the equity stake European carriers can take in their U.S. counterparts from 25% to 49%, for now it limits the investing airline to no more than 25% voting control. That's a restriction European executives are already pushing to have lifted. In a Feb. 4 op-ed in the Financial Times, Walsh demanded U.S. bureaucrats "sweep away the anachronistic restrictions on the ownership and control of airlines, so that EU investors can take majority stakes in U.S. airlines and vice versa." And if the U.S. doesn't acquiesce by 2010, Walsh warns, "we shall press for the termination" of the Open Skies treaty.
Still, both U.S. and European execs are mindful of the certain opposition they'd face from politicians, who fear not just cuts in jobs and service but the loss of their ability to commandeer aircraft during national emergencies. Indeed, industry insiders point to the uproar when a Dubai-owned company attempted to acquire a firm that managed some key U.S. ports. Labor unions could also be an obstacle, as pilot groups could fight any mergers with airlines that employ lower pay scales. Consequently, analysts believe U.S. and European carriers are likely to opt at first for joint ventures in which they would fly more routes for each other, splitting profits. Only then, if opposition eased, would full mergers follow. The question is whether the U.S. airlines will be the carriers that survive.
Before it's here, it's on the Bloomberg Terminal.
LEARN MORE