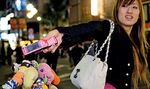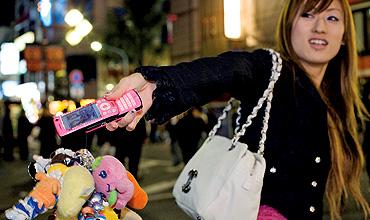 It was 10:51 p.m. in Tokyo, and suddenly Google (GOOG) was hit with a two- minute spike in searches from Japanese mobile phones. "We were wondering: Was it spam? Was it a system error?'" says Ken Tokusei, Google's mobile chief in Japan. A quick call to carrier KDDI revealed that it was neither. Instead, millions of cell-phone users had pulled up Google's search box after a broadcaster offered free ringtone downloads of the theme song from The Man Who Couldn't Marry, a popular TV show, but had only briefly flashed the Web address where the tune was available.
The surge in traffic came as a big surprise to Tokusei and his team. They had assumed that a person's location was the key element of most mobile Internet searches, figuring that users were primarily interested in maps of the part of town they happened to be in, timetables for the train home, or the address of the closest yakitori restaurant. The data from KDDI indicated that many Japanese were just as likely to use Google's mobile searches from the couch as from a Ginza street corner.
TOUGH CUSTOMERS
Japan's handset-toting masses, it seems, have a lot to teach the Net giant. The country has become a vast lab for Google as it tries to refine mobile search technology. That's because Japan's 100 million cell-phone users represent the most diverse—and discriminating—pool of mobile subscribers on the planet. While Google also does plenty of testing elsewhere, the Japanese are often more critical because they are as likely to tap into the Net with a high-tech phone as a PC and can do so at speeds rivaling fixed-line broadband. And because Japanese carriers have offered such services for years, plenty of Web sites are formatted for cell phones.
A relative newcomer to Japan's mobile market, Google is in the unfamiliar position of being the underdog in everything from maps to videos to blogs. But not for long. Google is working with the two top Japanese wireless operators, which have a combined 82 million subscribers. In January the Net giant announced a partnership in mobile ads, search, e-mail, photos, and YouTube videos with NTT DoCoMo (DCM), the No. 1 carrier. And since 2006, Google and No. 2 KDDI have cooperated on text ads and on developing a better mobile search engine. "Our fundamental strategy is to take ideas from Japan and apply them to other markets," says Emmanuel Sauquet, who oversees Google's relations with mobile carriers in Asia.
That's why users of Google's Gmail service will soon be able to include "emoji" in their messages. These small, animated cartoons and emoticons are a big part of how Japanese communicate in text messages and mobile e-mails. On Jan. 28, Google announced on its Japanese blog that users of mobile Gmail will be able to choose from 600 of them, first in Japan and later in other countries.
The job of overseeing Google's mobile lab in Japan falls to Tokusei. Born and raised in Tokyo, he moved to Boston in the mid-1980s while still in high school because he felt he "had no future in Japan." After undergraduate studies at Cornell, Tokusei got a master's in computer science from Stanford, then worked at several Silicon Valley tech startups. Five years ago, he landed a job with Google. The 39-year-old speaks at a machine-gun pace, switching effortlessly between Japanese and English, and shuttles between Google headquarters in Mountain View, Calif., and Asia about 20 times a year.
To figure out what mobile Web surfers like, the company relies on user experience groups, or UX in Google-ese. Dozens of participants are given phones with Net access and asked to complete simple tasks, either in a company lab or out on the streets of Tokyo. "We'll tell them: Find me a restaurant for tonight in Shibuya,' and we just watch," says Sauquet. At other times, Google conducts what it calls 1% tests, in which a small portion of users see different layouts, fonts, and other features on Google pages.
The aim is to determine what changes make the service easier to use.
For instance, Google has found that letting users choose a default neighborhood can make their search queries faster. And while Americans raved when Google launched a mobile version of maps last August, the Japanese panned it for being too slow and hard to navigate. So maps now load faster and feature arrows along each side that make it easier to change the map view. Says software engineer Ken Wakasa: "People's expectations are very high here compared to other regions. That's why we get good feedback."
Another lesson: The information people are looking for can change with the season or news events. Last July, the mobile search site was flooded with queries immediately after strong earthquakes rattled northern Japan, so the company now automatically posts links to news sites when quakes strike. And during the yearend holidays, when Japanese send New Year's greeting cards, Google makes postal code data a cinch to find. "There's a lot of trial and error," says Tokusei. "I'm always thinking to myself: There's gotta be a better way to do this.'"
The ultimate test is whether a service helps users find what they're looking for in the smallest possible number of clicks. That's how Tokusei's team decided to do away with the options for searching images, news, shopping, and other services that PC users see on Google. Data showed that when people search for TV shows, pro athletes, Hollywood stars, or pop singers, they're often looking for photos. Now when you do a Google mobile search for Seattle Mariner outfielder Ichiro Suzuki it assumes you might be interested in images, so they appear automatically.
Tokusei hopes to make getting information on a phone nearly as easy as on a PC. The biggest hurdle: the complexity of handsets. Instead of just two dominant operating systems, as with PCs, there are hundreds of versions of phone software. And some models sport buttons that let users jump around a Web page, while others rely on a jog dial or a pointer like a mouse. "There will always be more you can do on a desktop PC than you can on a mobile device," says Tokusei. "But that's part of what makes this job interesting."
Before it's here, it's on the Bloomberg Terminal.
LEARN MORE