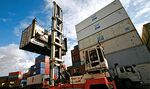 For years O.R.T. Technologies resisted moving any operations outside of Israel. But faced with a sharp rise in the value of the shekel, the producer of specialized software for managing gas stations has frozen all local hiring and in November decided to transfer some development work to Eastern Europe. "I never thought I'd see the day when we would have to move R&D outside of Israel, but the strong shekel has forced us to do so," laments Chief Executive Alex Milner.
Rack up another day in Israel's "dollar crisis." For decades, Israelis have viewed the greenback as a bedrock of financial stability, with apartment prices and salaries often indexed to it as a hedge against inflation. But in the past two years the shekel has surged by 31% against the dollar—including a 6% jump in the past month alone. That hurts the likes of software shop Flash Networks, where the bulk of expenses are in shekels, but most sales are in dollars. "We're only a month into the new year and there's already around a $1 million shortfall in our budget," says Flash CEO Liam Galin.
Both business and labor leaders have called for the central bank to rein in the mighty shekel, but on Feb. 10, Bank of Israel Governor Stanley Fischer ruled out lowering interest rates. The former chief economist at the World Bank defended his policy, noting that there are no signs of an economic slowdown. "We have to accept that the shekel is a strong currency, and the situation will continue for a long time," Fischer told reporters. Prime Minister Ehud Olmert and Finance Minister Ronnie Bar-On have backed Fischer's stance.
AN ECONOMY ON A ROLL
Behind the shekel's strength is the Jewish state's stellar economic performance. Growth has hit 5%-plus for four years running, Israel's balance of payments is strongly in the black, unemployment is at its lowest level in more than a decade, and debt as a percentage of gross domestic product dropped to 79% last year from 98% in 2004. On Feb. 11, Fitch Ratings upgraded the country's credit rating, and foreign money has been rushing into the currency markets in expectation of a stronger shekel. Some $2.5 billion worth of shekels is now traded daily, double the level of a year ago. With so much positive sentiment, says a senior finance executive in Tel Aviv, "minor reductions in rates aren't likely to have much of an impact."
The super-shekel threatens exports of everything from textiles and antivirus software to cut diamonds and military hardware. Overseas sales have accounted for 40% of economic growth in recent years, so many Israelis fear the engine may lose steam. The currency's strength could shave 1.5 percentage points from overall growth in 2008 and cost the country $5 billion in export sales, estimates the Manufacturers' Association of Israel.
With salaries—mostly in shekels—accounting for nearly all of their expenses, Israel's tech companies have suffered more than most. "The cost of an Israeli engineer is still cheaper than his counterpart in Silicon Valley, but not by much," says Moshe Zviran, a Tel Aviv University management expert. Zviran says the strong shekel is hurting U.S. companies that have development labs in Israel—including Intel (INTC), Motorola (MOT), and Microsoft (MSFT)—since they need more dollars to meet their payrolls.
Some companies have already been forced to cut back. RICOR Cryogenic & Vacuum Systems, which produces chipmaking gear, has stopped bidding on certain contracts for fear that they won't be profitable. "We've reduced overtime and frozen new investments, as well as plans to hire additional manpower," says CEO Nachman Pundak. The shekel's rise "could lead to losing markets that we have invested heavily in over the years."
Before it's here, it's on the Bloomberg Terminal.
LEARN MORE