HP's Hurd Is About to Be Tested
After a sterling three-year run, the company's CEO faces a weaker PC market and a stronger Dell
Louise Lee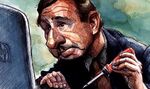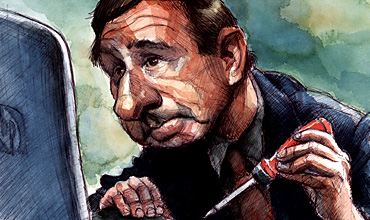 W. Shannon Reid has been a fan of Mark V. Hurd ever since Hurd took over as chief executive at Hewlett-Packard (HPQ) three years ago. But last month, the portfolio manager at the Evergreen Strategic Growth (ESGIX) fund cut back on his fund's holdings in HP. He trimmed the stake at the end of December from 3.3% of his fund, or 651,470 shares, to 2.9%, because of concerns over how Hurd will fare in the year ahead. "There's no question that [2008] will be his most challenging year," says Reid.
Hurd took over HP in March, 2005, at a tumultuous time. The company had struggled under his predecessor, Carleton S. Fiorina, and she was ultimately dismissed after clashing with the board over how to improve HP's performance. Hurd moved quickly to quell the drama and put the tech giant back on track. He cut costs and got operations humming, helping the company boost profits by 17% last year, to $7.3 billion, as revenues rose 14%, to $104 billion. From the day Hurd was named chief executive until the end of 2007, HP's stock surged 132%, about five times the return of the Standard & Poor's 500-stock index.
The reasons this year could prove so tough for Hurd are adding up. Tech spending is slowing amid an economic downturn in the U.S. and other countries. Archrival Dell (DELL) looks to be regaining its footing after stumbling badly in recent years, making it tougher to pick up share in key markets. And Hurd has fewer opportunities to boost margins and profits because of the cost cuts and operational improvements he has already undertaken. "He has done a good job in his first few years," says Reid, whose fund is part of Wachovia's (WB) Evergreen Investments, with $284 billion under management. "You always take on the easier tasks first, so it's going to get harder."
Hurd's operational strength may take HP only so far. This year he'll be under pressure to demonstrate that he can also be a visionary leader, capable of picking out the technology trends that will lead to strong growth opportunities in the future. "The first three years of his tenure have been about profit growth through cost-cutting and restructuring and raising efficiencies," says Frank Gillett, analyst at Forrester Research (FORR). "HP is entering a phase where it needs to get future profit growth from sales growth and not cost-cutting."
Plenty of investors are keeping their HP shares, even adding to them, but a few, like Reid, are cutting back. Among those that sold all or substantial chunks of their holdings in the fourth quarter are Goldman Sachs, Capital Research & Management, Iridian Asset Management, and Berkeley Capital, according to filings with the Securities & Exchange Commission. All four declined to comment for this story.
The first evidence of HP's performance will come on Feb. 19, when the company reports results for its first fiscal quarter. Analysts expect HP to boost net income by 35%, to $2.1 billion, on a 10% increase in revenues, to $27.5 billion. In the wake of tepid forecasts from bellwethers such as Cisco Systems (CSCO), investors will be watching closely for any sign that Hurd sees a slowdown ahead. Already, HP shares have slid 11.3% this year, compared with the 6.9% drop in the S&P 500.
"A HIGH DEGREE OF CONVICTION"
HP declined to make executives available to comment for this story because of the upcoming earnings announcement. But in an interview in December, Hurd made it clear that he's determined to keep the pipeline stocked with promising new products and services. He's investing in new innovations in the company's core PC, printer, and enterprise businesses, and he sees genuine opportunities in completely new fields. "
We're living through a time frame when the explosion of digital content is significant, so it presents growth opportunities for HP," Hurd said. "It sets the long-term course for the company. We're getting ourselves in the position to take advantage of that opportunity."
There are plenty of true believers, particularly on Wall Street, where analysts are almost universally bullish. On Jan. 10, analyst Bill Shope of JPMorgan Chase said the pullback in HP shares is "an exceptionally attractive entry point for investors." Vincent Benedetti Jr., investment analyst for the New Jersey Division of Investment, which holds about 4.2 million HP shares, says he is considering loading up on more. "I have a high degree of conviction [about HP]," he says.
The question is whether Hurd will live up to expectations. After 14% revenue growth in fiscal 2007, HP has already said it's expecting revenues to rise 6.9% this year, to $111.5 billion. Some analysts are worried that HP won't even hit that target. Kathryn Huberty of Morgan Stanley, who called HP one of her "top picks for 2008" in December, recently lowered her forecast for revenue growth from the company-sanctioned 6.9% to 4.6%. She's concerned about challenges facing the hardware sector.
Consider PCs, which accounted for $36.4 billion of HP's sales last year. Huberty had been expecting Hurd to boost the PC group's sales 9.4% this year, after 25% growth last year. (Other analysts have forecast up to 15% growth.) Trouble is, the worldwide PC market is now expected to grow just 5.4%, according to researcher IDC. HP would have to boost sales at a much greater rate than rivals to meet the predictions.
Hurd and his HP team certainly hope to gain share. But Dell's revival could make big gains difficult. Since Michael Dell returned as CEO, the PC maker has been more aggressive, selling through retailers such as Wal-Mart, for example, and investing in more appealing PC designs. That helped Dell squeak out a small gain in market share in the final quarter of 2007, after five quarters of losing ground. In her more recent research note, Huberty lowered her forecast for HP's PC sales growth to 6.4%.
Morgan Stanley's Huberty still has HP as a top stock pick for this year. She believes the company will be more insulated than most of its peers because it gets more than half of its sales from overseas and very little from the troubled financial-services sector. Still, for Hurd and his team, there are big challenges ahead.
Before it's here, it's on the Bloomberg Terminal.
LEARN MORE