China: Spielberg's Olympic-Sized Snub
Despite the director's protest over Beijing support for Sudan and exit from the Games' opening ceremonies, oil-thirsty China won't back away from the regime
by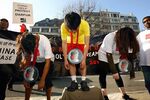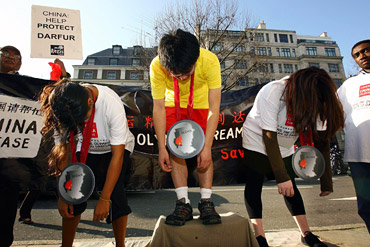 The Chinese government is determined to put on an unforgettable show when it hosts the Olympic Games for the first time this August. Beijing has been counting on the assistance of Hollywood heavyweight Steven Spielberg to provide glitz for the opening-night ceremony. Now, the Chinese government suddenly has to cope with an unwelcome change in script: On Feb. 12, Spielberg announced he was quitting to protest Beijing's support for Sudan, where government-backed Arab forces have killed hundreds of thousands of Africans, and displaced millions more since 2003. "The international community, and particularly China, should be doing more to end the continuing human suffering," Spielberg said in a statement.
The decision by the Oscar-winning director comes at an awkward time for China, which is hoping the Olympics will serve as its coming-out party on the world stage. The government has already been embarrassed by the decision of many Olympic teams, worried about pollution (BusinessWeek.com, 2/12/08) in the Chinese capital, to practice in Japan or Korea before the Games.
And Beijing has come under increasing pressure to use its economic clout in Sudan, where its state-owned oil companies are major investors. China has also spent hundreds of millions of dollars to build roads, pipelines, and other infrastructure projects for the African nation. Last year, China purchased 40% of Sudan's 25-million-ton annual output of oil.
A Delicate Response
Though China has repeatedly responded to protests by saying that the Olympics should not be politicized, it cares deeply about world opinion and is determined to ensure that nothing tarnishes the Games. "Clearly, China wants to be seen as a responsible power," says David Zweig, director of the Center on China's Transnational Relations at the Hong Kong University of Science & Technology. "They are very concerned about these issues but don't want to be seen as responding immediately as that will encourage more protests."
Beijing also doesn't want to distance itself from the Sudanese regime. Oil-thirsty China received its first shipment of Sudanese crude oil in 1997, and Sudan is now the country's sixth-largest supplier of crude oil. Shipments grew 113% in 2007 to 10.31 million tons, accounting for about 6% of China's imports. State-owned China National Petroleum (CNPC) is the single largest investor in Sudan through its 40% stake in Greater Nile Petroleum, based in Khartoum.
Chinese demand for oil is only increasing. China is the world's second-largest consumer of oil after the U.S. and imports 45% of what it consumes, a figure set to reach 50% by 2010, says Thomas Wong, a UBS (UBS) oil and gas analyst in Hong Kong. "It's about energy security," Wong said of China's overseas acquisitions in a November interview.
Past—and Continuing—Criticisms
CNPC is no stranger to bad publicity. In 1999 it botched an attempt to raise more than $10 billion on the New York Stock Exchange. The deal died because of negative fallout over the possibility that the money raised would indirectly support the alleged human rights abuses in Sudan and other places like Tibet. China hastily created a new subsidiary company called PetroChina (PTR), stripping out the controversial assets. It raised $2.9 billion when 10% of shares floated in Hong Kong and New York in 2000, leaving CNPC with a 90% stake.
But despite the firewalling of the new company, U.S. investor Warren Buffett received extensive criticism when Berkshire Hathaway (BRKA) participated in the PetroChina initial public offering. Buffett argued that PetroChina had no investments in Sudan and had no leverage over its state-owned parent. He eventually sold the last of his holdings in PetroChina last fall, at a substantial profit (BusinessWeek.com, 9/21/07).
Activists have also criticized Olympic corporate sponsors and suppliers for failing to bring pressure on Beijing. In November, Dream for Darfur, a New York-based nonprofit group, released results of a "report card" grading 19 companies, most of which received failing grades for being involved in "silent complicity" with the Darfur genocide by not raising the issue with their Olympic host. Many of the companies, including Johnson & Johnson (JNJ), Coca-Cola (KO), General Electric (GE), and McDonald's (MCD), responded by saying that while they would like to see a resolution to the humanitarian crisis, the UN—not the Olympics— should serve as the vehicle for change.
Part of the UN Peacekeeping Force
Zweig says China deserves recognition for making efforts to influence Khartoum even before groups started ratcheting up pressure. Last May it appointed a special envoy to Darfur, and in January 140 Chinese engineers and troops were among the first to arrive as part of a UN peacekeeping force there. However, London-based Amnesty International says that China has been ignoring a UN-imposed arms embargo on Darfur. China denies the allegations.
Before it's here, it's on the Bloomberg Terminal.
LEARN MORE