iPhone's Reluctant Gray Marketer
Czech startup Bladox got a windfall when customers discovered its Turbo SIM circuit card could "unlock" the iPhone
by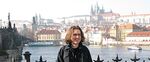 Of the multitudes of people making a buck from gray-market sales of iPhones, Pavel Zaboj may be one of the most reluctant. Zaboj is the founder of a company called Bladox that breathed life into the burgeoning market for iPhones that have been reconfigured for compatibility with networks other than those of Apple-sanctioned carriers. But he says the ups and downs of demand have left him on a "roller coaster" he'd just as soon exit. "Please, no more talk about iPhones!," he says. "I honestly couldn't care less anymore."
Zaboj, a 36-year-old former mathematics student, had given little thought to Apple's (AAPL) much-hyped phone when it went on sale on June 29, 2007. Zaboj was hard at work with banks and other corporate clients developing applications that would let users pay bills and handle other tasks with their mobile phones. Bladox, a 10-person company in Prague, makes a wafer-thin circuit card, called a Turbo SIM, that allows a mobile phone to be used on multiple cellular networks. Zaboj hopes financial institutions may one day use Turbo SIMs to enable the increasing number of poor people around the world who own cell phones but not credit cards to more easily make purchases and pay bills.
Turbo SIM's Viral Success
But within a week of the iPhone launch, technophiles had figured out that the card could also "unlock" an iPhone, rendering it usable on networks other than the one run by AT&T (T), the exclusive U.S. iPhone carrier. Turbo SIM does this by tricking the iPhone into thinking it's in use on the AT&T network. As word spread across the Internet, orders flooded into Bladox's online shop—first for one or two units from consumers in the U.S., Mexico, and Canada and later for 500 or 1,000 Turbo SIMs from resellers the world over. VOTech, an Australian tech firm that had been purchasing a dozen or so Turbo SIMs a month since 2004 for use in corporate software projects, quickly put in an order for 500 cards, and toward the end of August increased that to 3,000.
By then, Bladox had sold out of stock. The maker of the chip inside the Turbo SIM could not fill Bladox's orders for at least a month, so Zaboj scoured online chip auctions and sent reps to Hong Kong electronics markets to find more. Meanwhile, Zaboj watched in amazement as Turbo SIMs sold on eBay (EBAY) for more than $1,000, a more than tenfold markup from the $90 he charges. He was also stung as his company got lambasted by impatient, iPhone-obsessed consumers. Still, he refused to place big orders to satisfy demand that was in "the tens of thousands," he recalls.
Hacked In, Frozen Out
His concern was that Apple might suddenly make some software upgrade that could neuter the Turbo SIM, or that some hacker might come up with an easier, software-only way to unlock the iPhone that didn't involve buying or having to install a Turbo SIM. Such fears proved to be well founded. In late August, a team of open-source programmers came out with a software-only way to unlock the iPhone. Many customers canceled their orders. "In a moment, we went from the most wanted to the unwanted—which was great, because we could focus on what we wanted to be doing, anyway," Zaboj says.
From there, the roller coaster went up again. On Nov. 8, Apple updated the iPhone's internal software so that anyone who downloaded it could no longer use the so-called software-unlock. Suddenly, Bladox was back in the unlocking business, just in time for Apple's entry into Europe and the Christmas buying rush. Almost immediately, the firm began scouring the earth for more chip supplies, and on Dec. 17 reopened its online shop. Forty minutes later, he was sold out. Rather than try to keep up with individual orders, he decided to shut down the e-commerce site and sell only in bulk to resellers. In all, Bladox has sold about 30,000 Turbo SIMs. While Zaboj won't reveal actual revenues, that works out to about $2.7 million.
Locked Out
Zaboj insists there's nothing gray, much less black, about Bladox's role in the iPhone economy. He insists Bladox never promoted Turbo SIM as an unlocking chip, and he has kept his price stable even as others raised their own during peak demand. Nor has he done anything to counter the China-based outfits that have come to market with Turbo SIM clones, sometimes even using photos pulled off of the Bladox Web site in their own advertisements. "Pavel is trying to build a legitimate business," says VOTech founder Alex Voevodin. "He doesn't want to ruin that by getting labeled as an unlocking company."
Now, Bladox's iPhone ride has taken yet another turn. New Jersey college student George Holz has figured out a new software-only way to unlock the iPhone, and he's giving it away for free. It's no surprise that Turbo SIM sales have plummeted again. While a few consumers are still ordering, interest from gray-market resellers has evaporated. "Let's see what Apple does" in response to Holz, Zaboj writes in an e-mail. "But we really don't care."
Before it's here, it's on the Bloomberg Terminal.
LEARN MORE