Buffett News Lifts Stocks
Reports that the billionaire has offered to insure $800 billion in municipal bonds boosted sentiment Tuesday, though some skeptics emerged
by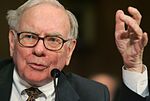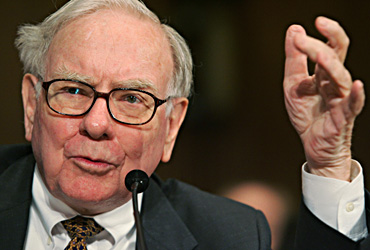 Stocks moved higher Tuesday as billionaire investor Warren Buffett waded deeper into the troubled bond insurance business, and the federal government and mortgage lenders announced another effort to stabilize the housing market.
Buffett's Berkshire Hathaway (BRKB) offered bond insurers an extra level of insurance on $800 billion in municipal bonds, he told CNBC on Tuesday. He made the offer to Ambac (ABK), MBIA (MBI) and FGIC, all firms stung by exposure to risky debt, and said one of those firms had already rejected his offer.
Meanwhile, the federal government announced a plan, developed with the top mortgage lenders, to freeze foreclosures for 30 days, an effort to help homeowners get out from under unaffordable mortgage payments.
Both plans got mixed reviews Tuesday, but the news was enough to lift investors' gloomy moods somewhat.
On Tuesday, the Dow Jones industrial average added 133.4 points, or 1.09%, to 12,373.41. The broader S&P 500 index gained 9.73 points, or 0.73%, to 1,348.86.
However, the tech-heavy Nasdaq composite index was essentially flat on Tuesday, edging down 2 cents to 2,320.04. Apple (AAPL) dropped 3.5% and Google (GOOG) fell slightly despite news of a deal with Nokia (NOK).
Investors spent the day debating how Buffett's offer would actually affect the credit markets. While Buffett is offering to insure municipal bonds, which are nearly risk-free, he is steering clear of the much more toxic credit instruments that have caused so much trouble in recent months.
Some saw the offer as a vote of confidence in municipal bonds, which despite their safety rely on insurance to help the market function properly. "By declaring his willingness to lend a credit rating of Aaa to nearly $1 trillion in municipal bonds, Buffett may help take the worst-case scenario off the table," Chris Lafakis, an economist at Moody's Economy.com, wrote.
But others were more skeptical. "I have a hard time seeing how it has any impact," says Matt Fabian, managing director of Municipal Market Advisors. Handing off muni bond insurance to Buffett might help the troubled insurers raise needed capital, but it would also come at a high price and rob the firms of earnings from their most lucrative business.
As a result, shares of both MBIA and Ambac both fell more than 15% Tuesday. Morningstar (MORN) analyst Jim Ryan wondered "why any bond insurer would agree to such a lowball offer." He added: "What sense does it make to dump zero risk" --the muni bonds -- "and retain the worst?" -- the risky subprime-related exposure. Ryan wrote he believes Buffett may hope regulators force bond insurers to take Berkshire Hathaway's offer.
Meanwhile, the federal government announced a plan, called "Project Lifeline," designed to help homeowners with high mortgage payments to hold onto their homes. The plan, developed with the U.S.'s six largest mortgage lenders, gives homeowners facing foreclosure a 30-day delay when they can re-negotiate their loans.
While a previously announced plan was strictly for subprime borrowers, this effort is aimed at a broader swath of homeowners. However, its effect will be limited by the fact that many other lenders, representing half the nation's mortgages, didn't sign up to the 30-day foreclosure freeze.
The impact of the plan is likely to be modest, says Bill Larkin, fixed income portfolio manager at Cabot Money Management. The Bush administration proposal has made clear it prefers "market-based" approaches to the housing and mortgage crisis. "They're not going to come in and do bailouts," he says.
In all, the news from Buffett and the federal government failed to stop the bleeding in the riskiest parts of the credit market on Tuesday, Larkin says.
However, after several harrowing weeks in the credit market, the news did offer investors one "positive data point." That gave some skittish investors the "added comfort" to step back into some safer parts of the market, such as municipal bonds, and scoop up bargains, he says.
Also Tuesday, General Motors (GM) said it would cut jobs. The automaker reported earnings of 8 cents per share in the last quarter of 2007, vs. 32 cents a year ago, as revenue fell 7.3%. Including special items, the automaker posted a $1.28 per share loss. The company says it will offer buyouts or early retirements to all 74,000 U.S. hourly workers represented by the United Auto Workers. GM shares fell almost 2%.
The confidence of small business owners fell in January, with the National Federation of Independent Business' optimism index slipping 2.8 points to 91.8, the lowest reading since the recession of 1991. "The index is sending a recession signal," NFIB chief economist William Dunkelberg said in a statement, but added that the weak number had more to do with gloomy expectations for the future than any "hard economic data."
Traders remain concerned about the threat of recession, with many focusing on Wednesday's release of January retail sales data. In a speech Tuesday, the president of the San Francisco Federal Reserve Bank, Janet Yellen, says she expects anemic growth in the first half of the year, but "not outright recession."
March WTI crude oil futures fell 98 cents to $92.61 per barrel Tuesday. The EIA releases data on energy inventories on Wednesday, and forecasters are expecting a 2.5 million barrel rise in oil stocks.
Among other stocks making headlines in Tuesday's session, mortgage company IndyMac Bancorp (IMB) posted a $6.43 per share loss last quarter, as it absorbed $863 million in credit provisions and costs. The company suspended its dividend "in light of current financial performance" but said it remains well-capitalized and expects to post a $13 million profit in 2008. The stock surged 8.4%.
Google (GOOG) and Nokia Corp. (NOK) announced a deal to offer Google's search engine on Nokia's phones. Nokia ultimately expects to make Google search available to customers in over 100 countries.
Monsanto (MON) raised its earnings guidance for fiscal 2008 by 20 cents per share, to a range of $2.70 to $2.80. The firm says it has increased confidence in its seed and traits business, and has seen strong performance of its Roundup and other herbicides.
Credit Suisse Group (CS) was hit by about $1.9 billion in losses from subprime-related assets last quarter as the Swiss banking giant's earnings fell 72%. Still, its shares rose 1.4% on the better-than-expected news.
Evercore Partners (EVR) reported earnings of 28 cents per share, falling from 45 cents a year ago despite a 19% rise in revenue for the boutique investment banking firm.
Coca-Cola Enterprises (CCE) reported earnings of 29 cents per share, vs. 20 cents a year ago, as revenue rose 11%. The company hiked its quarterly dividend 17% to 7 cents per share.
GMH Communities Trust (GCT) agreed to be acquired by student housing developer American Campus Communities (ACC) for about $1.4 billion.
Schering-Plough Corp. (SGP) posted earnings of 27 cents last quarter, up from 17 cents a year ago as revenue rose 41%.
World Wrestling Entertainment (WWE) reported earnings of 30 cents per share, up from 22 cents a year ago, as revenue rose 23%.
European stocks rallied Tuesday. In London, the FTSE 100 index was up 3.54% to 5,910. In Paris, the CAC 40 index added 3.37% to 4,840.71. Germany's DAX index rose 3.33% to 6,967.84.
In Japan, the Nikkei 225 index edged up 0.04% to 13,021.96, while in Hong Kong, the Hang Seng index rose 1.35% on Tuesday, to 22,921.67.
Treasury market
Treasury prices fell Tuesday as some risk-averse investors gained enough confidence from Buffett's muni bond proposal to shift out of super-safe government debt. The ten-year note fell 07/32 to 98-26/32 for a yield of 3.64%, and the 30-year bond sank 24/32 to 98-27/32 for a yield of 4.45%.
Before it's here, it's on the Bloomberg Terminal.
LEARN MORE