Indian IT Prepares for a U.S. Recession
Tata Consultancy Services has cut performance-linked pay for its workers, and engineers at other companies could face pay cuts and layoffs
Nandini Lakshman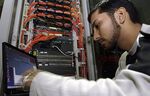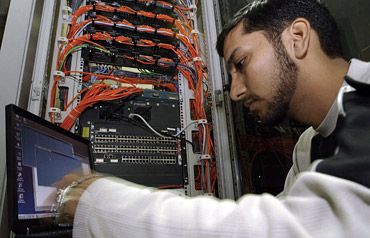 Are the pink slips arriving for India's tech engineers? Reeling under the triple burden of high wages, a U.S. economy seemingly headed for recession, and a rising Indian rupee, the country's tech firms are taking steps to prepare for tougher times. Suddenly, Indian engineers who have grown accustomed to ever-rising salaries and expanding workforces are facing wage cuts and layoffs.
On Jan. 28, Tata Consultancy Services, India's largest software company and the largest private-sector tech employer, informed workers that it would snip 1.5% to 2% of the performance-linked portion of their pay starting in February. Meanwhile, multinational rival IBM (IBM) is laying off 700 of its Indian engineers. With companies such as Infosys (INFY), Wipro (WIT), and Satyam also vulnerable to a U.S. slowdown, similar announcements could follow.
Investors have been worried about India's IT companies for a while. Infosys last year was the worst-performing stock on the benchmark Sensex stock index. The other big players have struggled, too. On Jan. 18, for instance, Wipro reported an 11% increase in profits, to $210 million. That was about 13% less than what analysts had been expecting. Two days earlier, Tata Consultancy (TCS) reported earnings growth had slowed as well, falling to 20% for 2007 compared with 35% for 2006.
An Opportunity to Weed Out Poor Performers
Until recently, Indian engineers have enjoyed a seller's market as tech companies have been hiring furiously. In 2007, India's top three IT firms alone employed some 60,000 new workers. In the past three quarters TCS hired 28,000 engineers, and it plans to take on 32,000 more in 2008. And the multinationals have been following their lead. Since 2004, IBM has been on a hiring spree, boosting the number of employees to 73,000 in 2007 from 53,000 in 2006. Today, IBM's largest workforce outside of the U.S. is in India. Big Blue has been a spectacular perfomer in the domestic Indian market, too, bagging some of the best and the biggest tech deals in everything from real estate and telecom to aviation, health care, and microfinance. Last year alone, IBM's India revenues hit $1 billion, up 30% from 2006 (BusinessWeek.com, 8/23/07).
Some analysts say the new layoffs don't indicate a change in direction. "They are bound to weed out poor performers," says Suveer Chainani, tech analyst at Macquarie Securities in Mumbai. Still, the U.S. troubles have made it clear that when customers are hurting, paying legions of employees top dollar is not sustainable. Salaries have been a huge drag on India's tech sector, with IT companies hiking wages every year by 12% to 15% in order to retain people. This year, with the biggest tech services market—the U.S—down, the companies are facing the prospect of slower revenue growth. That could hinder their ability to absorb more new hires and other costs.
IT companies admit things could turn bad depending on the severity of the U.S. recession. Indian tech firms have been trying to reduce their reliance on America by expanding into Europe, Australia, and Asia. But the U.S. still accounts for more than half of the Indian software companies' revenues on average. "We are anxious, but would like more clarity on the U.S. situation," says Girish Paranjpe, president of Wipro's financial-services unit. He claims that so far clients have not slashed their IT budgets, but there is pressure on costs due to the rising rupee.
A Silver Lining for IT in India?
Infosys is hoping for the best. "We are cautiously optimistic," says Infosys' Managing Director and President S Gopalakrishnan. While pressure on salaries will continue, he says, Infosys won't let that hamper new recruitment. "You have to look at the long term and continue to hire," he says. Although, like other industry executives, he hopes that American companies will outsource even more as the U.S. economy slows, Gopalakrishnan also says U.S. customers could postpone future projects.
Indeed, industry experts point out that in a recession, U.S. companies cut jobs in the first year and spend their money on severance packages. It's only in the second year that they turn to cutting costs through outsourcing. A December report on the Indian tech sector by Morgan Stanley (MS) says the uncertainty in the U.S. may delay tech spending in the first half of 2008.
In the gloom of a U.S. slowdown, however, some tech experts see a silver lining for the Indian IT players. "Finally, finally," says Navi Radjou, vice-president, Forrester Research (FORR), "this might force Indian IT providers to turn their attention to the domestic Indian IT market, which they long overlooked." That market is starting to grow exponentially, Radjou says, especially in the industrial sector where manufacturers like Tata Steel and TVS Group are leveraging IT to achieve global competitiveness.
Before it's here, it's on the Bloomberg Terminal.
LEARN MORE