And the Best Knockoff Is…
The annual Plagiarius Awards call attention to the most flagrant product imitations and raise awareness about the dangers of piracy
Jessie Scanlon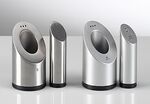 Last year, a German tourist traveling through China spotted a set of nested salt and pepper shakers: The slender cylinder of pepper rested perfectly in the center of the doughnut-shaped salt holder. It was a sleek design. It was also, he recognized, an almost exact copy of the successful Two-in-One salt-and-pepper set made by Geislingen (Germany)-based WMF, and he sent it to the company.
As a result, the maker of the imitation—Shantou Lian Plastic Products of Guangdong, China—is one of 13 winners of the Plagiarius Award, a dubious honor bestowed on makers and distributors of the "best" (which is to say the most flagrant) product knockoffs. The awards were handed out Feb. 8 at Ambiente, the world's largest consumer goods trade fair. Given annually by the German organization Aktion Plagiarius since 1977, the awards aim to publicly shame those involved in product piracy and to inform designers, consumers, politicians, and others of its harmful effects.
"Almost every sector is affected—luxury goods, of course, but also children's toys, technical products, and even medical equipment," says Christine Lacroix, managing director of Aktion Plagiarius. This year, awards included winners in all of those categories, as well as housewares, jewelry, furniture, and stationery supplies. Imitators are also getting more brazen, she says, pointing to a Chinese company that copied an entire line of toy trucks made by Fürth (Germany)-based Bruder and adding, "It's a growing problem."
Doesn't Include Products Sold Online
The European Commission reports that customs officials intercepted more than 128 million counterfeit or pirated articles, compared to 75 million in 2005. And a 2007 report by the Organization for Economic Cooperation & Development (OECD) estimated that $200 billion worth of counterfeit and pirated goods changed hands in 2005 (the year this study was based on).
The market is probably larger, given that the OECD estimate doesn't account for goods produced and consumed in the same country, like the Two-in-One knockoff. It also doesn't include pirated or counterfeit products sold on the Internet, which is a growing distribution channel.
The Web presents a challenge to counterpiracy efforts to the extent that it offers direct access to consumers around the world. Customs officials focused on stopping large shipments of counterfeit goods can't stop goods sent to individual buyers. At the same time, the Web provides a window into global markets, so that companies like WMF don't have to depend on the vigilance of traveling customers to find imitators. Both Pneumatex and Hansa—whose imitators also earned Plagiarius Awards this year—have discovered knockoffs on eBay (EBAY). (The online auction site launched an anti-counterfeiting initiative in 1998 called Verified Rights Owner (VeRO), and 18,000 rights holders have signed on to help spot and remove fakes.)
Chinese Companies Aren't the Only "Winners"
In Hansa's case, the imitator recognized this year is based in China. The company has found other Chinese imitators in the past. But while China remains the biggest source of pirated goods, according to the OECD and the European Commission's Taxation and Customs Union, the Plagiarius Awards make it clear that there are unscrupulous manufacturers everywhere. Six of this year's 13 winners are located in Germany, including a now-dissolved company in Tuttlingen that was so bold as to copy the resectoscope (a piece of urology equipment) produced by a company across town. (The awards are international, but because Aktion Plagiarius is based in Germany, it is better known there and receives more submissions from local companies.)
When the imitator and distributor are based in the same country or in a country with strong intellectual-property laws, it is easier for the company whose product has been copied to take legal action. Karl Storz, the maker of the resectoscope, was able to stop production of the knockoff. But even if action is taken, success isn't guaranteed: Hansa is still struggling to shut down Chinese manufacturers four years after discovering the first knockoffs online. As a result, victims of product imitation sometimes find their best weapon is shame, issuing press releases to highlight egregious copycat activities. And that brings us back to Aktion Plagiarius. Its awards aim to publicize the unscrupulous behavior of the producers and distributors of plagiarized products—and to educate consumers about the negative impact of buying counterfeit products.
"Fake products can be dangerous for consumers," says Aktion Plagiarius' Lacroix, pointing to a knockoff Dornbracht faucet that contained 200% more lead than allowed by German law. And imitation also threatens innovation. "Companies have spent time and money making these products," she says. "If someone steals that idea, they are also stealing the incentive to invent."
For more on the 2008 Plagiarius Award winners, see BusinessWeek's slide show.
Before it's here, it's on the Bloomberg Terminal.
LEARN MORE