The Most Outspoken Analyst on the Street
The Most Outspoken Analyst on the Street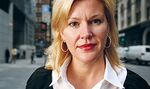 That red glow you see on Wall Street is the hot hand of Meredith Whitney, a banking analyst for CIBC World Markets who is fast making a name for straight talk amid the credit crisis infecting the financial markets. In late October of last year, Whitney predicted that Citigroup (C) would have to sell assets or cut its dividend. She also downgraded the stock to essentially a "sell." That report peeled $15 billion off Citi's market value in one day and, some say, helped usher then CEO Chuck Prince into an unceremonious retirement. On Jan. 15, Citi slashed its dividend by 41%. When I talked with Whitney on Feb. 6, she had just downgraded Goldman Sachs (GS) even though she's a big fan. And Whitney was expecting losses in the following week when major European banks report earnings.
MARIA BARTIROMO
Another wild week for the markets. What's upsetting investors so much?
MEREDITH WHITNEY
I think it gets tiring for investors to have bad news thrown at them for seven consecutive months. And so people a few weeks ago started to get optimistic, started buying stocks again. Then the bad ISM number came out. [The Institute for Supply Management's index fell on Feb. 5, registering a significant slowdown in services.] And also the massive disruption in the debt markets clearly is signaling that things are worse than people wanted to believe.
How tight is the credit market right now?A major structured deal has not gotten done in seven months. People are afraid to do business because they're afraid to catch a falling knife. The receptivity of investors to buy anything that's not plain-vanilla high-grade debt is as bad as I've ever seen it.
What could turn this around?The big disconnect is that there's no agreement between buyer and seller on any level. So sellers are holding on to aspirational valuations on securities. What we need to see is a true purging to get the system back to a state of restored liquidity. Because at this point there's no faith in prices because the financial institutions that hold most of these assets are in absolute denial.
In other words, they think there's a market and there really isn't?Let's say people are holding on to a CDO they're carrying at anywhere between 30 cents and 50 cents on the dollar. But they're holding on to it and not selling it because they believe it's worth 60 cents or 70 cents on the dollar. To paraphrase [BlackRock's (BLK)] Larry Fink: An asset is only worth what you can sell it for. The fact that banks are not selling these assets and the fact that they have raised such dilutive capital to hold on to these assets at aspirational values shows how in denial they are. I mean, Merrill (MER), UBS (UBS), and Citi raised 20% in dilutive capital in the last three months.
Was it the right move for Bank of America (BAC) to acquire Countrywide?On a longer-term basis, there's some franchise value there. On a short-term basis, it's less than ideal.
You called the dividend cut at Citi. What other dividends are in jeopardy?You can't take anyone off the table because the loss curves have accelerated at such a pace from the third quarter to the fourth quarter that people's earnings are going to be in serious jeopardy this year. It's likely that many banks will have to take another round of capital raises, and Citi is certainly one of them. Wachovia (WB) just raised $3 1/2 billion last night. Bank of America raised over $13 billion last week. And at a certain point people might start to think, well, maybe it will simply be cheaper to cut our dividend.
Which firm has handled this crisis the best?Without a doubt, Goldman Sachs. They started selling down their CDO positions in the second quarter of last year. Goldman was one of the top five originators of CDOs, and you'd never know it today because they have only $400 million in gross exposure. That compares with gross exposures of $30 billion and $40 billion for Citi and UBS. It's like being at a casino—you cut your losses. That's discipline. And superior execution is the single most impressive thing about Goldman. Are they so much smarter? I don't think so. I just think their execution is so much better.
But you've downgraded them.I downgraded Goldman because it was my top pick for two years. And because it had so many richer opportunities than its peer group, it absolutely deserved the premium it commanded. Let's say it did close to 30% return on capital last year. In the first quarter of this year, it's going to probably do mid-teens ROE, and so the comedown is going to be significant for investors, and they may not choose to pay the premium they paid last year for the stock. Goldman will look more like its peers this year, and as a result I think it'll trade more like its peers.
Is it fair to say when you look at Bear Stearns, Lehman, and Merrill, investors are going to be able to buy these stocks at some point in '08 at much lower prices?That's absolutely the case. Any stock you love you can buy this year at a much better bargain. And that's why people—individual investors, institutional investors, and corporate investors—are holding on to so much cash, because they're waiting for the opportunity. And there are going to be great buying opportunities.
Who hasn't seen the worst?Citigroup, because there's nowhere for Citi to hide.
You're emerging as the new act in financial services. Do you say to yourself: "Wow, this is amazing?" I mean, you're a young woman in a man's business outshining your peers.Well, thank you. As far as being a woman, it doesn't matter if you're a toad if you've got good ideas and you can make people money. But ultimately it just comes down to work ethic and not being scared to take chances. People are starved for good research in a bad market, and I'm consumed by all of this. I'm not getting a lot of sleep, but you've got to strike while the iron is hot.
Before it's here, it's on the Bloomberg Terminal.
LEARN MORE