Novell: Ready to Buy
But who's doing the buying? While the cash-flush software maker wants to make acquisitions, Novell itself could be a target
by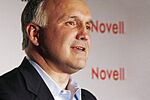 Novell (NOVL), the struggling software maker once among the computer industry's best known names, is trying to reclaim relevance through an embrace of open-source software and a détente with onetime rival Microsoft (MSFT). Now, having stemmed a multiyear revenue decline and beefed up its balance sheet, Novell plans to start acquiring smaller software companies in a quest for growth.
Novell is flush with cash—$1.86 billion as of the end of its fourth quarter, about twice annual revenue. Ron Hovsepian, an IBM (IBM) veteran who took over as Novell's CEO in 2006, says he will start using that pile to buy companies. He singles out targets that specialize in the Linux operating system, data-center management software, and security software markets. "We have to generate a return to shareholders for spending their money," says Hovsepian. "These three markets are plenty for us to grow."
Linux Link
Hovsepian is hoping to accelerate a turnaround now in its infancy. Sales rose 1.4%, to $932.5 million, in the fiscal year ended Oct. 31, 2007, following a 2006 decline. Operating margins were 4% in 2007, and the company expects 7% to 9% margins in fiscal 2008, on revenues of $920 million to $945 million. In January, two investment firms upgraded Novell's beleaguered stock. Jeffries & Co (JEF) on Jan. 29 rated Novell's shares a buy, citing strong cash flow, stabilizing revenue, and fatter margins. And Oppenheimer (OPY) on Jan. 29 raised its Novell rating to "outperform," citing the company's bolstered balance sheet. A broad patent and licensing deal with Microsoft, the company most responsible for Novell's long decline, has furnished the vendor with $348 million in cash and a stronger appeal to customers.
Now, Novell needs to convince Wall Street that bulking up through acquisitions is a better use of cash than buying back stock, even as larger tech vendors and private equity firms consider Novell a potential target. Novell's fate is important for another reason as well: Its value could help gauge the worth of other hard-to-value companies specializing in so-called open-source software, whose code is freely available to developers the world over.
Novell was once a power in operating systems for servers, the computers that run Web sites and networks of other computers. The company became a top supplier to corporations of the open-source Linux operating system through its 2004 acquisition of Suse. Whether it buys smaller, Linux-related companies or gets bought itself, Novell could spur investors' interest in open-source software, already piqued by Sun Microsystems' (JAVA) $1 billion acquisition of open-source database supplier MySQL on Jan. 16 (BusinessWeek.com, 1/17/08).
Target Speculation
Some analysts have urged Hovsepian to buy back shares rather than blaze an acquisition trail. Novell shares rose a penny, to 6.67, on Feb. 5 and have declined 5.4% in the past year. Novell lost $44.5 million, or 13¢ a share, in 2007. A $500 million buyback could yield an added 5¢ a share in profit this year, says Jeffries analyst Katherine Egbert. "There's a lot of shareholder pressure for them to do that," she says. "Even a small buyback—say, 10% of [Novell's] cash—would be well received." Still, she says Novell should conserve some cash for acquisitions to increase sales. "Ron's done a great job," Egbert says. "What they're missing is revenue growth."
Hovsepian is mum on which companies he's eyeing. Bankers and analysts say the company is looking at small, data-center management and virtual-machine software vendors. These companies' products help IT departments manage servers running both Linux and Microsoft's Windows operating systems, while reducing the number of servers companies run to save costs on power and cooling. Murray Beach, a managing director at investment bank TM Capital, says Novell could look to buy companies that can help it compete with VMware (VMW), the leader in virtualization software. "That's a big play, and it seems to fit the Novell image," Beach says. "If I were Novell and looking at how to get an edge over VMware, that would be the card I would play."
Raven Zachary, an analyst at consultant the 451 Group, says possible targets for Novell may include data-center management software startups such as Zenoss, GroundWork Open Source Solutions, Hyperic, and Qlusters, as well as security software startups like JanRain or Vidoop. But Novell has already missed out on some of the most promising quarry; it had in the past looked at buying Altiris, snapped up by Symantec (SYMC) in January, 2007, and Opsware, bought by Hewlett-Packard (HPQ) in September, 2007.
Tough Red Hat
Even without notable acquisitions of late, Novell's numbers are improving. Hovsepian has cut costs through layoffs, contracting with outside firms to handle research and development, and shifting more technical support to the Web. And he's slowly but surely moving customers from Novell's old NetWare software, a server operating system that lets users share files on corporate networks, to Linux and programs that run on top of it.
NetWare usage has been in steady decline the past decade as Microsoft's Windows system for servers has taken share. NetWare sales fell 9% in 2007, Hovsepian says, though its business unit booked a 1% fourth-quarter sales gain, to $88 million, on related products and support. But Novell's Linux sales more than doubled in the fourth quarter, to $46 million. The product is used by companies including Wal-Mart (WMT), Credit Suisse (CS), and HSBC (HSBA).
Novell is fighting for Linux market share with rival supplier Red Hat (RHT), which itself has struggled with growth. Mark Murphy, a managing director at Broadpoint Securities (BPSG) on Feb. 5 reiterated his buy rating on Red Hat shares, telling clients that the company will likely cut investments in ancillary products and focus on increasing billings for its Linux and middleware software. That could make Red Hat a tougher competitor still.
Playing for Time
One place where Novell has an edge, however, is through its late 2006 truce with Microsoft. The software colossus has rattled its legal saber (BusinessWeek.com, 5/15/07) against open-source companies, claiming it held patents that may be infringed by Linux. But as a result of the Microsoft-Novell détente, Microsoft agreed not to sue Novell's users. "It's a covenant not to sue each other's customers," says Hovsepian.
Even if Novell manages to use its cash store to get larger and wards off keener competition, it could still struggle to remain independent. "In all likelihood, they're going to be acquired by somebody," says TM Capital's Beach, who points to HP as a likely buyer. IBM, Sun, and Oracle (ORCL) also come up on would-be buyer short lists.
Then there are private equity firms, whom Hovsepian acknowledges have run the numbers on Novell. "I'm sure they've all done their models," he says. The company is cheap, based on its share price and enterprise value, which measures market capitalization along with debt and excludes cash, says Eric Gebaide, a managing director at investment bank Innovation Advisors. Still, Novell will command a premium for its brand name and pact with Microsoft. Jeffries analyst Egbert adds that it would be tough for a buyout firm to wring more cash flow out of the company. "Ron has done the job that private equity would have done," she says.
Hovsepian's challenge now is to convince Wall Street to give it slack to use cash as it pleases, while keeping would-be buyers at bay.
Before it's here, it's on the Bloomberg Terminal.
LEARN MORE