Creative Artists Confront Sales Anxiety
From jewelry designers to painters, many creative artists recoil from salesmanship. But making a living from your work requires some hard-nosed marketing savvy
Kerry Miller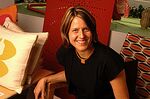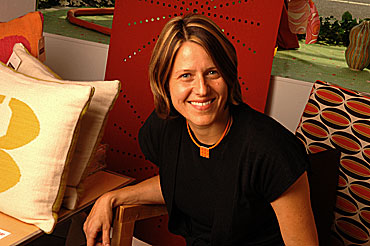 Raven Hanna, 34, approaches her art with the practicality one might expect from someone holding a PhD in molecular biophysics who quit the laboratory-rat race to make jewelry. Though she considers herself an artist, she has no romantic ideas about starving for her craft.
About 75% of Hanna's business, Made with Molecules, comes from direct sales through her Web site, Etsy.com (BusinessWeek.com, 6/12/07) with the remaining quarter from wholesalers and occasional trade shows and craft fairs (BusinessWeek.com, 7/26/06) in Northern California, where she is based. But Hanna dreaded selling in person. "To really be out there personally with your product is a lot different from being anonymous behind a Web site," she says. "I wasn't sure how 'sales-y' I should be. When people came over, should I just say hi and tell them about my product, or tell them about a special I have? Or…" Or, what else, she didn't know. That was part of the problem.
Getting Comfortable with the Come-On
Hanna knows that her creations—silver charms inspired by the shapes of chemical compounds like serotonin—are commercial products meant to be bought and worn, not hung in a gallery. Yet Hanna, who now runs her company as a full-time business, admits that she still has trouble with what she calls "the whole selling thing." To her, the concept of capital-S "Sales" was both distasteful and confusing. "I've never really liked salespeople, so to suddenly be one was really difficult," Hanna admits. Her experience is common among those who straddle the art/commerce divide.
Anti-consumerism activists like Anne Elizabeth Moore, the author of Unmarketable, point out that pursuing a career in art doesn't have to involve creating objects for purchase. It isn't, she admits, an easy way to make a living, which is why many artists turn to the commercial sector (BusinessWeek.com, 7/10/01) in the first place. In a 2006 study from the University of Minnesota, 39% of the 1,800 artists surveyed reported spending more than two-thirds of their professional time in the for-profit commercial sector; only 19% reported doing no commercial work at all.) But working on the commercial side of the art/commerce divide poses its own set of challenges for the 50% or so of artists who are self-employed (BusinessWeek.com, 3/28/07).
When Petra Geiger founded Beehive Co-op as a collective boutique for Atlanta designers, she discovered that most designers who joined were utterly clueless when it came to selling their own wares. About 1 in 20 are natural, she says. "The rest don't really know to approach it: They're scared of it, it's not comfortable for them at all, and they don't really seem to have any skills to draw from."
Conquering Fears of Rejection
But Geiger says what most sellers need to know doesn't require any formal education—just the right tools (a business card, a Web site, and e-mail list sign-up), common sense, and a good role model to observe and ask questions. For most artisans, she says, the biggest hurdle is psychological. Because many artists see their work as an extension of themselves, not just a product, dealing with the fear of rejection at the root of sales anxiety (BusinessWeek.com, 3/15/07) takes confidence and practice to get over.
Jen Bekman, a gallery owner in New York City, says she can certainly empathize. "It's so personal, it's so emotional—I tell my artists all the time that I don't know how they do it, because I couldn't deal with the ongoing rejection that seems inherent to the job." Bekman has less patience for those who hide behind artistic integrity to avoid the necessary (if unpleasant) work (BusinessWeek.com, 10/26/07) that comes with being a professional artist. "The minute you start selling your work, whether you like it or not, you are a businessperson," says Bekman. "You have to have your wits about you." Artists who don't, she says, are only sabotaging themselves.
Click through this slide show for a look at the most common pitfalls artisans make when trying to turn their passion into profits—and how to avoid them.
And check out this interview with crafting veteran Barbara Brabec, author of Handmade for Profit and several other craft business guides, for more advice.
Before it's here, it's on the Bloomberg Terminal.
LEARN MORE