A Really Good Collapsible Bike
Strida 5.0 is the newest iteration in a series of foldable bikes by British designer Mark Sanders. Long available in Europe, the line finally landed in the U.S.
Cliff Kuang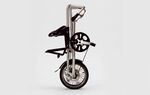 Big-city bike riders tend to fall into two camps. There are the utility commuters who don't care if their bike's a junker, as long as it's dependable. Then there are those who dork out over pedals and handlebar tape, or the finer points of steel versus aluminum. The two roll in separate worlds, and so do their bikes.