Sam Nazarian: Emperor of Cool
His L.A. nightclubs and restaurants may be A-list only, but Nazarian makes sure business sense isn't lost in all the glitz. Up next: boutique hotels
Christopher Palmeri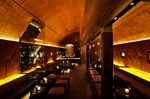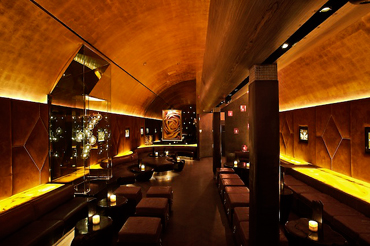 A bouncer clad in black stands guard at the door. Sushi knives, dipped in white plastic and encased in Plexiglas, serve as cocktail tables. Huge photos of models with bright red lips cover the walls. Below, stylishly dressed diners indulge on pricey treats such as Kobe beef filets with foie gras and watermelon cucumber mojitos.
Katsuya, at the legendary intersection of Hollywood Boulevard and Vine Street in Los Angeles, is the latest trendy stop in a mini-empire of cool created by entrepreneur Sam Nazarian. The 32-year-old Los Angeles native now has four nightclubs, two Katsuya sushi restaurants—with two more opening this year—and a movie production company (Down in the Valley, Mr. Brooks) under his SBE Entertainment Group holding company banner.
All the Takings
Next? Boutique hotels. Nazarian is opening two over the next year: the SLS in Los Angeles in August and a remodeling of the Ritz Plaza in Miami Beach due to open in early 2009. On the drawing board is a complete reworking of the famed Sahara Hotel and Casino in Las Vegas, which Nazarian acquired last year along with the investment firm Stockbridge Real Estate Partners. "We're building the Chateau Marmont of our generation," Nazarian says, referring to the legendary Los Angeles hotel that's been the site of countless Hollywood soirées and scandals.
Entrepreneurship runs in Nazarian's family. His father, Younes, is an Iranian-born immigrant who made a fortune starting companies from construction to high tech. Sam dropped out of New York University to launch a wireless telephone company, Platinum Wireless. It's still in business, but Nazarian got bitten by the real estate bug, and then lured into the world of nightclubs. Opening his first venue in 2003, his Los Angeles clubs, including Privilege and Hyde, next door to each other on the Sunset Strip, became famous for attracting the famous, including A-list starlets such as Paris Hilton, Britney Spears, and Lindsey Lohan. Nazarian himself had a cameo on the hot HBO show Entourage last year. And his clubs—especially the tiny, 90-person Hyde—have regularly been featured in celebrity gossip Web sites such as TMZ.com. As for B-listers such as Tara Reid and Bobby Brown, their rejections at the door show up online, too. "We probably got more hits per square foot than any place on Earth," Nazarian says.
Nazarian says his innovation was to treat nightclubbing like a business. Typically, club owners round up money from wealthy investors who want to tell their friends they own a piece of a nightclub. The owners rarely returned much in profits and were quick to move on to the next project. "It was an ego thing for investors," Nazarian says. "They'd be in business for a year, and whether they made money didn't matter." Nazarian sought to change that by running all facets of the business in-house—and treating clubs as a long-term business. Rather than lease his venue out to promoters on certain nights, a common practice in the industry, Nazarian acquired Bolthouse Productions, and several other top club promoters in town. That keeps them from sending their regular customers to other venues—and Nazarian gets to keep all the takings of any given night.
Capturing the "Cool Factor."
And to keep up with the fickle crowd, Nazarian continually redesigns his establishments, as often as every six months. Privilege, now under renovation, will reopen as an upscale supper club this summer. So far, Nazarian has managed to keep up with the in-crowd, opening a "pop-up" version of Hyde at this year's Sundance Film Festival in Park City, Utah. for example. He'll do that again at this weekend's Super Bowl in Phoenix.
To give his properties even more star power, Nazarian pursued designer Philippe Starck for more than a year before signing him to an exclusive, multiyear contract to design hotels and restaurants in North America. Starck designs the interiors for the budding Katsuya chain and is working on Nazarian's three new hotel properties. When he's in Los Angeles, Starck works out of an office in Nazarian's low-slung, modern headquarters on Beverly Boulevard. Nazarian admits negotiating new projects with the famous designer can often be a battle. "He always wants the best," Nazarian says. "Stone, tiles, fabric, everything." And while for the most part it seems like Nazarian humors his French collaborator, he has also found some savvy ways to offset that cost. Through a partnership with Italian furniture maker Cassina, he'll be selling the couches, tables, and desks that Starck designed for the new Los Angeles hotel.
Nazarian wants to be more than just a younger version of Ian Schrager, the former Studio 54 promoter who launched the boutique hotel craze in the 1980s with properties such as the Morgans Hotel in Manhattan (MHGC) and the Delano in Miami Beach. He plans to link his various establishments with a common computer system so guests can present their room key and use it to charge drinks, dinner, or hotel services wherever they are. He's also looking to advise other businesses, such as sports stadium owners and private jet operators, on how to capture what he calls the "cool factor." Nazarian says he's been talking with stadium management company Anschutz Entertainment Group to find ways to enhance the dining experience at Staples Center in Los Angeles, where the Lakers and Clippers basketball teams play. "People are paying $2,200 for floor seats and getting served a chicken sandwich," he says disdainfully. Sounds like another opportunity for Kobe beef.
Before it's here, it's on the Bloomberg Terminal.
LEARN MORE